North Shore musician Hannah Rey comes by her talent honestly, enjoying singing for as long as she can remember. With a singer and a high school band director in her immediate family, Rey spent much of her youth reading music notes.
"I was always in band and choir growing up and I'm very thankful for the five years of piano I had in elementary school," mused Rey. "I learned my first guitar chords from a VHS by Marcy Marxer in elementary school. My parents were always very supportive of me and still are. That really helped me feel that music was an important thing and that I had something special to share."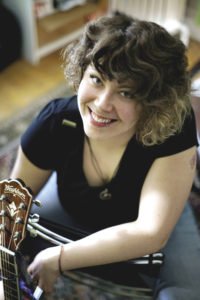 That constant encouragement from her parents throughout her formative years gave Rey the boost she needed to share her talent with a broader audience. At 19 years old she jumped into playing gigs with band mate Ryan Oikari and his uncle, Ron Occhino. The regular appearances quickly progressed to specialty shows like festivals and birthday celebrations for the small group. Rey acknowledges one of the trio's gigs at the Gunflint Tavern in Grand Marais as the "first time people were really paying attention and listening."
Soon, Hannah began to pursue her own acoustic shows in Two Harbors and Duluth. Her first solo show at the Landing 61 Sports Bar in Two Harbors started the nine year streak of gigs at bars and restaurants along the shore. Though the exact number is unknown, Rey estimates she has played hundreds of shows.
Covering songs by artists like Bonnie Raitt, John Prine, Sam Cooke and Bright Eyes has helped her develop her own sound and become who she is as an artist. The variety of covers—from 60s pop to current tunes—extends to the originals she performs as well. Creating music with a backdrop of Lake Superior has also been instrumental in her creative flow.
"I love living in Duluth. I grew up in the woods towards Two Harbors and have always felt a connection to the lake," said Rey. "I love having the water basically outside my front door. It's a wonderful feeling to sit by the lake and write."
The guitarist and vocalist has also found herself gracing the stage in a cover band called South of Superior since 2012. Crowds frequently dance to the group's high energy tunes in the winter months at Mr. D's and The Other Place Bar and Grill in Duluth.
Hannah Rey's on the path to recording and potentially touring. No matter how far away she may go to share her music, she doesn't ever anticipate straying from her roots.
"I don't think I'll ever be able to leave the North Shore permanently," said Rey. "It's a huge part of who I am and it holds a huge part of my heart."
For more info visit www.facebook.com/hannahreygun or follow her on YouTube.