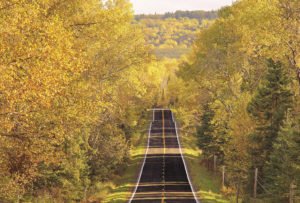 When the maple leaves start turning from greens to reds, and the birch, aspen and tamarack transform to hues of gold, Minnesota's North Shore beckons us to capture fall in a picture.
There are two runs of color, and in a good year, each burst can last for weeks.
"You have the maple run in mid-September with the reds, and then the yellows in the Boundary Waters," said Paul Sundberg, a North Shore photographer who has spent decades perfecting the art of the fall photo.
"Temperatures are cooler, there are no bugs," said Sundberg. He loves the cool weather and smell in the air. "Everything is changing. You can keep going to the same spot and it's different every day."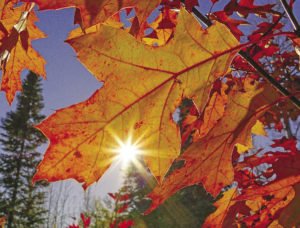 Taking a great picture can take years of practice.
Sundberg bought his first camera, a film camera when he was in the military in Texas. When he got out of the military, he ended up working in the state parks.
When you are in the state parks, there are many opportunities to take photos, Sundberg said.
"What really got me into the photography was moving to the North Shore. I was manager at Cascade State Park and then worked at Gooseberry State Park until I retired," said Sundberg.
He retired with his wife to the Grand Marais area and now spends much of his time photographing Lake Superior and what he calls her "changing mood," and taking pictures in the Boundary Waters Canoe Area.
"I took my two-year old granddaughter into the Boundary Waters this year," Sundberg said. "And that was my 76th trip."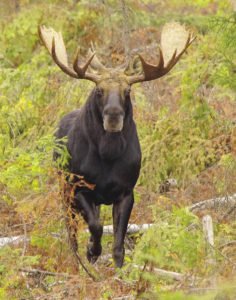 As for great places to take autumn photos, Sundberg recommends hiking to Lake Agnes along the Superior Hiking Trail. He also enjoys the Honeymoon Bluff Trail and Caribou Rock Trail off the Gunflint Trail.
And how to capture the color?
"The best time to take vibrant colorful photos is early in the morning and late in the evening, when the color pops that much better. The golden hour," Sundberg said.
And after a rain.
"The colors of the leaves when they are moist are so much richer. Or in the morning with the dew," Sundberg recommended. He also suggests a polarizing filter if you are out shooting during the day.
Fall colors coincide with the moose rut, which, if you want what Sundberg dubbed "an adrenaline pumping experience," perfect your moose calls and call them in.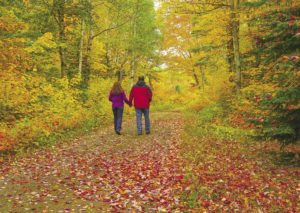 Sundberg recounted one time when he was up the Bally Creek Road and hiding behind a brush pile early in the morning. He started calling and a bull moose answered. The animal came closer, and closer and was soon in range to start taking photos. Then a bigger bull came out of the woods—he hadn't made a sound, Sundberg said. The larger bull confronted the smaller, younger bull.
"They fought," recalled Sundberg, "but they were around a corner so I couldn't get photos."
Sundberg laughed. "They were fighting over me."
Sundberg said he does the moose cow call, not the male bull moose call. That way the moose coming in are looking for love, not to fight.
Another photographer for whom looking through the viewfinder has become a lifelong passion is Paul Pluskwik, from Virginia, Minnesota. He is a social worker by day and out taking pictures whenever possible. He's been taking photos from a young age when his mother worked at a drugstore with a film department.
"She bought me camera equipment—instamatics, pocket 110s, and then a 35 mm. For a young kid in high school, I had a really good collection of camera stuff," Pluskwik said.
Fall and winter are his favorite seasons to take pictures, and he tries to take photos that evoke a feeling or create an emotion.
"A person should be able to step into the picture," he said. "Just because it has leaves or a road doesn't mean anything. I use fall colors to add to the picture, but it's not the only thing in the picture."
An example would be a sunset shot.
"A sunset is okay, but with a kayak, a flock of geese or even the lighthouse at Split Rock, you feature an element that adds to the picture."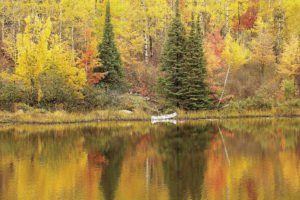 One of Pluskwik's favorite fall photos came about after his friend Paul Sundberg suggested a little lake to visit near Grand Marais.
"Go in the morning," Sundberg told him.
"When I got there, the lake was reflecting the fall colors. The path along the shore framed it in. I was just in awe. Twenty minutes later, the breeze kicked up and the moment was gone," Pluskwik said.
If you've seen Pluskwik's pictures, you know the colors are vibrant. He doesn't use photoshop or other computer programs to deepen the color. Instead, he gets outside early and late in the day, when the lighting is best. A cloudy day can be better than a sunny one, he said. And for the best color in your photos, play around with the camera settings.
"Don't use the auto setting on your camera, the camera has to work too hard."
Pluskwik is looking forward to fall; being outside as the leaves change, visiting the Echo Trail and the Gunflint Trail, and especially Oberg Mountain, which he said, is spectacular.
This year Sundberg will be out west taking pictures in the National Parks. But he hopes to make it back to the North Shore in time for the second wave of color—when the birch and aspen turn yellow.
"Hopefully the yellows will still be going. Sometimes a storm will blow the leaves off in one day," Sundberg said.
Pluskwik's best advice to folks heading out with their camera is to not compare your photos to others; just have fun.
"There is no bad picture," he said.
For inspiration, check out Paul Sundberg's photos at www.paulsundbergphotography.com and Paul Pluskwik's photos at www.pluskwikphotography.smugmug.com. Both have Facebook pages, too.