Until retirement, Lisa Winter never planned on becoming an artist. Born and raised in Thunder Bay, Winter spent the first 33 years of her professional life working for the provincial public service before pursuing her late-in-life dream of becoming an artist.
"I really had no interest in art for most of my life," says Winter. "I mean, I don't think I started appreciating the artwork on my wall until I was in my 40s."
When asked about the spark that set her down the road to becoming an artist, Winter credits a need to explore her creative side after so many years spent "pushing paper" behind a desk.
"My job with the government required a lot of desk work," says Winter. "So just prior to retiring, I thought I would try using the other side of my brain for awhile and see what sort of artistic ability was hiding out in there."
Now, five years into her career as an artist, Winter's success as a commissioned artist, a member of the non-profit Artisans Northwest, and as a participant in craft revivals throughout the Thunder Bay area is testament to the artistic ability that was "hiding out in there." Best known for her acrylic ink landscape drawings displayed on prepared sections of birch bark, she has recently begun mapping lakes onto birch bark as well as creating mirrors from birch bark and birch twigs.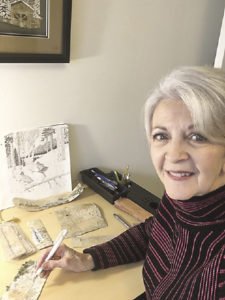 Winter's artistic journey is one of persistence, patience and passion, a journey that started when she was first introduced to the birch bark artwork of local Thunder Bay artist Mac Squires.
"I had purchased a couple of pieces of artwork that had been done on birch bark from Mac," says Winter, "and I was very impressed by his work. He had been making art on birch bark for 20 years at the time, and I started haunting him a little at craft shows to see if I could get him to teach me his craft."
"There was another lady at the time trying to do the same thing," continues Winter, "so eventually he agreed to spend an afternoon teaching the two of us how to make birch bark bookmarks, something that I still make to this day."
As a mentor, Mac Squires taught Winter how to prepare the birch bark for her work. He taught her how to clean the bark using hot water and a toothbrush, how to bring out different layers of color from the bark by scrubbing, what ink to use when drawing on birch, and what sprays to put on after to solidify the work. However, when it came to developing her drawing skills, Winter turned to a different resource available to her—the Internet.
"You have to remember, when I started I was attempting to do this without any kind of artistic training," says Winter. "I first started taking Wednesday afternoon art classes at a local community center, and as much as I learned from the course, what was most important is that it forced me to stay there and work on something for three and a half hours. Honestly, most of the training that I had was from the Internet. Living so far out of town at Hawkeye Lake, the Internet was opportune for me since I didn't have to go anywhere. It's amazing what we have access to online these days."
Countless hours of hard work and practice later, and Winter has emerged as the prominent artist that she is today.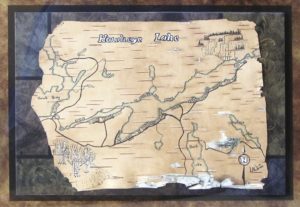 Inspired by the beauty of northern landscapes, Winter mostly produces forest scenes using black and white acrylic ink on the white birch bark pieces that she collects from the surrounding area.
"I don't take any of my birch bark directly off of live trees," says Winter. "There's just so much [birch bark] around up here, especially in the recently logged areas near where I live, that I never need to."
After cleaning each piece of bark, the texture and color of the bark can vary greatly from the original pre-washed piece. Because of this, Winter has found that she tends to only keep about 30 percent of the bark that she cleans, using the rest to "light the sauna."
"My biggest challenge," says Winter, "is to incorporate the rough plated sections of the white birch bark along with any remaining lichen and mosses into my imagined scenes."
"Maybe I see a hole in the bark and decide to make it a cave where a bear would hibernate, or maybe a texture in the bark makes me think of mountains, so that landscape takes on a mountainous setting," says Winter. "It's an interesting challenge, and it gives me a good feeling to produce something that I am proud of and that other people also appreciate."
Lisa Winter will be displaying her artwork at the upcoming Thunder Bay Craft Revival on Sunday, May 3. Photos of her work can be found on the Artisans Northwest website: artisansnorthwest.ca. Winter can also be contacted via email at: lisawinter@tbaytel.net.