Looking at an outdoor thermometer in February or March in the Northern Wilds can lead to mixed reactions. A common response could be to toss another log on the fire and slip back beneath a layer of wool blankets. However, these long winter months can provide amazing opportunities for outdoor recreation and should be celebrated as a time to venture in the woods or on the ice. Some opportunities can overlap, such as skiing or snowmobiling across a lake to go ice fishing. Some activities are new to the scene, such as fat tire cycling across the snow. Others, including ice skating, are timeless traditions.
Fat Biking
It was not long ago that the notion of riding a bike during the winter meant some type of heat wave melted all the snow and ice. Then, along came fat bikes. Now we have events such as the Norpine Fat Bike Classic. An estimated 200 cyclists participate in the annual bike race every January near Lutsen.
"There were literally three races a year for fat-tire racing just a few years ago," said Grand Marais resident (and mayor) Jay Arrowsmith-DeCoux. "Now it's literally every weekend that somewhere in the area there is a race from January to the beginning of April."
As you might imagine, the key to this type of cycling is all in the tires. A tire used for winter trail riding is typically five inches wide, which is nearly double that of even a robust mountain bike tire.
Arrowsmith-DeCoux owns the Fireweed Bike Cooperative in Grand Marais. The local cycling shop is a gathering spot for cyclists from all over the Upper Midwest and Canada who come to ride local trails during the winter months. The Norpine and Pincushion trail systems near Grand Marais have dedicated areas for fat tire bike riding throughout the winter. Near Duluth, the outdoor guiding service Day Tripper offers fat-bike tours for those looking to get introduced to the sport or just learn where to go on a bike during the winter.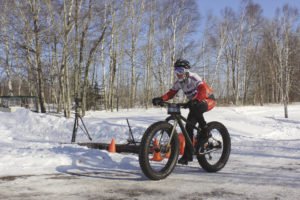 Ultimately, Arrowsmith-DeCoux said the more places there are to ride a bike during the winter, the more people are likely to give it a go.
"Winter riding opportunities and fat tire riding infrastructure are getting better and more abundant every year in northern Minnesota," he said.
Ice Skating
Hockey is the sport most often associated with Minnesota and Ontario. However, a similar, albeit much less intense activity is ice skating on lakes.
"There's a special thrill to skating on (local) lakes because the great ice conditions are so ephemeral," said Cook County resident Chris O'Brien. "When conditions are right, just a few times per year, lakes like Gunflint Lake freeze over with several inches of smooth black ice for a few days or more."
O'Brien and other regional skating enthusiasts say skaters can fly along for miles on lakes near or in the Boundary Waters Canoe Area Wilderness. In addition to the pursuit of 'wild' black ice, visitors can also skate on cleared lake ice at some of the lodges along the Gunflint and at the outdoor public rinks throughout the Northern Wilds.
Ice skating on a frozen lake is a far different experience than circling a man-made rink. As with all winter sports, there are certain safety precautions that need to be considered when ice skating on a frozen lake. These include ice thickness, the surface or texture of the ice and one's ability to turn and stop effectively while on skates.
So popular is lake ice skating in Cook County, that a Facebook group was created where skaters can share ice reports from popular lakes, including Hungry Jack, Seagull and Gunflint.
With regard to where one can skate throughout the region, the answer is simple: Anywhere there's safe ice.
Ice Fishing
During the past five years, Northern Trails columnist Gord Ellis and I have put down more words on the pages of this magazine about ice fishing than all of the other writers combined. Why is that? It's because we're both obsessed with this winter sport.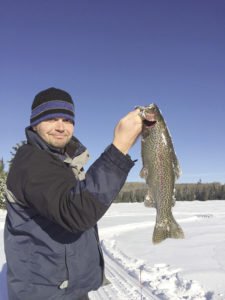 Ellis spends his days fishing some of the large frozen bays on Lake Superior. I do most of my ice fishing on lakes in or near the Boundary Waters Canoe Area Wilderness. We both chase trout, with lake, rainbow and brook being our favorite species to pursue each winter. It's not unheard of that we pursue walleye, northern pike or other fish swimming in local waters as well. But in this part of the world, chasing trout while ice fishing is the main draw.
Ice fishing is not for everyone. That being the case, ice fishing is very approachable here in the Northern Wilds. One reason is the sheer abundance of places to find good ice fishing. Find a frozen body of water, obtain an ice auger, drill a hole, put a flashy spoon tipped with a minnow head down the hole and wait for something to bite.
Cross-Country Skiing
From Duluth to Thunder Bay there are literally hundreds of miles of groomed cross-country ski trails to explore. Among our favorites are the Korkki Nordic trails just east of Duluth, the Pincushion system of trails near Grand Marais and the Kamview Nordic Centre near Thunder Bay.
The Gunflint Trail is home to some of the state's best ski-trail systems. The breathtaking landscape is covered with old-growth white pine, spruce, aspen and balsam fir. It's within these forests that you'll be skiing across the secluded reaches of northern Minnesota and dozens of border lakes. Included in the Gunflint-area trails are Banadad, Big Pine, Aspen Alley, River Trail, Magnetic Rock, Rabbit Run and Lonely Lake Trail.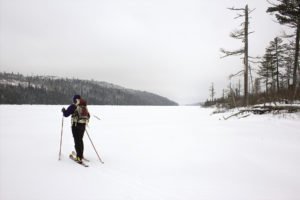 Little Pine ski trail—part of the Upper Gunflint ski system—is lit every evening from 4-9 p.m. for nighttime skiing. On the Central Gunflint ski system, Golden Eagle has a 1.5km lit trail every evening from dusk to midnight. Bearskin Lodge and Pincushion both offer night skiing, too.
The beauty of cross-country skiing in the Northern Wilds is that it has something to offer everyone. Most of the regional ski trails are suited for the intermediate skier. However, there is plenty of good skiing for beginners and some challenging trails for those who like speed, sharp turns and long hauls through dense timber.
In Minnesota, don't forget you need to purchase the Great Minnesota Ski Pass to ride most public trails. This is $10 per day or $25 for the year per person and can be purchased online or at most outdoor shops in Minnesota.
Snowmobiling
It should be no surprise that the tremendous amounts of snow known to fall near Lake Superior makes the North Shore a magnet for snowmobiling. The C.J. Ramstad/North Shore State Trail is a 146-mile route that runs from Duluth to Grand Marais. In addition to main routes near the Big Lake, there are many popular snowmobile trails that run inland from Lake Superior as well. From Two Harbors to Thunder Bay, these trails zigzag through remote forest terrain and are maintained by hardworking volunteers and local clubs.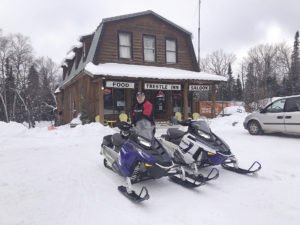 Adrian Tessier is president of the Northwest Ontario Snowmobile Trails Association.
"If you want wilds and you want wilderness, we have unlimited kilometers of that," he said. "Get away from the congested trails, traffic, cell phones and immerse yourself in the beautiful tranquility of snowmobiling in northwestern Ontario."
Sharing Tessier's passion for riding sleds is Dean Thompson, a board member of the Voyageur Snowmobile Club based in Two Harbors. He said most of the trails in Lake County are maintained by seven local snowmobiling clubs and the Minnesota Department of Natural Resources.
"The trails allow visitors the unique experience of remote scenic powder experiences that can't be reached any other season than the winter," Thompson said. "Views vary from Lake Superior to scenic forests and majestic overlooks with warm shelters to recover from the brisk temperatures.