By Craig Lincoln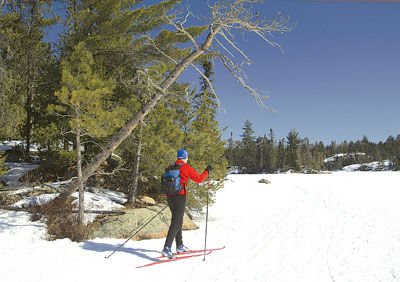 Once, it was really simple: just a guy on a farm north of Duluth who cut out a narrow ski trail behind his farm house and opened it to dedicated local skiers.
It isn't that simple any more at Korkki Nordic Center. Skiers are used to groomed trails, signs pointing the way, a host of other amenities.
But at Korkki, old-fashioned, informal ski culture remains the focus of its philosophy. The trails still are narrow single-tracks, the workers all volunteer their help and skiers donate money to use the trails.
These are, after all, really Charlie Banks' trails. He started cutting the trails in the mid-1950s, grooming them with snowshoes and skis, and holding national-level races when the sport labored in obscurity.
By the time he died in 1998, machines and sophisticated grooming equipment had become the norm. A nonprofit had been formed to keep his trails open and handle the business end of the operation.
But skiers like Mark Helmer weren't about to give up on Banks' traditions.
In the early 1980s, Helmer moved to Duluth and asked Banks if he could use his trails to train for races. That was the beginning of a long friendship and a working partnership on the trails.
Helmer eventually bought land from Banks, including the land the ski chalet and maintenance sheds are located on. It was Helmer who encouraged Banks to turn the informal arrangement into a nonprofit and, eventually, construct a few simple buildings on the site.
The two even started to widen the trails to accommodate skate skiing when it became popular in the 1980s, eventually deciding that was simply too much work.
Good thing. Classic skiing came back. It turned out there was no need to cater to skaters.
"This is old-time, old-fashioned, single-track skiing," Helmer said. "I feel it's more natural, more wilderness in feel. I think people appreciate the fact it's low-key."
You'll find a 10-kilometer ski trail with cutoffs to shorten the trip and have an easier ski trip at Korkki. If you ski the long loop, you'll also face the infamous "Big Hill," which has laid the best skiers on the snow.
There is no charge to ski the trails, but donations are encouraged. Korkki hasn't had trouble raising enough money to cover expenses.
"If you leave people to their own conscience, they'll be generous," Helmer said.
You can also join Korkki Nordic as a member. After covering expenses, the nonprofit running Korkki dedicates its revenue to local high school ski teams – after all, although the trails are old-fashioned, Banks was a dedicated racer and Korkki has been a key part of ski racing throughout its history. Banks also coached the Duluth Central High School ski team for 27 years.
Bibs from races throughout the world hang on the chalet's walls, and Korkki hosts the Erik Judeen Memorial Classic ski race every year. Most of the time, though, skiers simply drive up to a small parking lot, make a donation and go skiing through the woods. That's not much different than in the past.
"In the old days, you just went behind Charlie's house and said 'hey, can I ski here?'" Helmer said.
How to get to Korkki Nordic Center?

From the Minnesota Highway 61 expressway between Duluth and Two Harbors:

• Turn north on Homestead Road.

• Take a left on to Korkki Road, about 2.5 miles from Highway 61.

• Look for the small sign on your right to Korkki Nordic, about one-half mile.