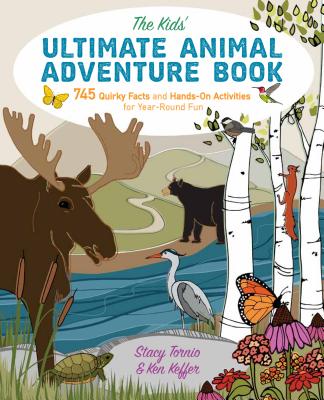 The Kids' Ultimate Animal Adventure Book
745 Quirky Facts and Hands-On Activities for Year-Round Fun
Whether your exploring your own backyard or climbing a mountaintop, you're sure to encounter birds, insects, reptiles, amphibians, fish, and all kinds of amazing mammals along the way. But did you know that a queen bee can lay up to 1,000 eggs in a day? Or that huge, dinosaur-like dragonflies use to exist? Organized in a see, learn, do format, The Kids' Ultimate Animal Adventure Book first lays the groundwork for observing and learning about animals—from their behavior and habitat to the truths and myths about them. It also includes animal-related activities, like going owling, planting a garden for butterflies, and catching frogs.
By Stacy Tornio & Ken Keffer
Falcon, $20.99
To purchase:
Indiebound Books Allows you to purchase this book through your local bookstore. The Kids' Ultimate Animal Adventure Book
 Amazon: The Kids' Ultimate Animal Adventure Book: 745 Quirky Facts and Hands-On Activities for Year-Round Fun