Zoar Church in Tofte held its final Lutefisk and Ham Dinner this fall. Around the state, other organizations have discontinued their annual lutefisk feeds. This prompted the question, "Is lutefisk dead?" Is the tradition of eating reconstituted codfish on Christmas Eve waning? Will these lutefisk dinners come to an end? To answer these questions, I interviewed people with a lot of experience with these dinners and with the selling of lutefisk.
First, a few words about the tradition itself. Lutefisk, which literally translated means "lye fish" in both Norwegian and Swedish, has been consumed by Scandinavians for centuries. Fishermen salted and dried their catch to preserve it. Dried cod is too tough to be reconstituted by merely soaking it in water. It needs a little help, and long ago some genius discovered that lye added to the water would do the trick. Lye, which is made from boiling ashes and used to make soap, was readily available. After the fish is soaked in the lye for several days, it has to be soaked in water to take the lye out. It is then either boiled, fried, or baked and usually served with melted butter or a white sauce and seasoned with salt and pepper.
Most of the bad reputation lutefisk has garnered from its critics probably is a result of boiling the fish. The remnants of the lye produce an unpleasant odor and if boiled too long, the reconstituted fish takes on the consistency of Jell-O.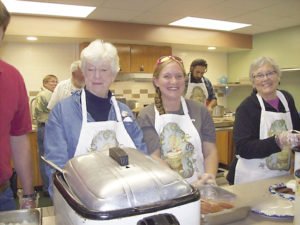 So why, one might ask, would one bring this somewhat smelly yet bland dish to their dinner tables to celebrate Christmas? The most common explanation is that the descendants of Scandinavian immigrants choose to recognize and celebrate the hardships their ancestors were able to overcome. Norwegian and Swedish immigrants, who fled poverty in their own countries, brought lutefisk with them. They followed the tradition of eating it on Christmas Eve. It helped cement the bonds they felt from their shared heritage. My own grandfather, Hans Kragseth, volunteered with the preparation of lutefisk at his church in Duluth.
So while lutefisk may not be considered a delicacy, many people enjoy their plate of lutefisk and even come back for seconds. The serving of lutefisk around Christmas has engendered a feeling of community among the participants.
That is what made the decision at Zoar Church to discontinue this tradition so difficult. According to Pastor Daren Blanck, many factors contributed to the decision. These factors provide some explanation as to why lutefisk consumption in general has declined over the past several decades. One of the primary reasons given was that Gary Hanson, their lutefisk chef for at least 40 years, is getting a bit long in the tooth (not that you need long teeth to eat lutefisk). In general, the parishioners who have most strongly held onto this tradition are getting older. The serving and eating of lutefisk are less appealing to many of the younger parishioners. Not all the parishioners share in the Scandinavian heritage, and not all young Scandinavians care to preserve this tradition.
Still, the feelings of fellowship and camaraderie that exist around this tradition are strong and will be missed. Pastor Blanck noted that this year everyone stayed and visited after they had finished their food.
"This is what it is supposed to be," he said.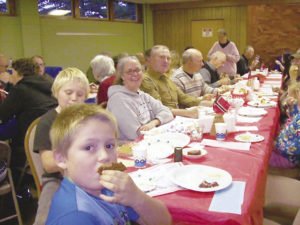 However, he also reflected that, "Warm feelings and feelings of fellowship around food traditions are not necessarily shared by all in the community now."
Still, Pastor Blanck has not ruled out serving lutefisk in the future. Next year, lutefisk will be replaced on the menu by fish cakes, another Scandinavian dish with a strong tradition in the area.
Perhaps few have a better feel for sentiment in the community around lutefisk than Marlo Larson, meat buyer at Johnson's Big Dollar Foods in Grand Marais. He says that lutefisk sales are in fact declining. He sells about a quarter of what he did 30 years ago. Asked to speculate on the reasons for the decline, Larson had a few theories. For one, he said, "lutefisk still tastes the same." Family traditions, he said, are changing. And families themselves are smaller. The price of lutefisk, too, is on the rise. Back in the day, it seemed to Larson that families would compete to see who would order the most lutefisk. It was a point of pride. Still, there is a festive feeling around the tradition. One family, he said, has ordered 25 pounds this year. That's a lot of lutefisk!
In some circles, however, the tradition appears to be strong. I spoke with renowned cookbook author Beatrice Ojakangas, who has worked as a volunteer for the annual lutefisk feed at the First Lutheran Church in Duluth for nearly 30 years. They expect to serve 1,200 people this year. She says that older Norwegians who have been instrumental in carrying on the traditions are dying off. However, at their church they have done many things to overcome this. As with other such dinners, they feature more than just lutefisk. Their dinner also boasts Alaskan salmon and Swedish meatballs. As for the lutefisk itself, she says they bake it to cut down on the smell. They have also made a concerted effort to engage young people in the tradition of preparing the meal. Many of the younger people who come for the dinner do so specifically for the lutefisk.
Their efforts seem to be working. They prepare about the same amount of lutefisk as they always have. She says their dinner, which will be held December 4, comes around the beginning of Advent and so marks the start of the holiday season. And it is not all about lutefisk. Ojakangas said they were about to begin cooking 1,200 pieces of lefse. Uffda, that's a lot of lefse!