So, why do we say the seasonal greeting "Merry Christmas" instead of "Happy" like we do for Happy Birthday, Happy Easter, Happy Mother's Day, etc.? Where did the phrase "Merry Christmas" come from?
Well, there's an answer, sort of. Though the actual origin of the phrase "Merry Christmas" is obscure, the first recorded use goes back to 1534 in a letter dated December 22 by imprisoned English Catholic Bishop John Fisher to lawyer and activist Thomas Cromwell. In his letter, Fisher—who had been in the Tower of London prison for eight months for refusing to recognize King Henry VIII as the "Supreme Head of the Church and Clergy of England"—asked for clothing, food and conditions, closing the letter with, "And this our Lord God send you a merry Christmas…" Nonetheless, Fisher was executed the following year. (The Roman Catholic Church declared him a saint 400 years later in 1935.)
Did you know that Christmas was banned for a time in England and the U.S.? It happened in 1647 when the Puritan-controlled Parliament in England passed an Act of Parliament in 1644—confirmed in 1647—forbidding all Christmas celebrations and observances, including dancing, carol singing, seasonal plays and drinking. The Puritans believed that 'Merry Christmas' was simply a time for uncouth merry-making excesses like drunkenness and gambling. The ban was lifted 13 years later in 1660, though in Boston the ban on Christmas was for 22 years, from 1659 to 1681.
The 'merry' in Christmas had regained its joviality by the time the world's first commercially-available Christmas card was created in 1843 by Sir Henry Cole (1808-1882). He had hired London artist John Callcott Horsley to do the artwork for the card which he, and others, could send to family and friends. The hand-coloured, three-sectioned cards included the verse, "A Merry Christmas and a Happy New Year To You." In 2001, the Christmas card he had mailed to his grandmother in 1843 was sold at an auction for 22,500 English pounds (2019 value U.S. $28,831 / Cdn $37,993).
The same year—1843—English author Charles Dickens wrote and paid publication costs for his famous novella A Christmas Carol, where the phrase "Merry Christmas" appeared more than 21 times. Many credit the two things of 1843—the Christmas card greeting and Dickens' A Christmas Carol—with popularizing again the term, "Merry Christmas."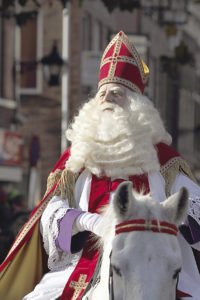 Etymologically, the word "Christmas" is the shortened form for "Christ's Mass," first recorded in 1038 as "Cristes Maesse" (Old English language), then as "Cristes-messe" in 1131. For those of us that sometimes quickly write "Xmas" instead of taking time to write the full word "Christ" in Christmas, no need for feeling somewhat guilty: Xmas first appeared almost a thousand years ago. The "X" in "Xmas" is an abbreviation from the Greek language and alphabet where the letter that looks like an X is the Greek chi/x, which is the first two letters of the Greek word for Christ, "Christos." So, "X" in Xmas does mean "Christ."
Christmas celebrates the birth of Jesus Christ even though no one knows the exact date. The first recorded date of Christmas being celebrated on December 25 was in 336 during the time of the Roman Emperor Constantine. The day after Christmas is Boxing Day, which started in the United Kingdom and is a public paid holiday there and in some countries. There are several theories on the origin of Boxing Day, though all include the giving of Christmas gift boxes to either the poor or people providing services; first recorded mention is in a 1663 diary entry on December 19 by England's Samuel Pepys. While it's a U.S. state holiday in some states (not Minnesota), it is a paid holiday in Canada for federal employees, banks and in some provinces, including Ontario.
And who knew that the origin of modern-day Santa Claus goes back to a fourth century Greek Bishop Saint Nicholas of Myra? As the story goes, Bishop Nicholas (260/280 AD-343 AD) from village of Patara (now southern coast of Turkey) was known for bringing gifts to children; for his generosity to those in need; and later, as patron saint for sailors and ships.
The name "Santa Claus" evolved from the Dutch name for St. Nicholas, "Sinterklaas," shortened from "Sint-Nicolaas." Popularized in folklore, poems, books, illustrations and newspapers particularly in the 1800s, Santa Claus (through Sinterklaas and Saint Nicholas) became a legendary figure delivering gifts to children by a sled and reindeer on the night of Christmas Eve or early Christmas Day morning. Supposedly, he lived at the North Pole and since that was in Canadian jurisdiction, Canada Post gave Santa Claus a postage-free address "North Pole, Canada" with the postal code HOH OHO. And in 2008, he was formerly recognized as a Canadian citizen by the Canadian government.
By the way, over in the United Kingdom, the annual Royal Christmas message since 1932—including today's Queen Elizabeth II—wishes everyone "Happy Christmas" (not "Merry"), the greeting also preferred by the British.