Food trucks have been gaining in popularity for years, in part because of their synergistic relationship with taprooms. Then during the pandemic, takeout became the primary way to eat out and more food trucks began popping up. Their mobility and take-out windows made them a popular option for customers; their relative simplicity made them an attractive option for those who wanted to get into the restaurant business.
I interviewed three such start-ups along the North Shore. I found this business model also provided an opportunity to include friends and family, a friendly environment, and innovative takes on some classic foods.
David Fitch and Cory Netland of UpDawg food truck in Duluth met and became friends in the Marching Band at UMD where both were studying music education. They also shared a background in the food service industry. Netland has always loved cooking and had experience helping his grandparents start a restaurant. Fitch began by washing dishes and rose to general manager in the restaurant business. He loves the service and hospitality aspects of the business. They got the idea to go into business together a year and a half ago and have been working toward that goal while maintaining their day jobs. They bought a retired Frito-Lays delivery truck and have been working on the build-out ever since, relying on YouTube videos for technical advice. Their truck should be ready to roll by the time this issue goes to press.
Their idea is to treat the hot dog as a blank canvass and let their creativity push the boundaries of what can be put on one. Nothing is off limits. In addition to their creative approach to hot dogs, they want their customers to have a fun and engaging experience. Their vibe is a bit goofy and off the wall, and if everyone is having fun, they will consider their efforts a success.
In addition to the build-out of their truck, they have been developing innovative hot dog creations. Their Big Papa Dawg, for example, was inspired by jalapeño poppers. Their all-beef dog reclines in its bun atop a bed of jalapeño cream cheese spread and is topped with melted sharp cheddar, bacon, parmesan bread crumbs, spicy chipotle ranch and fresh jalapeños. Their MacDaddy Dawg is smothered in creamy mac and cheese and topped with parmesan bread crumbs and crumbly bacon. The Minneso-Dawg includes a dill pickle spear, melted cheddar cheese, Top of the Tater sauce, crushed potato chips, bacon bits and chives. You can find more of their hot dog innovations on their Facebook page. Their menu will feature five or six of their most popular dawgs and a rotation of new varieties. They have also teamed with Superior Small Batch to provide non-meat options.
They plan to create a rotating schedule of venues for their truck and will also be available for private events. Check their Facebook page for updates.
Roma Clarin is a long-time resident of Two Harbors and has been working at Betty's Pies for 21 years. When her husband retired, she thought it would be fun to try a food truck, and to keep the business in the family. She works the truck Tosty Roma's with her nieces and nephews and hopes that someday she can pass the business on to them. She chose to focus on serving up a classic hot meal: grilled cheese sandwiches and tomato soup. It's a form of comfort food that nearly everyone loves. She uses an English muffin bread for her sandwiches and pairs this with a creamy tomato soup.
Other menu items include grilled ham and cheese sandwiches, cheeseburgers, and Ruth's Vegetarian burgers and meatballs. She also rotates in a variety of soup options such as potato leek soup, veggie soup and meatball soup. The tomato soup is always on the menu. She will occasionally introduce other sandwich varieties. For example, this spring she offered an egg salad sandwich with wild leeks (ramps).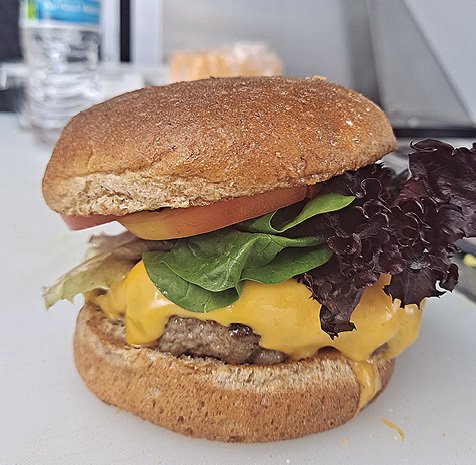 Based in Two Harbors, her food truck can often be found at Castle Danger Brewery and every Saturday at the Farmers' Market at Callies Place. She also parks her truck at the old Shopko parking lot and the AmericInn. You can check her Facebook page for locations, times and menu items.
A bit up the shore in Silver Bay, Amy Goerdt found herself at a professional crossroads. A bank manager at Wells Fargo, she had moved to Alabama to work at a bank there. When she returned to Silver Bay, the Wells Fargo there had closed. She looked into opening a restaurant, but opted for a food truck instead. She wanted to do something different, something for the community. Within two months she had purchased a food truck and was fully licensed. Na-cho Bizness was born. She started by practicing on her family and then began doing events in the community. Hers is also a family-run business involving her children and their cousins. She has been in business for three years and has gotten progressively busier.
The menu started with different varieties of nachos and has expanded to include burritos and burrito bowls. Their most popular items include their Nacho Daddy, a spicy burrito or burrito bowl with cilantro lime rice, black beans, carnitas pork, queso, shredded cheese, pico de gallo, red hot salsa, jalapeños, sour cream, lettuce, and guacamole. A less spicy option is the Nacho Mamma, with cilantro lime rice, black beans, carnitas pork, queso, shredded cheese, pico de gallo, corn salsa, sour cream, lettuce, and guacamole. For the nacho lovers, there is the Nacho Cousin, which combines corn tortilla chips, carnitas, chicken, queso, shredded cheese, pico de gallo, salsa verde, lettuce, sour cream, and guacamole. For those with a large appetite, there is The Moose. This is a giant burrito bowl with double the meat and all the fixings.
Na-cho Bizness can be found on various days in Silver Bay in the J & H Auto parking lot, the Adventure Park, or in Two Harbors in the Napa Auto parking lot. She also does special events along the shore. Her schedule can be found on her Facebook page.
Friends, family, and fun are the inspirations for those dishing creative takes on old favorite cuisines along the North Shore.