As many who are familiar with the North Shore would attest, the word "lake" can seem a haltingly insufficient term with which to describe the evocative, powerful force that is Lake Superior. With an almost indescribable draw, it is no coincidence that Superior's shores have long been a source of deep inspiration for artists and creative souls. One such artist is Hannah Palma Laky, a Grand Marais ceramicist whose work is both rooted in and reflects the wild beauty of the North Shore. In a quiet studio near the shores of Superior, she works with earth to create everything from coffee mugs and soup bowls to luminaries and incense holders, each piece a homage to the wild spaces from where it came.
For Palma Laky, a life as a ceramicist was not one that she imagined from a young age. Although she long had a love for art, she hesitated to study fine arts, uncertain whether she possessed enough natural talent. Instead, she began college studying art therapy and psychology. It wasn't until a college course in pottery that she discovered her love for working with clay, and began to build an interest in the art form that would continue with her for the rest of her life.
"When I found pottery, I found that you go from not even being able to center clay to creating a form to developing your aesthetic. It truly is an art form of dedication, and you put in many hours and you get better," Palma Laky said. "While there can be such a focus on having inborn talent, I would argue that the definition of an artist is not necessarily someone who is very gifted at art, but someone who has a need to make, and that is something that I feel is very true with me."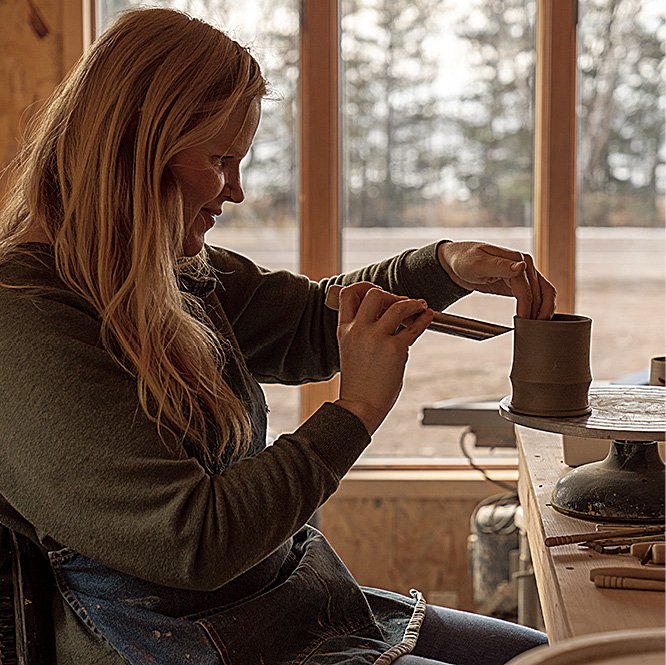 During college Palma Laky studied abroad in Costa Rica, and while she was there met her now-husband. She later moved to Costa Rica, and while not pursuing her interest in ceramics directly, she continued to foster a creative life through sketching and painting murals. When she and her family returned to Grand Marais—the town where she grew up—she began to make ceramics again, starting with selling her work at the local farmer's market and slowly but surely getting her name out there.
"I knew when I started that what I was selling wasn't perfect, but it was getting better," she said. "And that's part of supporting an artist: you know that what you get today isn't the same as what you'll get in five years, since the work will continually get better."
The bulk of Palma Laky's work involves website restocks, where she will work intensively for four to six weeks to create enough ceramics for an online sale, often with seasonally-inspired themes. She sources clay from Continental Clay Co. in Minneapolis, and begins by kneading and weighing the clay for the piece that she is making. (A mug typically takes about one pound of clay to make, while a serving bowl can take around 7 pounds of clay.) She then spins each measured piece on the wheel to shape it into what she is making, and after that adds the stamps, signature and trim. Her particular style includes elements of Japanese woodblock printmaking, an art form she studied extensively in college.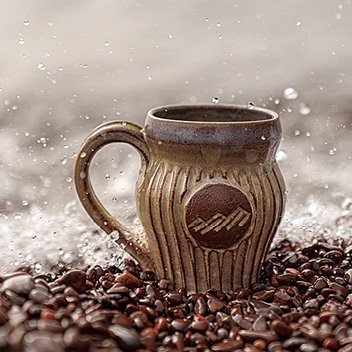 After being formed, the clay has to dry out completely before it is loaded into the kiln for its first firing at about 1800 degrees. The first firing makes the body of clay more porous so it can better soak in the glaze. Palma Laky then unloads the kiln, mixes a bucket of glaze to glaze the pieces, and puts them back in the kiln for a nine-hour firing to about 2300 degrees. Once she has checked each piece and sanded the bottoms, she takes photos and schedules a publishing time for her site.
While Hannah Palma Laky's love for the making process is apparent, on a deeper level her work is an extension of the groundedness she finds in her surroundings on Lake Superior, and the intentional care she puts into her work is something she hopes will be passed onto the users.
"When your work is made with intention, it holds an energy that heals," she said. "I believe in the energy you pass on to your work, and that energy infuses into what you're making. I think it's beautiful that you can take something from the ground and transform it into something that could be used for generations."
Although Palma Laky's path to becoming a full-time ceramicist by trade has not always been straightforward, her story shows the value that comes from living with intentionality and a willingness to live a creative life, in whatever form that may take. And while pursuing a creative life can feel daunting, Palma Laky said that following her intuition and choosing to live in abundance has made all the difference.
"We're all artists in one regard or another," she said. "If you really love art and want to do it, just work at it. Art is accessible, and that's what I like to share with people."
Hannah Palma Ceramics can be found on Facebook and Instagram, as well as online at: hannahpalma.com.