No strangers to the stage, jam band Floydian Slip has been performing around the shores of Lake Superior for more than 18 years. Northland College alumni Andy Noyes, Olaf Kirsten, and Jeff Kriner first joined forces while in school in Ashland. A common interest in music later connected them with bassist Scott McCafferty to complete the quartet.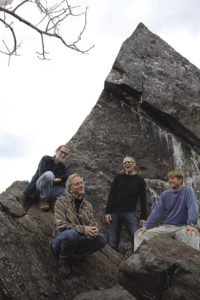 Of the 30-50 shows they play during a year, they try to spend between four and six weekends on the North Shore. The Grand Marais area was first treated to one of their shows in 2013 at the Gun Flint Tavern.
"We liked what was going on there and the bands they had been hiring," explained singer and guitarist Andy Noyes. "We thought we had some kindred spirits there. We stayed on the case until they told us to get up here."
Though their local shows are in the Washburn and Ashland area, they do travel to share their sound. A five-hour road trip is par for the course, and they once made a true trek out West to satisfy long-time fans.
"We have gone as far as Denver to play at a wedding," said Noyes. "There was a couple that got to know us in the Duluth market and they asked us to come out there to play."
Playing so many shows over the course of their career inevitably lends itself to a few memorable stories. One of the most unique was a holiday gig that lasted until the wee hours of the morning.
"We did a New Year's Eve show in a club on the South Shore. We started at 9 p.m. with an hour of acoustic playing," recalls Noyes. "Around 10:30 p.m., we plugged in the electric and played until 4 a.m. For the last two hours, the owners locked the doors and it was a private party with the people that were in there. It ended up being a seven hour show!"
Producing an eclectic mix of improvisational rock and reggae, the group has a repertoire of over 200 songs. They choose to play music from a wide variety of influences and play a good mix of covers and originals.
Even when Floydian Slip isn't in your neck of the woods, fans can still enjoy their music on their CD releases. Their latest option, available this fall, features photos of the group from the Magnetic Rock hiking trail on the Gunflint Trail.
Floydian Slip is making their WTIP Radio Waves Music Festival debut this year on September 9 in Grand Marais. The festival, which runs from September 8-10, will feature 28 regional and local acts. More information about Floydian Slip is available on their Facebook page and at: floydianslip.org.