In my family, the holidays mean an overabundance of delicious food and spending quality time with the entire family, which means digging into the game chest for entertainment. Here are a few of our favorite games that are sure to keep your family occupied over the holidays.—Breana Roy
Pit Published by Winning Moves
This fast-paced card game, for three to eight players, is designed to simulate the outcry bidding of the stock market exchange. Players will simultaneously trade cards, or goods, such as wheat, cocoa, silver and gold, by yelling the number of matching cards being traded. Be the first player to quickly collect all the cards of one commodity and slap the corner board to win. Loud, crazy and a bit chaotic makes this a great and easy party game for all ages.
Telestrations Published by USAopoly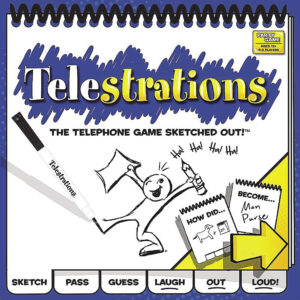 Despite being a drawing game, no drawing skills are required. Imagine the classic "telephone game" put visually; miscommunication at its best! Each player picks a card with a word and sketches it on an erasable note pad. After 60 seconds, pass your drawing to the left. Now that you have someone else's notepad and drawing, write down what word you think they tried to sketch. Pass your notepad to the left again and draw the new word written down by the previous player. Continue guessing and passing until each notepad is back to the original artist. Now flip back and see the hilarious results. You'll laugh as your word most likely took a turn in the wrong direction. This game is tons of fun for the whole family.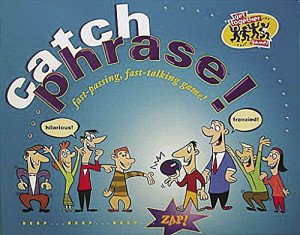 Catch Phrase Published by Hasbro
Form two teams for this timed word guessing game. Girls versus guys perhaps? Take turns getting your team to guess the word displayed in the plastic disc and pass the disc to the other team before the timer runs out. Unlike charades, verbal clues are allowed, as long as it doesn't rhyme. Don't be caught with the disc in your hand when time runs out or the other team scores a point.