The dance music of the 1970's lives again with funky Grand Marais party band Earth, Wind and Todd.
The story of Earth, Wind and Todd originates, as many good stories do; in Las Vegas, Nevada. After grooving to a 70's tribute band one evening in the Sin City, Minneapolis-area native Todd Miller was "blown away by the power of the era's music and its ability to transform the audience into a fun dance party."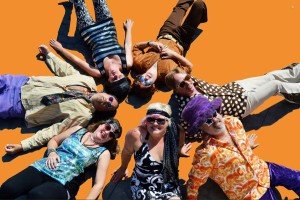 Since that night, it was Miller's goal to form a band that was groovy enough to get audiences on their feet, let loose and not take themselves so seriously. Listeners are often tipped off to the band's silly demeanor from the moment they spot their platform shoes and era-appropriate costumes on stage. That attitude is infectious and people are emphatically encouraged to relax and embrace the moment.
Miller's memories of his youth also provided a catalyst for his desire to form the cleverly-named band. Coming from a family that appreciated music, Miller fondly remembers listening to his Pickwick records on his avocado green folding record player. Music became ingrained in his musical DNA. Polka dances fostered a desire to dance and surround himself with people who also have the boogie gene.
When done right, the music of that decade has the ability to speak to a wide audience. Earth, Wind and Todd is careful to choose music that has a certain entertainment factor and humor that can ensure the dance floor is full of people from all walks of life.
"Not only does it entertain those who lived through the '70's, but when it's funky, it captures a much younger audience too. A great groove is timeless and ageless," explains Miller.
The band consists of a multi-talented mix of vocalists, percussionists, a guitarist and bassist. The four main members
are Todd Miller, Amy Brooks Varga, John Varga and John Mianowski. A rotating array of Cook County musicians rounds out the band at various gigs. Willing audience members can expect to be invited on stage for a danceable rendition of "Don't Fear the Reaper" and other songs throughout the set.
Readers hoping to exercise their funk muscle can typically catch Earth, Wind and Todd in the local bar scene at bigger events like Halloween, New Years and Fisherman's Picnic.