The North Shore is known for its wealth of talented artists who live and work throughout the Arrowhead region. Each artist's story and creative journey is personal and unique. For Dylan Cheek, his journey began back in grade school, filling notebook after notebook of pencil drawn doodles.
"Yep, I was that kid," he says with a chuckle.
Realizing drawing was what he wanted to pursue after high school, he attended UW-Stout, earning his Bachelor of Arts degree in fine arts with an emphasis in studio art. College is where he came into his own and developed the style he still uses today. Cheek works with pencil and paper as his medium of choice and enjoys the detail and life-like intricacies the richness of graphite brings to a piece. He describes his work as "hyper-realistic," focusing on one particular detail of a subject in a photograph and building from that. Nature is a common theme, for example, and when looking at a tree, he will concentrate on a section of bark and capture as much detail as possible. He sometimes combines highlights from several sources of inspiration to create one finished drawing. Cheek's energy for his work is contagious and when he shares the technical aspects of the creative process, it is truly engaging to hear.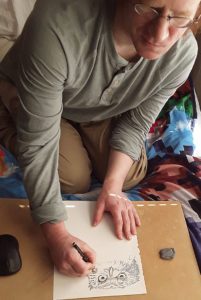 The Knife River native tributes his interest in nature and outdoors to his mom's love of gardening. When he realized he could duplicate flowers and they turned out "pretty darn good," he was hooked. He moved from doodles to creating works of art for commission and local exhibits. A familiar theme with many artists, most of his pieces are prints, as it is tough to permanently be separated from the original. Cheek's work is currently displayed at various locations. His notecard-sized pieces are available at the Mocha Moose Coffee Shop just outside of Two Harbors on the Scenic Drive. His larger prints are on a permanent exhibit at the Cloquet Public Library.
In 2014, Cheek had an idea to combine his art with his passion and interest in history, specifically the history of the big boats of Lake Superior. In the early 1980s, young Cheek saw the ore boats at the Duluth Canal for the first time. He was fascinated by the pier, the boats and remembered it being a deeply personal experience. So, when he came across a photograph years later from the early 1900s of a boat nestled in the DMIR ore docks, he experimented with a sketch of it. He admits he had no expectations of how it would turn out but was pleasantly pleased with the final result. Cheek eventually had a collection of nearly 20 drawings and during his research realized the story of each boat was just as interesting as capturing their images. He decided a book including a bio for each picture would be a great tribute to the rich history and the subjects themselves.
"Boats are like human—they are born, go through life challenges and have an end of life; each with a fascinating story to share," says Cheek.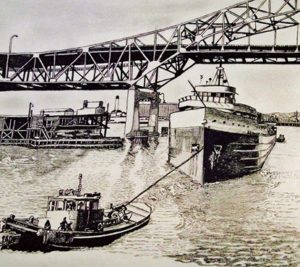 The book takes the reader on a complete exploration of boating history and he hopes it sparks appreciation in others as it did for him while writing it. It is his goal to have it available soon, throughout the North Shore, once a publisher is secured.
The day-to-day world of a working artist can be disheartening at times, but Cheek says that his motivation comes from the fans of his art. Knowing his work has touched someone on a deeper level is what keeps him doing what he loves. Additionally, his parents have been a consistent source of encouragement throughout his artistic pursuit. He continues to explore new subjects and techniques from his small in-home studio, which doubles as his bedroom.
Cheek has been a featured artist with the Annual 20/20 Art Tour—which highlights galleries in and around Two Harbors—and he may make an appearance again this fall. All of his work can be viewed on his website: dylspencildrawings.weebly.com.