As the weather warms up and we start digging ourselves out of our hibernating holes, we can begin our spring preparations. Now, I know it was technically spring some time ago, but with a wet and cold April, we Northlanders are on a delayed schedule and we take our summers seriously. They are short enough that we need to squeak every last moment out of them, so it's time to tune up the bikes, check your swimming suit for moth holes, and if you haven't taken the snow tires off yet, it's probably safe. It's also the time of year to start thinking about stalking your favorite ice cream joint.
It must be a Minnesota thing, because plenty of people I know have never heard of an ice cream shop closing down for the winter. Near my childhood home, we had a small Dairy Queen that closed down and became a Christmas tree lot every year, and some of my favorite ice cream shops here in the Northland are seasonal as well.
It turns out I have a lot of nostalgia tied up in ice cream, but more importantly, the relationships that have been nurtured around it. My earliest memory of ice cream magic involves a gallon of Kemps Tin Roof Sundae. Ice cream was certainly not a seasonal affair for my grandfather, a Danish immigrant and certified sweet tooth. With a twinkle in his eye, he'd ask who wanted dessert and send one of the grandkids to the overfilled chest freezer on the porch to return with a gallon of ice cream. He'd scoop out the bowls and pass around the Hershey's chocolate syrup.
A few years ago, I was picking up dessert for my own family, and as I scanned the freezer cases, I came across the Tin Roof Sundae. I hadn't had it in ages, but nostalgia kicked in and I decided to introduce my own kids to it, but without the chocolate syrup. Though they never had the opportunity to meet my grandpa, they feel a sense of connection to him through slow churned cream, fudge and peanuts.
Merla Mae, Thunder Bay
Merla Mae is one of those summer sensations, with a lot to offer. It is an old timey drive-in ice cream shop and burger joint. Merla Mae burgers are made from fresh, local beef and a Bennett's Bakery bun, truly keeping everything as local as possible. Merla Mae also makes all their ice cream in house and they offer a variety of flavors, as well as dairy-free options. Ice cream flavors vary from traditional ones like bubblegum, Oreo and strawberry, along with seasonal favorites like apple pie and pumpkin spice. Cinnamon bun. Blueberry cheesecake. How is a person to choose?! Merla Mae's dairy and gluten-free gelato is available in equally delicious flavors, like watermelon and peach mango. Besides these traditional offerings, Merla Mae makes the most beautifully crafted ice cream cakes.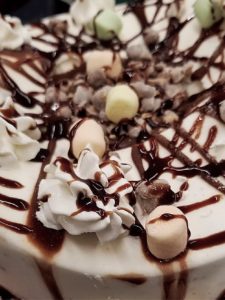 Love Creamery, Duluth
Love Creamery has two storefronts, with the original in the Lincoln Park Craft District, and a second store in Canal Park. Their menu includes espresso drinks as well as ice cream, with to-go options like pints and ice cream "sammies" as well. Love Creamery always has a couple "Plain Jane" flavors ready to scoop, and their ever-changing and infinitely creative freezer of small batch ice cream will keep you coming back for more. Love Creamery's waffle cones are gluten free and vegan, and their vegan ice cream gets rave reviews. You can even stop in for a kombucha, prosecco or craft beer ice cream float. Love Creamery focuses on sourcing their ingredients locally when it's possible and sustainably when it's not.
Northern Expressions, Ely
Northern Expressions is a gift and ice cream shop, located in the heart of Ely. Northern Expressions makes their waffle cones fresh daily, and if you're not careful, you may find yourself suddenly in front of the ice cream counter, having been lured in by their sweet siren call. Northern Expressions is home of the Mini Donut Shake, made with freshly made mini donuts, and while you eat your ice cream, you can wander through the vast gift shop and explore the various northern Minnesota themed décor offered for sale. Northern Expressions will open with the fishing season this year, the weekend of May 14.
Dairy Queen, Two Harbors and Grand Marais
Home of the Blizzard, Dairy Queen carries soft serve ice cream and many ice cream treats. The Two Harbors location serves hot dogs and chips in lieu of burgers and fries, and has an adorable walk up storefront and resident wooden bear. It's a great stop if you're out and about, biking through town, or need a leg-stretcher on your way up the shore. If you're looking for a burger with your ice cream, the Grand Marais DQ is the place to be. Both of these locations are right on Highway 61, so you can't miss them.
For many years, my family has had a tradition on Memorial Day weekend where we visit the cemetery. My dad grew up in a small town in north central Minnesota and my grandmother's whole family is buried there. Every year on the Saturday of Memorial Weekend, all my dad's cousins convene at the cemetery. We place silk flower arrangements on the graves of those we were closest to, and start off across the rows to find some more long-lost, or newly lost, loved ones. It seems like a strange tradition, but we look forward to this ritual of connection every year.
After we have paid our respects and "made the rounds" to the various friends and family who live there, we head over to the local Dairy Queen. Let's be honest, some people come just for the Dairy Queen. But, here in Minnesota, Memorial Day weekend is the official kickoff of summer, so it's always packed. If it's nice enough, we eat at the picnic tables outside and feed the resident emus some french fries.
I doubt the ice cream has much to do with it, but the slow churned frozen sweetness has been a vehicle of connection in my family. With so many wonderful choices here in the Northland, I continue to make ice cream memories with my own kids. So wherever your summer takes you, I hope you'll find moments of connection and maybe even a little nostalgia. You know where to find me.