Singing the blues for Thunder Bay musician Camden Blues wasn't always his preferred means of musical expression, though his success with the genre recently afforded him a whirlwind trip to the American South.
Camden's professional music career began with a late 1990s punk/metal band called the Speedway Detectives. More than 10 years and an album release later, the band went their separate ways in 2007.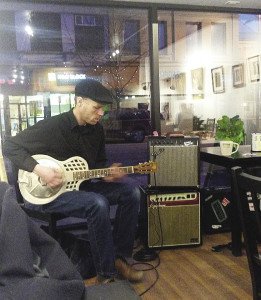 The breakup of the band was an impetus for Camden to expand his musical interests and to consider a wider range of influences. A group of like-minded locals joined him in a blues and jazz project that lasted until his 2008 move to Toronto.
"Living down in Toronto and playing with the musicians down there was a pleasure and a privilege. I learned a lot," Camden said.
Following his time performing solo in southern Ontario, Camden returned to Thunder Bay in 2012 and formulated the Camden Blues Band. The prolific group has recorded four albums, three of which have been released. For the past eight months, he has been working with his current group, the Camden Blues Quartet.
Blues as a genre has a special appeal for Camden and his surroundings further affect his approach to music.
"I am drawn to blues as a genre because of the raw visceral emotion and the independent mindset of its practitioners. Growing up on the North Shore of Lake Superior has influenced my work. I truly believe the raw, and unforgiving nature of the area has helped keep an emotional edge to my sound," he says.
This past October, Camden Blues competed in the Thunder Bay Blues Society's contest for a chance to perform at the International Blues Challenge in Memphis, Tennessee. He walked away from the competition as the first place winner in the Solo/Duo category, securing a position in Memphis this past January.
A whirlwind, three-flight journey led to five days of performances in the western Tennessee city. "The whole experience was a little overwhelming. I was there for five days, playing at various bars throughout the Beale Street downtown area. After the quarter finals, 75 percent of contestants were cut and those who remained went on to the semi-finals."
The International Blues Challenge represents an international search by the affiliates of the Blues Foundation for bands to represent them on the national stage.
"Unfortunately, I did not advance past the semi-finals. Just getting to play on Beale Street was a win for me though. I used the rest of the time there to explore the amazing history of the area," he said.
Blues aficionados can hear Camden at establishments around Thunder Bay, Ontario. He will also be performing with the Camden Blues Quartet at this year's Blues Festival on Friday, July 8 at 4 p.m.