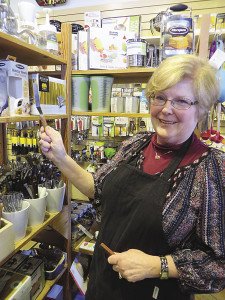 I may have a slight obsession with kitchen gadgets. Friends and family have come to know that if a gift for me is from a kitchen store, I'm bound to love it. But in a world of an ever-increasing number of kitchen gizmos and gadgets, it's worth taking a step back to think about what we really need and use during this month of Earth Day. Don't get me wrong—kitchen gadgets will still be on my wish list, but which ones should be at the top of the list and which ones should be headed to the thrift store?
To better understand the kitchen gadget world, I stopped by the Blue Heron Trading Company in Canal Park Duluth. Located in the DeWitt-Seitz Marketplace, the Blue Heron has been a staple for over 30 years. They have a wide range of kitchen supplies and gadgets, from the everyday to the extraordinary—their stacks of Le Creuset dutch ovens may have had me drooling.
The Blue Heron's assistant manager, Mary, showed me around the shop, pointing out some of their best sellers. It's a great place to shop and as Mary said, "it's like an extension of my home." And there are definitely gadgets to discover. If you are a regular butter user, the Butter Bay French-style crock keeps a stick of butter soft and spreadable, without refrigeration. It's made in the USA, dishwasher safe, and keeps butter fresh outside of the fridge for up to three weeks. While not all of us are regular butter consumers, pretty much every kitchen needs a good cutting board. A local favorite is the state shape cutting boards from Epicurean, produced in the Twin Ports. These durable cutting boards are made out of the same durable material as skate parks. They come in all your favorite state shapes, like Minnesota and Wisconsin, as well as many other novelty shapes, like Lake Superior, a maple leaf, and a walleye (specialty shapes available at www.epicureancs.com).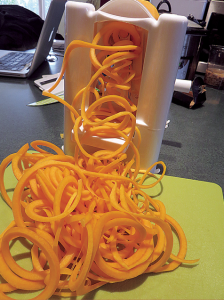 As my exploration of the store continued, a staff member did a demonstration of one of their products, a silicone lid that creates an airtight, water-tight seal on any round dish. Whether you are microwaving a vegetable or cooking something in the oven or on the stovetop, these Charles Viancin silicon lids prevent splatters and retain steam during cooking. Inspired by nature, the lids come in fun shapes like Lilypad and Poppy. This gadget is a great one to consider around Earth Day, as it'll help you avoid wasting plastic wrap or aluminum foil and still be BPA-free.
I asked another staff member what her favorite item in the shop was and she didn't disappoint. Denise shared an item that is simple, but ever so helpful—an offset spatula. This inexpensive, handy tool is perfect for any type of spreading, from frosting a cake to smoothing brownie batter in a pan. Another inexpensive but important tool in any kitchen is a vegetable peeler. After seeing one that the Lake Avenue Café uses regularly, I picked up one of the Kuhn Rikon peelers in red.
These days, many cooks are looking to use kitchen items made of safer materials. This has led some classic products to become popular again, such as cast iron, stainless steel and glass, as well as some newer materials becoming more widespread, like bamboo. While maybe once thought to be too cumbersome and maybe just less high-tech, well-seasoned cast iron pans can easily take the place of non-stick pans for most uses. If you do use teflon or non-stick pans, be sure to not overheat the pan or continue to use it if it has scratches, as that is when the not-so-nice chemicals can be released.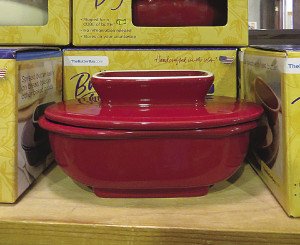 Bamboo is a popular material now for cutting boards, wooden spoons and other handy kitchen items. Bamboo tends to absorb less liquid than other wooden cutting boards (a good thing for less bacterial growth) and it is also a sustainable material. Just be sure to buy one that is made with formaldehyde-free glues. Plastic is another target that many people are trying to rid from their kitchens. If you do have plastic items, be sure to look for BPA-free and PVC-free products and do not microwave them. Avoid storing fatty, greasy, or acidic foods in plastic and toss them when they get scratched or cloudy. If you are looking to get rid of your plastic items, just be sure to recycle the ones you can.
When it comes to kitchen gadgets, we know that the sky's the limit. There is always a new one to try out. But which ones are worth it and which ones can you skip? Much of this depends on the style of cooking you do. If you rarely bake, I wouldn't spend a lot of money or cabinet space on a big set of baking pans. There is one rule to consider with any kitchen purchase: Can I use it for more than one dish or recipe? If the answer is no, you better really love that dish or make it so frequently that it's worth owning. For me, this no-go list would include a quesadilla maker (a fry pan works fine), a breakfast sandwich maker and a doughnut pan. Two other things to consider: Is the cleanup too much of a hassle that you won't use it and is it better for your health to not own one (or likewise, a good thing for your health)? There is a good reason why I don't own a deep fryer, although I enjoy fries occasionally at local restaurants.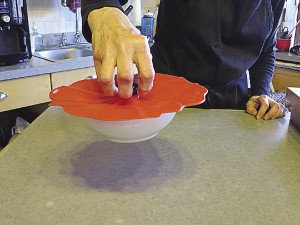 My new favorite gadget might not meet the rules above for everyone, but it has been a great addition to my kitchen: a vegetable spiralizer. They've been all the rage recently and after holding out for several months, I received one as a Christmas gift. My number one reason that I wanted a spiralizer was that it enables you to incorporate more vegetables into recipes. It can make zucchini and butternut squash noodles, which are tastier than they sound. It also makes quick work of coleslaw, by shredding a head of cabbage in a flash. I'll be teaching a class at the Cook County Whole Foods Co-op this April about Spiralizers. Check out www.cookcounty.coop for more details and to register.
Whether you are doing a spring cleaning of your kitchen or trying to decide on a new kitchen gadget addition, keep in mind the larger goal of our kitchens: a place to help us prepare delicious, nourishing food. And if you've got a gadget that you think I should try, let me know so I can have an excuse to add another thing to my kitchen