They are separated by an international boundary and about 200 miles. Their biographies differ significantly. However, both Terri Lynn Fucile and Elizabeth Spehar share a passion for tea, environmentally responsible and healthy products, and a desire to create spaces where others can experience the benefits of the products that evolved from those values. Both were at points in their lives where they were ready to take on the risk of starting their own business.
It was the birth of twins that nudged Terri Lynn Fucile in that direction. While on maternity leave from her job as a nutritionist, she visited a tea house in a large city. She loved it, and it occurred to her she could do something similar in Thunder Bay. She enrolled at the Las Vegas Tea Institute to learn the craft. She started Humanitea, fundraising efforts for the Red Cross and the Faye Peterson Transition House. Through these efforts, demand for her teas grew, and she opened International House of Tea in a shared space with an aromatherapist. She began with 12 canisters of tea.
The business grew and in 2012 she moved her shop to its current location on Algoma Street. She has expanded her tea selection to more than 100 varieties and blends. She also has brought in high quality scones. Additionally, her shop provides tea leaf reading consultations and locally-made pottery for sale.
As a mother of three, Fucile has run her shop on the premise that she will not sell anything that she would not feed to her own children. She was able to find a good tea vendor that follows the European standards for tea. That means that her teas are never irradiated and contain no GMO products, sugar, soy or gluten.
Her best-selling teas are special blends. She offers a Thunder Bay blend that can be purchased with either black or green tea. In homage to the many berries that can be foraged in the area, it is a fruity blend with hints of chocolate. Another favorite is their Earl Gray Cream blend. Their Chai Butter is another popular item. The spices and sugar are added to the melted butter, then it is sold in re-solidified form and can be added to other teas.
Fucile is still selling tea with charitable intent. Her Wake the Giant is a blueberry bergamot blend where two dollars from each sale goes to the Wake the Giant project and the Dennis Franklin Cromarty Student Living Centre. The Wake The Giant Project is an effort to co-create and identify safe and welcoming spaces for Indigenous people. Many Indigenous youths move from rural areas to Thunder Bay to attend high school.
In addition to selling healthful, environmentally responsible products, Fucile strives to create an atmosphere that is consistent with the experience of consuming tea. She is thankful that she gets lots of feedback that her staff is very friendly and helpful.
"I needed a relaxing atmosphere, so that's what I created," she states. "People leave more tranquil than when they came in."
For more information on International House of Tea, visit: internationalhouseoftea.com.
Elizabeth Spehar never thought she would own and operate a tea shop. But after she graduated from college, she had trouble finding work. She had thought she might want to become an English professor. But after assessing her situation, and with help from her mother, she decided to take a risk and share her passion for tea, plants and kombucha by opening the Snooty Fox Tea Shop in Duluth.
Six years later, she finds herself at another crossroad. Her mother is ready for retirement, so their tea shop in the Chester Park area has closed its doors. By no means is she done selling tea and kombucha, though. Rather, she is taking time to expand her kombucha business and reflect upon the type of business she wants to create. They are moving to a larger location in the Endion Neighborhood. She hopes to open a retail space at that location in the spring. Meanwhile, she will be selling her teas online and working to create new kombucha varieties by partnering with local sustainable growers.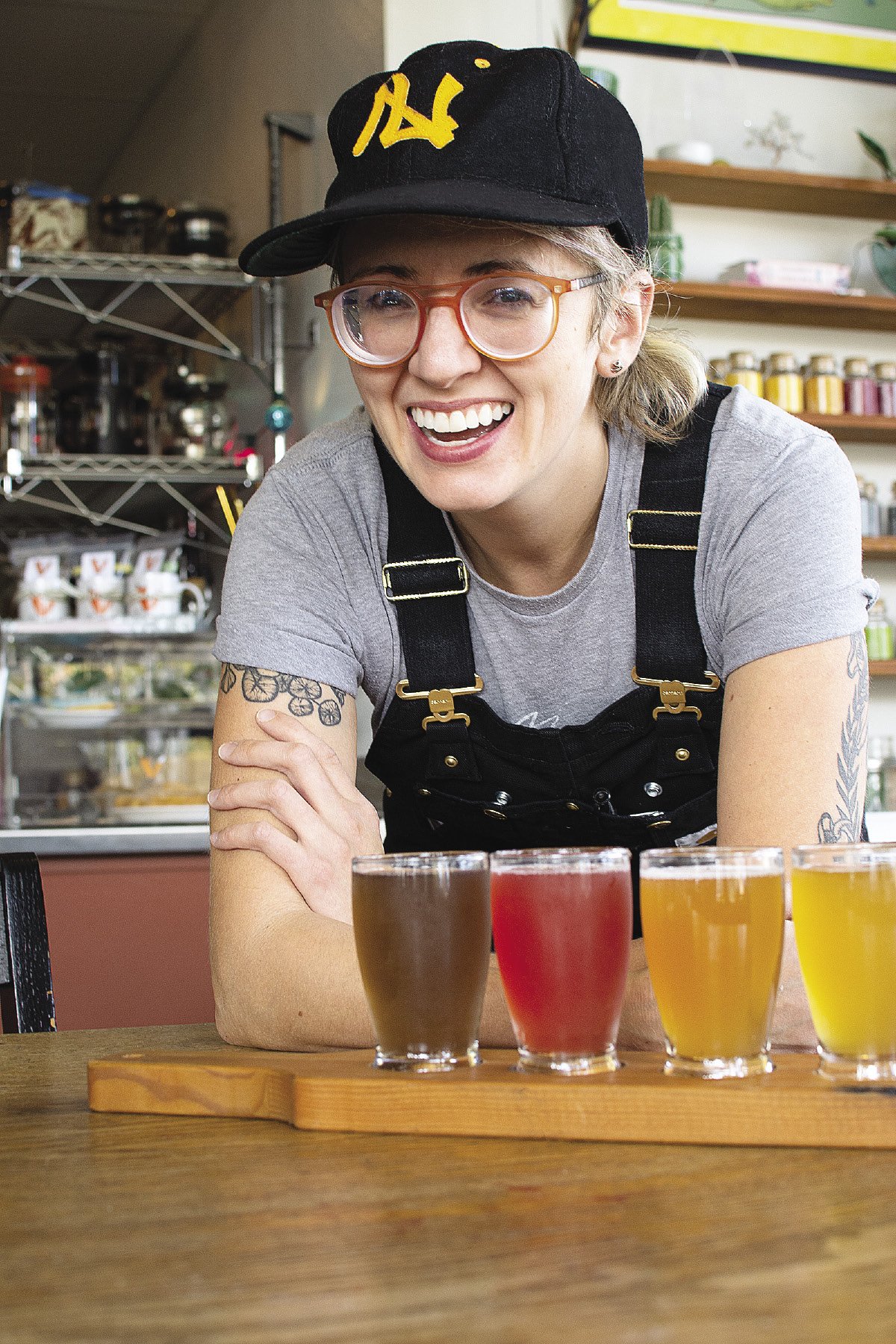 Spehar wants to create a business that is more in line with her values which center around environmentally sustainable agriculture and fair labor practices. She wants to take the best of what she had at her old location and figure out ways to become more intentional with how she communicates her values. She feels the Snooty Fox had become a meeting place for curious, passionate, environmental-minded people.
She currently offers close to 120 varieties of tea. Some of her best sellers are blends. There is Sleeping Potion, a hoppy blend, Minnesota Nice, a blend of black tea, Jasmine green tea, lemongrass, rose petals and cornflower, and their locally-themed Boreal Blend, a mixture of items that can be found locally in the forests—cedar, burdock, juniper and rose hips.
Spehar says that tea is at the heart of her kombuchas as well. From batch to batch she uses combinations of five to seven different teas in addition to her well cared-for culture. While the recipes in her batches are constantly changing, some of her most popular kombuchas have been their Blueberry Sage, Peach Tarragon, Tropical Hopical and Boreal Forest.
In addition to tea and kombucha, her shop served bubble teas. These are made from tea, cream, tapioca pearls, and natural fruit flavor. Because of the tapioca, they are served with jumbo straws.
"What I love about tea is learning about its culture, geography, and history," says Spehar.
As she looks to explore the nature of how her business will evolve, she wants to be more intentional about how she communicates her values. Certainly, the shop will communicate her passion for environmentalism, for responsibly sourced products, and for creating nutritious products in partnership with local growers. She also would like to explore the pairing of teas with food.
To learn more about The Snooty Fox Tea Shop, visit: thesnootyfoxteashop.com.