When many imagine life in the northwoods, they picture a cozy log cabin surrounded by acres of forest. Cook County builder Isaak Beran is dedicated to turning the dream of living in a classic log cabin into a reality. His business, Beran's Handcrafted Log Cabins, opened just last year near Grand Marais, and he is dedicated to providing people with a quality log cabin to last them through the years—all built by hand and off-grid.
From a young age Beran remembers being intrigued by log cabins, inspired in part by visits to his grandpa's cabin near Grand Rapids. However, it wasn't until 2014 that he started on the path of learning to build log cabins himself. During that year, Beran enrolled in the Great Lakes School of Log Building in Isabella (now closed). That experience solidified the passion that he had for building and he has been building cabins ever since.
"I learned a lot at the school, but it was enough to be dangerous—I had a lot more to learn," Beran said.
After leaving the school, Beran's first project was building a 10×12 cabin in Hayward. Completing his first cabin was a learning process, but it was also the start of a new venture in building cabins full-time. Beran said he always had a dream of starting his own business, and combining that with his interest in log cabin building seemed like the perfect fit. He spent time getting his off-grid build yard near Grand Marais ready, and this year is his first full year in business.
Beran's work involves crafting the log shell for each cabin. It certainly is no easy process: the large cabin that he built last winter took six months to complete.
"One thing I wish my teacher had told us more is just how much work actually goes into building a log cabin," Beran said. "If you're going to be dedicated it really has to be a full-time job."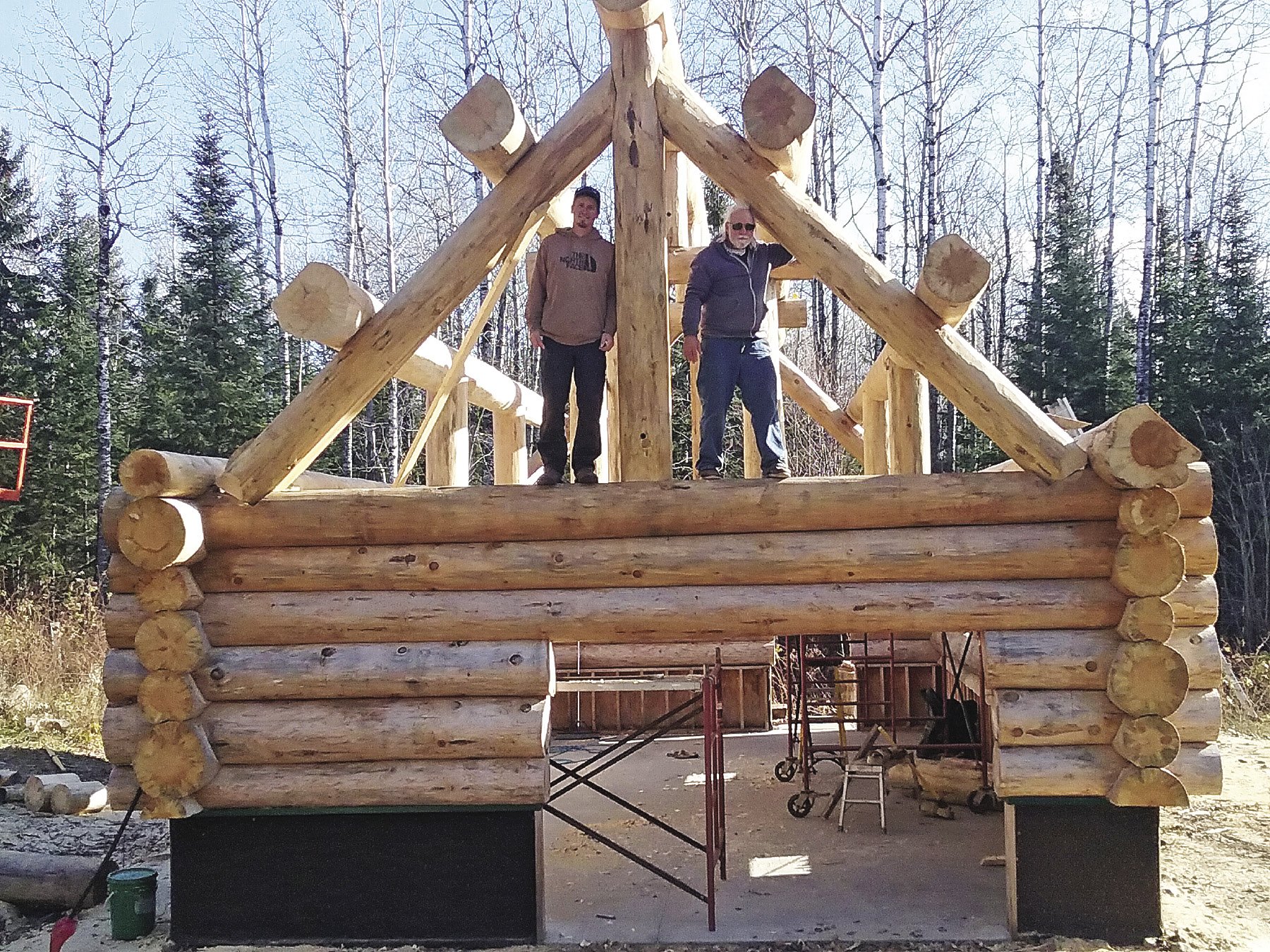 Beran's Handcrafted Log Cabins are custom-designed. The process starts with getting a phone call from a potential customer and talking about their ideas and vision. He describes his style as versatile, and he's willing to work with buyers to create the cabin design that they want. Once the design is in place, the logs are ordered and brought from central Minnesota to Grand Marais in the wintertime. Sometimes customers request a certain kind of wood to add to the shell, but typically Beran uses red pine.
"I use red pine over white pine for a few different reasons," Beran said. "It's easier to work with, there's less sap, the bark can be easily removed in the winter time, and it's a stronger wood than white pine."
The pine logs arrive fully barked, so Beran uses an 18-inch wide drawknife to peel the bark off: he describes it as rather like peeling a potato, but on a much larger scale. Different trees—and even different parts of the same tree—vary greatly in how easy they are to peel.
"Peeling is a fun and time-consuming process. I'm fortunate enough to have friends that enjoy helping with it so I can move onto other stages of the building process," he says.
Once the logs are debarked and ready, Beran scribes the logs. Scribing is a process where logs are cut so that the shape of a log being added to the cabin directly mirrors the one below it. This ensures the logs fit snugly together. Saddle notches are used in the logs, which is done to keep the logs fitting well together as they settle. Eventually, the entire shell is complete. If completed at the build yard, Beran numbers each log and disassembles the cabin so it can be brought to its permanent site and assembled again. The owners can then finish the interior themselves, and have a one-of-a-kind, handbuilt cabin to last them for years to come.
As someone who also does restoration work on older log cabins, Beran stresses the importance of proper design and quality building to ensure the longevity of the cabin.
"A lot of the time restoration jobs are due to the design of the home, whether that's improper overhangs or logs that are too close to the ground," says Beran. "No matter what kind of wood you have, if it's exposed to water it can rot. Designing a cabin well in the first place is a lot easier than fixing it later."
Someday after he's gained more expertise Beran would like to teach and offer log-building classes for others in the area who want to know more about the craft. In the meantime, his plan is to continue working hard to make one-of-a-kind cabins so people can have the northwoods home they've always wanted.