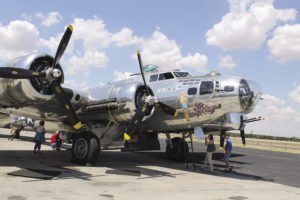 Thunder Bay—Aviation buffs may want to mark August 1–8 in Thunder Bay on their calendars. That's when two iconic WWII-era warplanes from American museums—the four-engine B-17G "Sentimental Journey" and twin-engine B-25J "Miss Mitchell"—will be at the Thunder Bay Airport for a week's stay. They will provide the public with a static show and on certain days, opportunities to purchase flights on these rare warbirds.
The B-17G will be flying in from its base at the Commemorate Air Force (CAF) Airborne Arizona Museum in Mesa, Arizona, and the B-25J from CAF Minnesota Wing (CAF-MN) base in St. Paul. The B-25J "Miss Mitchell" is one of roughly 45 B-25s still airworthy, out of more than 100 in the world (most in the U.S.).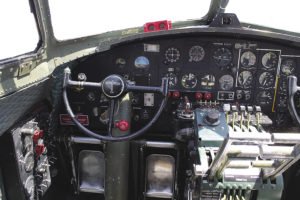 Airbase Arizona, which is volunteer-operated by CAF's Arizona wing, is a top tourist attraction in Phoenix and home base to approximately 30 aircraft, including a fully-restored Grumman Guardian (only five left in the world), F-4 Phantom, MiG-15 and the world's only flying Lockheed Vega. There's also an extensive collection of WWII artifacts and interesting exhibits.
After spending time in the bare-bones interior with its equipment, 50-cal machine guns, ammunition and bombs, one comes away with tremendous respect for the courageous 10-person crews—usually young men—that flew for many hours in the confines of this cold plane during dangerous missions over enemy territory.
Over in St. Paul, the CAF-MN operates an aviation museum, open to the public, with six aircraft including the B-25J "Miss Mitchell," large motor pool fleet and collection of WWII artifacts. "Miss Mitchell" served in North Africa and Italy, completing 130 missions with a six-man crew, 12-18 50-cal machine guns, and the rare accomplishment of no crew fatalities during its missions.
The event is hosted by Confederation College and supported by the Thunder Bay International Airport and by the volunteers of the Northwestern Ontario Aviation Heritage Centre. The planes will arrive at the Thunder Bay Airport on August 1 and depart on August 8.