Beaver Bay—The 16th annual Gitchi-Gami Trail Association (GGTA) North Shore Bike Ride takes place on Saturday, August 20, on the Gitchi-Gami State Trail (GGST) and connecting roads, with 28-mile, 37-mile, and 55-mile route options. The recreational ride will begin and end in Gooseberry Falls State Park.
As an added attraction to this year's ride, Beaver Bay, the "hub" of all three rides, is celebrating its first annual Rhythm & Roots Festival that weekend. GGTA riders can enjoy music, history presentations, street sales, food and fun events planned for the celebration. The festival commemorates the 160th anniversary of the founding of the city of Beaver Bay—the oldest permanent settlement on the North Shore.
All three routes begin on the longest continuous section of the GGST—14 miles from Gooseberry through historic Split Rock Lighthouse State Park, to the new rest stop at the Beaver Bay trailhead. The 28-mile route is entirely on the GGST, from Gooseberry to Beaver Bay, and back again.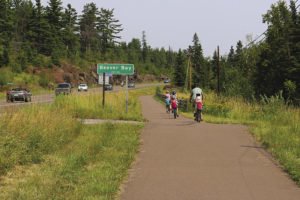 The 37-mile option adds a loop on county roads north from Beaver Bay and into Silver Bay, returning on the trail between Silver Bay and the West Road in Beaver Bay.
The 55-mile option follows the GGST to Beaver Bay and adds a challenging loop north and east on county roads and state highways, returning through Silver Bay to Beaver Bay.
The GGTA is also celebrating its partnership with Beaver Bay Township and the state Departments of Natural Resources and Transportation (MnDOT) in completing the Beaver Bay to Silver Bay trail segment of the GGST. The West Road project will pave the half mile of gravel road from the west trail terminus to Hwy 61, linking Beaver Bay to Silver Bay on an all-asphalt surface, with completion scheduled this fall or next spring.
Next year, MnDOT plans to reconstruct the bridge over the Beaver River, which will include a dedicated bike lane separated from traffic.
The GGTA Ride begins at 9:00 a.m. A daily pass will be provided by the GGTA as part of the registration fee.
Snacks and refreshments will be provided at rest stops and post-ride. Mechanical, emergency, and sag support will be provided.
Visit www.ggta.org for more information.—Anne McKinsey