Duluth—The Great Lakes Aquarium opened a new permanent exhibit on July 14, titled Unsalted Seas. The exhibit focuses on fresh water lakes and animals. There will be a 9,000-gallon touch tank filled with multiple types of sturgeon, many of which are found in Russia. The exhibit also features a large bronze statue of a Nerpa seal, which is the only fresh water seal in the world.
There will be five or six sturgeon species in the touch tank, including, Siberian, Beluga, Russian, Starlet, and Stellate. These are all found in Russian waters, including Lake Baikal. The tank will also include lake sturgeon, which are found in the Great Lakes. Many sturgeons are endangered or threatened fish species, so having the opportunity to touch and learn about them will make a great learning experience. Sturgeon have sides and backs that are armored in rows of thick plates instead of scales, so they are not very sensitive to touch. This makes them excellent for a touch tank exhibit. The tank is also large enough that the sturgeon can stay out of reach if they choose.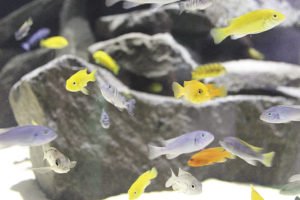 "There are growing concerns about fresh water around the world. Unsalted Seas will reinforce the important idea that we should never take this precious resource for granted," said Jack LaVoy, executive director.
Having the Russian sturgeon and the sturgeon found in the Great Lakes provides a strong educational opportunity to highlight the similarities and differences between the two largest freshwater lakes in the world. One big difference between the bodies of water is age. Lake Baikal is 25 million years old. Lake Superior is only 10,000 years old. Lake Baikal is also rich in biodiversity. Based off current knowledge, it is home to 1,000 plant species and 2,500 animal species.
The sturgeon from Russian waters were bred in captivity and acquired on loan from a sturgeon hatchery in Florida. The Siberian sturgeon came to the U.S. in a box from Thailand labeled "Seafood," poorly packaged and barely alive. The fish were nursed to health miraculously in the Tennessee Aquarium and remained there after the smuggling case was resolved. Due to limited space at the Tennessee Aquarium, the Great Lakes Aquarium was able to acquire them.
For more info, visit www.glaquarium.com.—Kaelyn Lenski