Wawa—From August 19-22, Lake Superior's Michipicoten Bay will be brimming with boats as part of Wawa's 34th annual Salmon Derby. Brad Buck, president of Wawa Salmon Derby Incorporated, says that he expects well over 150 anglers to participate in the three-day event.
Buck says the prize structure depends on the number of participants, but figures it will be similar to last year; a top prize of $6,000 was awarded to the angler catching the weekend's largest salmon and cash prizes were paid to the top five finishers. There is also cash for the largest lake trout and a variety of prizes—from an early bird registration draw to an empty creel award—expected to total around $25,000, said Buck.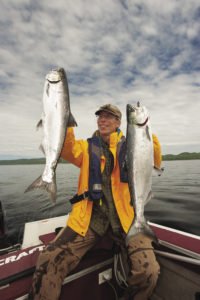 The event began in the early 1980s when Gary Sittler, owner of Sit's Place Restaurant and Brad Buck of Buck's Marina, organized the premier event which attracted 22 teams. The event grew quickly, regularly drawing over 300 teams per year through the late 1980s and early 1990s, when the salmon fishing out of Wawa was at its peak. Buck says the fishing for pink, coho, and Chinook salmon remains strong.
Most fish are caught by downrigging through depths that can vary from near the surface, to 120 feet or deeper, he said. Popular baits continue to be dodger and fly combinations as well as cut bait and a variety of plugs and spoons. Last year's winning salmon weighed 12.7 pounds, but salmon over 20 pounds are caught regularly.
Anglers registered can test the waters and have a chance at winning money during the five-day pre-fishing contest from August 13-17, when a daily cash prize will be awarded for the largest salmon. All fishing is in Michipicoten Bay—from Minnekona Point to the North, South to Brulé Point. The event is run out of Buck's Marina at the junction of the Michipicoten and Magpie Rivers, about five miles south of the town of Wawa.
For more information, visit www.wawasalmonderby.com.—James Semdley