The Complete Package for Travelers
There's something that cost-conscious tourists, traveling sports teams and conference coordinators have in common—all are seeking the perfect home base, and all can find what they're looking for at Lakehead University.
"Groups seeking a place to really connect and build their team find ideal accommodations in the dorms," said Christine Costa-Wilson, Lakehead's manager of conference services. "Others prefer to stay in one of our private apartments or townhouse bedrooms. And what's great for large groups is that all of our accommodations are within walking distance of each other."
Lakehead connects tourists, teams, conference groups, and other travelers in a multi-purpose venue; it has 100,000 square feet of rentable space which includes dormitories, apartments, boardrooms, AV-equipped classrooms, lecture halls that seat up to 360 people and a 55,000-square-foot event space that's great for gala dinners and trade shows.
Conference services has some accommodations that are available year-round, but from May to August, Lakehead opens up its campus and provides more than 1,000 beds for nightly, weekly or monthly rental.
All the rooms are available on the picturesque Thunder Bay campus, which is centrally located and features spectacular views of scenic Lake Tamblyn. Rooms range from an affordable $35 per night to $200 per night. The air-conditioned meeting spaces are reasonably-priced too, ranging from $50 per day to $500 per day.
The conference capacities are wide. Lakehead can host groups of 10 to 1,200. The university has hosted church groups, baseball associations, and visiting teams playing the Thunder Bay Border Cats, among others. This May, Lakehead is hosting an Indigenous Language Conference and more than 500 people will be in attendance.
Hungry? Lakehead is home to Classic Fare Catering, an onsite catering and food services provider which creates unique, customized menus for intimate gatherings, formal sit-down dinners, outdoor barbeques, and more.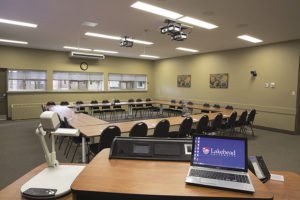 "When you stay here and host an event, we're a one-stop shop," said Costa-Wilson. "We coordinate the event or conference, set up the meeting space, parking, technology, and signage, and we develop personal meal plans. Also, our team serves as personal, on-site assistants to ensure events go on without a hitch."
Costa-Wilson said for those seeking a unique Thunder Bay experience, Lakehead University is the solution. "For the people that stay with us, dine with us, and have their conference here, what's really important to them is that at Lakehead, they remain connected to the whole community. They're able to tour around Thunder Bay and visit our attractions with ease."
To explore the exciting opportunities that await at Lakehead University, call Conference Services directly (807) 343-8799 or visit: conferenceservices.lakeheadu.ca.
Lakehead is part of a group called Canadian University and College Conference Organizer's Association (CUCCOA). Check out their website to take advantage of reasonably-priced university accommodations nationwide at cuccoa.org.