Two Harbors—The Superior Hiking Trail Association (SHTA) has hired a new executive director. Denny Caneff will lead the SHTA into the future of maintaining, improving, permanently securing and protecting the trail, as well as securing financial resources to support the SHTA and cultivating membership.
"We are fortunate to have found a leader with Denny's depth of experience and dynamic personality," said Tim Kuehn, vice president of the SHTA board of directors and chair of the executive director search committee, which received more than 70 applications for the position. "With this summer's completion of the trail, the association's focus and needs are broadening. We not only chose Denny for his passion for the outdoors but his big picture thinking and strategic skills and his ability to build relationships with stakeholders. These skills will be key in setting the future direction of the trail for years to come."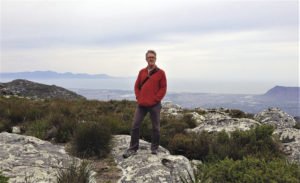 Caneff comes from Madison, Wisc., where he held professional positions in land and water conservation, most recently completing a 13-year stint as executive director of the River Alliance of Wisconsin. His work at the River Alliance was honored with two recent awards: the Conservation in Action award from the Wisconsin League of Conservation Voters, and a River Hero award from the national river conservation organization River Network. As a long-time nonprofit executive and consultant, Caneff has raised tens of millions of dollars in grants and donations, developed volunteer and board capacity, managed professional staff, shaped conservation policy and educated the public on complex issues.
"I'm really excited to bring my nonprofit management experience and passion for the outdoors and conservation to the Superior Hiking Trail Association," said Caneff. "The North Shore has always drawn me in, and what better way to answer that call than this work to keep the Superior Hiking Trail a regional and national gem."
A Minnesota native, Caneff was born and raised in Hastings. He's a graduate of St. Cloud State University and holds a master's degree in journalism from the University of Wisconsin-Madison. The father of four children, Caneff is an avid kayaker and hiker, canoed the entire length of the Mississippi River, spent time in over 20 foreign countries, and served in the Peace Corps in West Africa.
Members and hikers attending Hike Fest on May 19-21 will have an opportunity to meet and welcome Caneff, when he will be formally introduced to the association on Saturday. Visit shta.org for more information.