One could drive down May Street and not notice the building, were it not for the line of cars entering the parking lot. Saturday mornings in Thunder Bay mean it's Market time. Year around, vendors at Thunder Bay Country Market conform to the rule, "Make it, Bake it, Grow it." All the 75 year-round and 15 or so seasonal vendors adhere to this rule. There are hand-made crafts, ethnic foods, meats, and lots of preserves. The place is bustling, alive with music and the competing aromas of prepared foods.
While all of the food is locally produced, a few vendors grow and process their products exclusively on their farms. Those growers are at their booths selling their products. They control every aspect of the production and are happy to discuss their products with you. One could prepare an amazing and healthy meal with the meat, cheese, flour and vegetables found at the Thunder Bay Country Market.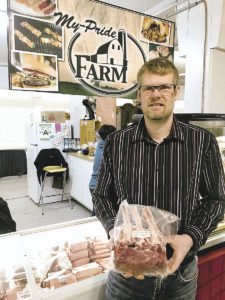 Since meals are often planned around the meat dish, let's start there. Mike Visser started My Pride Farm seven years ago from scratch when he moved into the area from southern Ontario. After three years, he quit his day job. Visser raises veal calves. He buys bull calves from a local dairy farm and prepares them on his 30 acres. They are corn fed and kept for 10 months. Last year he processed over 120 head. In addition to selling his veal at the market, his products are available at his farm, at area grocery stores, and are featured at local restaurants. His products include cutlets, steaks, roasts, ground veal, and veal peperoni. Veal is juicy, tender, and high in vitamin B12 and iron. His calves are ethically raised and hormone-free.
Thunder Oak Cheese Farm is the first on-farm cheese operation in Ontario. Milk from their 80 Holsteins is processed into 15 all-natural varieties of Gouda. This is a family operation. Walter Schep and his wife Joanne oversee the cheese processing while brother Martin and his wife Charmaine manage the dairy. Their parents, Jacob and Margaret, emigrated from Holland where Margaret's mother was presented a World Champion award for her Gouda in 1975. In addition to starting the farm and cheese operation in 1995, Jacob and Margaret were also instrumental in founding the Thunder Bay Country Market. Thunder Oak Cheese Farm has since won a Diary Farmers of Canada Grand Prix award. Walter says their most popular cheeses are the medium-aged Gouda and the jalapeño Gouda. Other popular varieties include the fenugreek and the smoked Gouda. Their cheeses are aged a minimum of one month to over one year, depending on the variety.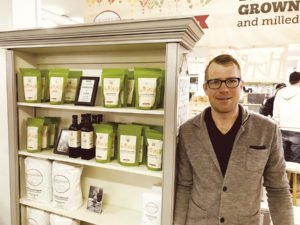 What the Scheps do for cheese in the area, Jeff Burke does for flour. In 2008 he purchased 17 acres with the vision of producing stone-milled flour made from his own wheat, and Brule Creek Farms was born. He now farms 277 acres and has added rye flour and cold-pressed canola oil to his repertoire. Burke extolls the value of his stone-ground flour. The milling process is cooler than other methods, creating a product with more flavor and more bran. While not medically verified, some people with gluten sensitivities claim they better tolerate flour processed in this manner. Burke says the gluten content of his flour varies from year to year; the drier the year, the higher the gluten content. After the wheat is stone-ground, the whole wheat flour is sifted with a coarse screen to remove impurities while leaving the bran. Their partially sifted flour is sifted with a smaller screen, creating a finer flour. They also sell a rye flour with grains grown on their property. Their extra-virgin canola oil is made from canola grown on their land. This cold-pressed product has lots of flavor and a darker color. Pre-package mixes are also available.
Burke advises that since their flours are a bit heavier and richer in nutrients and flavor, one should compensate when cooking by making the dough a bit wetter. Adding some lemon juice can help activate the glutens. Some experimentation with this flour may be required, but the added nutrients and flavor make it worth the effort.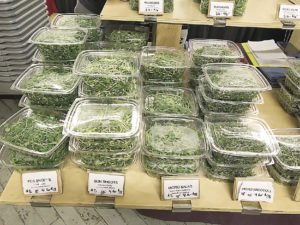 When planning a meal, of course, you must not forget the greens. Justin Friedel and Caitlin Peuramaki-Brown of Veg-e-tate Market Garden certainly have not. For nine years they have been pushing the boundaries of seasonal extension by growing vegetables year-round near Thunder Bay. As they will attest, this is an endeavor fraught with risk, hardship and innovation. The results have been worth it, though. They started with a plastic covered building inside which they constructed a greenhouse. They had to be very careful managing what to grow and how to cover their crops at night so they didn't freeze. They weren't always successful. However, they persevered and innovated and now operate out of a 3,000 square foot commercial greenhouse. They produce shoots and micro-greens and leafy vegetables, such as lettuce and bok choy. During warmer weather they also produce carrots, radishes and kohlrabi, in short, everything that would go in a salad. Their products are all non-GMO and grown using natural, sustainable methods.
After a morning of shopping at the Country Market, full of inspiration about fresh, local foods, treat yourself to lunch at The Growing Season at 201 Algoma Street. They specialize in juices and shakes and also offer simple yet elegant dishes, featuring fresh foods that are sourced locally when possible. Amy Kelterborn, part owner of the restaurant, says they use many products sold at the Country Market, such as Thunder Oak Gouda, Murillo bread, Rainy River elk, and Brule Creek canola oil and flour. In the summer they source vegetables from Roots to Harvest, a local organization that gets kids growing food.
"We offer simple, healthy food in a friendly, cozy environment," says Kelterborn.
I ordered their Big Life Plate. It features their house-made garlic hummus, Rainy River cured elk, Thunder Oak Gouda, marinated olives, veggie sticks, apple and orange slices, and gluten-free corn chips. I found their house-made garlic hummus, with in-house sprouted lentils, to be irresistible. It was also a treat to sample the elk and Gouda, both available at the Country Market.
During the summer, the Thunder Bay Country Market ventures outside onto the parking lot and adds 10 to 15 more vendors. Seasonal produce is available at this time. The Market is open year-round on Wednesdays from 3:30 to 6:30 p.m., and on Saturdays from 8 a.m. to 1 p.m. Make sure to get there early; the place is bustling! For more info visit: tbcm.ca.