In 1999, Scott Graden decided to do something different. Along the North Shore's Scenic 61 and in the Two Harbors vicinity, there were several popular restaurants, all with similar menus.
"They all had a little watering hole mentality," Graden said. "I wanted to do something more than that."
Opportunity knocked when the venerable Scenic Café came up for sale in 1998. Graden and his aunt, Rita Bergstedt, made a down payment on a contract-for-deed for a little diner. The duo had a shared vision for what they wanted to do with the restaurant; something different that was "fun and funky." So began the New Scenic Café, which opened its doors in April, 1999 and celebrates its 20th anniversary this year.
As an owner/chef, Graden wanted to develop a menu incorporating quality, creativity and simplicity. Doing so, he said, wasn't easy, likening the process to baking bread.
"Bread has only four ingredients, but it's still hard to get it right," he said.
The menu he unveiled was "shocking for locals" who were used to stopping at the diner for a burger and fries. But Graden forged ahead, knowing change, inevitably, is a good thing. Even though the menu was different, he kept the descriptions of the dishes simple. Instead of hyping the food, he let the food speak for itself.
"You don't need the menu to tell you the food is succulent. You should expect it to be," he said.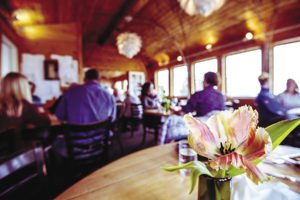 As folks discovered New Scenic and its foods, the restaurant quickly attracted a following. The first year, Graden and Bergstedt were able to double the business of the previous owners' final year. The second year, they doubled again. The growth allowed them to add an additional dining room and walk-in cooler, as well as convert a parking area in front of the restaurant into a garden.
In the early years, even regulars were surprised from one visit to the next. If you found a dish you liked, the restaurant might no longer serve it the next time you came in. Graden frequently changed the entire menu, taking advantage of the small restaurant's ability to pivot and introduce new dishes more nimbly than a large operation.
"I wanted to change the menu frequently and regularly," he said. "But I learned that you don't need to change it as often."
That learning curve was a business decision. Teaching staff and suppliers about the ever-changing menu proved to be expensive. Today, the restaurant rolls new offerings into the existing menu, rather than flipping the whole thing. Customers still find surprises, as well as their old favorites.
Bergstedt was involved in the daily operations of the restaurant until she decided to retire in 2005. In a recent press release, she said, "I loved the work, staff, and customers, but it was time for me to step back and develop other interests. I'm proud of the vision Scott and I had, and the hard work that has gone into creating such a wonderful place for people to enjoy a lovely dining experience."
While New Scenic's menu leans heavily on fresh ingredients, the restaurant doesn't solely rely on locally produced foods. Graden feels the current "local and organic" movement in food has become trendy. Instead, he focuses on quality.
"My approach is to heighten awareness, to get customers to slow down and enjoy the meal," he said.
But "slowing down" doesn't seem to be in his personal make up. Being an entrepreneurial chef is but a part of his professional life. Graden has an MBA in business administration and began teaching various aspects of business at the College of St. Scholastica and UMD about 10 years ago. He finds teaching rewarding and plans to continue working in education.
On the home front, he and his wife, Jennifer, have young twins—Kristian, a boy and Alma, a girl—who will be starting kindergarten. Although Jennifer is from Florida, Graden grew up in Two Harbors and enjoys living in the north. He observed that meeting the everyday challenges of life in the north encourages you to be resourceful.
In the press release, Bergstedt suggested that Graden intends to continue taking the New Scenic Café forward. "I'm especially proud of Scott's expanded vision for the restaurant, and all that is yet to come!" she said.
Graden puts it this way. "I want this (the restaurant) to still be a good thing," he said. "As I see it now, my involvement is still part of making it one."
For the New Scenic Café's loyal customers, that kind of talk just whets their collective appetite. To learn more about New Scenic Cafe, visit: newsceniccafe.com.