For Duluth-based artist Theresa Hornstein, the common "thread" that ties together her various artistic projects, teachings, and passions is a love of color.
Best known, perhaps, for the natural dyes that she uses to color her yarns and fibers—dyes that she often creates using invasive species foraged in the surrounding forests—Hornstein is an avid fiber artist, and her crafting spans everything from basketry to woodworking, and henna to jewelry-making. She also teaches Pysanky egg decorating.
"You know, I consider myself more of an artisan than an artist," says Hornstein. "In my mind, artists make beautiful things while crafters make functional things, and I see an artisan as being someone who combines the two by making functional things that are also beautiful."
"I love using color," continues Hornstein, "whether it be for decorating eggs, yarn, or felting, and I love learning new things. I keep expanding what I do, but all my crafts link into one another and, importantly, keeps my mind 'thinking.'"
Hornstein was born and raised in Michigan, which is where she was first introduced to the world of craft by her grandparents.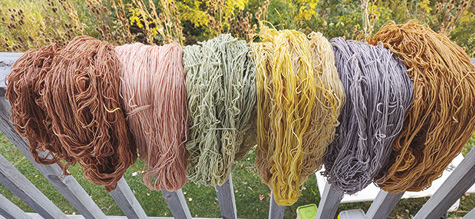 "Both my grandmothers were crafters," says Hornstein. "One was a knitter and the other was a crocheter, and by the time I was 5 years old they had taught me how to do both."
"From there, it didn't take long for me to get into embroidery and quill work," continues Hornstein. "Then, during the 70s there were just a lot of ugly yarns in the world—yarns that were not my colors—so I started playing around with dye work, which eventually turned into experimenting with natural dyes and everything else that has followed since."
In 1981, Hornstein moved to Duluth for grad school and fell in love with the place that would eventually become her home.
"After grad school," says Hornstein, "I worked several jobs in different parts of the country, but in the end, I came back to Duluth. There's just something about the lake and the rocks, the surrounding forest and wilderness. This place, it sings to me."
Hornstein spent the next 35 years of her life teaching biology at Lake Superior College in Duluth. In fact, she was the first teacher that they ever hired, back when the college was still, according to Hornstein, "borrowing space in the Government Services Building."
"I have always liked art," says Hornstein. "As a kid, I planned on becoming an artist when I grew up, until a seventh-grade art teacher pulled me aside and gently told me to pursue a different career."
"That worked out fine, though," continues Hornstein, "because I also liked science. There is actually a lot of correlation between art and science. When you're doing art, you need to understand the basic structure of the things you are working on in order to bring out the details of your work, and to be successful with science, it is necessary to tap into the same creativity that art releases."
Throughout her years teaching at LSC, however, Hornstein never stopped crafting; never stopped experimenting with new ways to create.
"Don't get me wrong," says Hornstein, "I love teaching. I love watching the 'lightbulb' come on in the student's eyes when they connect with what you're trying to explain, it's incredible. That being said, teaching is very much a process. You never really see a 'product' like you do with art. You hope that students have learned what you passed on to them and will be able to use it in their lives, but rarely to do you see a 'finished piece' so to speak, whereas with art, when you finish something, you have it there in front of you and you can give yourself a little satisfied 'I did that!'"
Now that she is retired from teaching biology, Hornstein has applied a renewed focus to her crafting in the form of crafting projects and classes.
Hornstein is a member of the Nice Girls of the North Art Cooperative based out of Duluth, and teaches various fiber and dye-related crafting courses at the North House Folk School in Grand Marais, the Duluth Folk School, and the American Swedish Institute in the Twin Cities.
"I have two dye classes coming up this summer," says Hornstein. "There is a natural dye course at the Duluth Folk School that I will be teaching at the end of June, and then a second one down at the American Swedish Institute called 'Dye like a Viking.'"
"The Vikings we see on television are always wearing grays and muddy browns," continues Hornstein, "but nahh, that's so off. These guys had a thing for color. There's been some really good research done on the textiles found during archeological digs from the era, and a lot of their dyes—like the woad plant that they used to create a blue dye similar to indigo—will grow up north where we are."
For more information on everything that Theresa Hornstein is crafting, visit her webpage on the Nice Girls of the North Art Collective (nicegirlsofthenorth.com), or check her out on Instagram @greylady_design.