When was the last time you saw a hummingbird in northern Minnesota in winter? My guess is never. So, it might seem surprising that a very unique style of heated hummingbird feeders is manufactured and distributed in Two Harbors.
The story of this one-of-a-kind creation starts with Lars (Bo) Bolen, who grew up in Two Harbors. He had a great passion for fishing—so much so that he moved to Albany, Oregon in the 1960s so he could fish year-round. Trout fishermen often fish western rivers from drift boats, which feature an upswept bow and stern, which means less surface area contacts the water, making them easier to row in currents. But Bo found a dilemma with drift boat fishing; if both he and his fishing partner hooked a fish at the same time, no one had a free hand to drop an anchor to keep the boat from drifting downstream. So, he invented Bo's Anchor Release, a foot-operated release that is pretty much standard in every drift boat these days. The invention took off and eventually Bo was manufacturing the anchor releases full-time out of his garage.
Working from home gave Bo plenty of time to observe wildlife. He was always a wildlife lover, so he began feeding the rufous and Anna's hummingbirds that are native to Oregon. The rufous hummingbird, like our ruby-throated hummingbird, migrates south in winter. But Anna's hummingbirds remain in the area year-round.
Bo went to great lengths to care for his hummers. During cold weather, he brought his hummingbird feeders inside at night to keep them from freezing, rising at 3 or 4 a.m. to put out warm feeders for the birds. After a few years of this winter routine, he reasoned there had to be a way to keep the feeders warm while prolonging his sleep.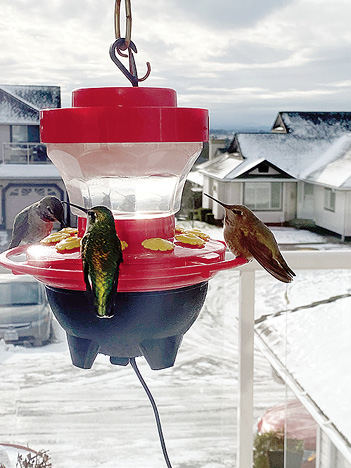 He tried adding heat lamps to the feeders and even wrapping them with Christmas lights. After trial and error, he came up with the design that was to become Hummers Heated Delight. The key to the feeder is a 7-watt lightbulb that has been tested to keep hummingbird food from freezing down to 1 degree F.
Bo began taking his heated hummingbird feeders to trade shows, where he marketed his anchor release, and the product took off. Bo and his wife Sharon worked from home, taking orders for the new product by mail and phone. Then, a neighbor helped them create a barebones website, which opened the business to online sales. Eventually the neighbor moved away and that's what created the connection to Two Harbors.
Dave Bolen, a nephew of Bo and Sharon, has lived his whole life in Two Harbors, save for a year when he was a teen.
"I had lived with them (Bo and Sharon) when I was 14 during my family's short-lived attempt at moving to the Pacific Northwest, so I had a really good relationship with them, even though they were so far away," Dave said.
"My uncle would travel back to Minnesota to see family and old school friends every so often, and on one of these trips he brought a ton of feeder pics and some promo content like the flyers they used at the home and garden shows," Dave said. "We sat down one night and we created a multi-page website with more content and photos. From that point on I did all the website stuff for them, which was really nice because I was in contact with them all the time then."
With an improved website, Hummers Heated Delight flourished.
"Then, in 2014, my uncle passed away," Dave said. "At that point, their grandkids stepped up and helped my aunt run the business. The business kept growing, keeping their entire family busy until 2017 when my aunt passed away, too. She gave the business to her grandson, Chase, who had been the driving force in the years after my uncle's death. Chase, along with his mom Teresa, his two siblings, Dawson and Josie Beau, and his girlfriend Emily (now wife) ran the business for a year or so, but at some point they decided it was taking up more time than they could devote to it because of jobs and school."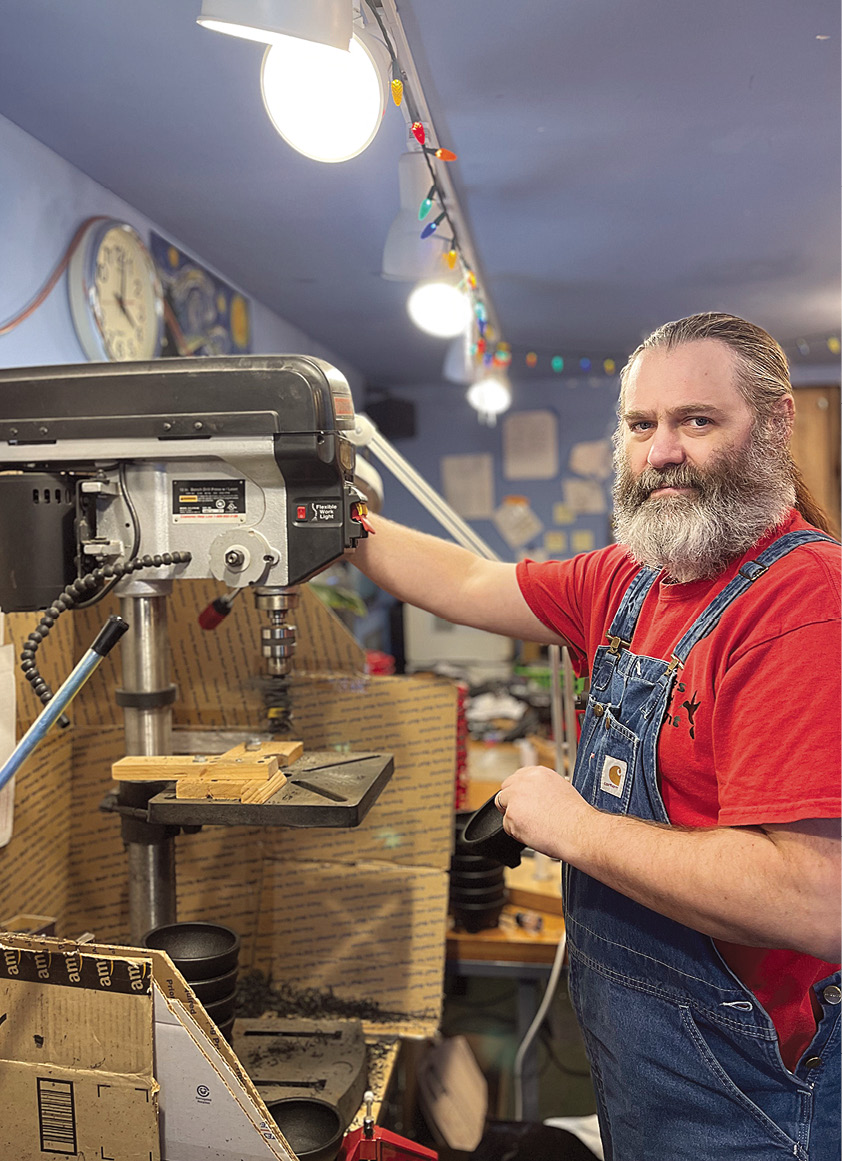 "In the summer of 2018, I offered to buy it from them," Dave said. "I knew the only way we could do it was to make the website an e-commerce site and sell them direct to consumer. We really didn't know what to expect, but it blew up pretty quick once we sold them online. Before we knew it, my whole family was helping out. My wife, Carrie, handles all the business stuff. I build the feeders and my kids (Brock and Fiona) and my mom (Lolly Cavallin) and niece (Ara Bolen) do all the boxing and packing. We converted a little building we call the cabin into a dedicated work area, which is very small and gets crazy busy at times."
The Bolen home and the workshop are at the family's homestead on Stanley Road, which has been in the family for about 100 years. The cabin that currently serves as the workshop for the feeders has an interesting history in itself.
"My uncle Vern was in the Korean War and was MIA for about half a year," Dave said. "His entire platoon, with the exception of him, was killed behind enemy lines. He avoided the enemy for months on his own until he found his way back with the help of a local rice farmer. By that point, he was suffering from PTSD and hadn't spoken to anyone in six months. When he came back, he needed isolation, so my family (including Bo) built a small cabin 50 feet from the house for him. Over the years, multiple uncles, aunts and cousins—including myself—have lived in that cabin for short periods of time. That one tiny building has really been useful far beyond its intended use so many years ago."
Although Hummers Heated Delight was created to feed the local Anna's hummingbirds in the Pacific Northwest, the business has expanded in response to demand.
"With some of the weird weather in the U.S. and Canada the last few years, our feeders have been used for at least a dozen species of hummingbirds in almost every state (with the exception of Hawaii) and Canadian province," Dave said. "We have sold and donated feeders to members of Hummingbird Research, Inc., like Brainard Palmer-Ball, who is a retired zoologist from the Office of Kentucky Nature Preserves, who sends them to people all over Kentucky who have hummingbirds show up in the winter. This allows them to help keep them alive and band them for research so they can find out where they came from, where they are going, and possibly why they ended up there."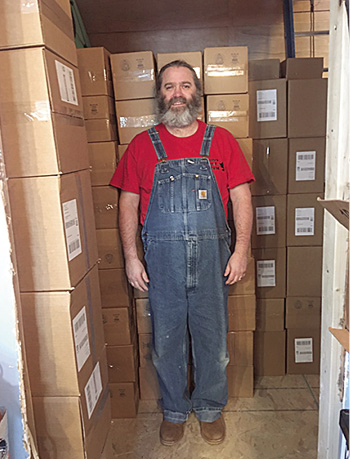 In 2021, Duluthian Laura Erickson, birding author and host of the "For the Birds" radio show, had a rufous hummingbird show up at her feeder at Thanksgiving. Upon learning about the heated feeders, she rushed to Two Harbors to buy one, then a second, from the Bolens.
Although most of the Bolens' business occurs during cold weather, they do sell feeders year-round.
"When snow or ice storms hit an area, we always see spikes in sales; sometimes large spikes," Dave said. "The issue we run into when this happens is mail is always affected in those same areas and the customers want them yesterday. That is when I work 16-hour days, seven days a week, until we get them all mailed out."
Dave said the products are available in about 20 to 30 retail stores in the Pacific Northwest. However, about 80 percent of his business is direct to consumer. In addition to the original 16-ounce feeder, the Bolens have released a 32-ounce model as well. The simplistic design makes the units pretty reliable, but the company also sells replacement bulbs and other accessories.
Hummers Heated Delight is the definition of a family-run business.
"Everyone just jumps in and helps as needed," Dave said. "Sometimes it's pretty crazy for a month at a time, so I am extremely thankful for my family's help in those times. I work full time at this and we can have up to seven family members helping out in a rush."
"We really love what we do and take great pride in knowing that our heated feeders save the lives of hummingbirds all over North America," Dave said.
You can learn more about Hummers Heated Delight online at: hummersheateddelight.com.