This year alone, Jay Arrowsmith DeCoux has run the Superior 50k Trail Run, Grandma's Marathon, the Ham Run Half Marathon, the Fisherman's Picnic Trail Run, biked the Lutsen 39er and completed the Ride Across Minnesota, a 300-mile bike ride that benefits the Minnesota Multiple Sclerosis Society. In September, he will run the Superior 50-mile Trail Race. And that's just the event miles. He runs 30-40 miles a week in training.
Arrowsmith DeCoux, 32, is also mayor of Grand Marais.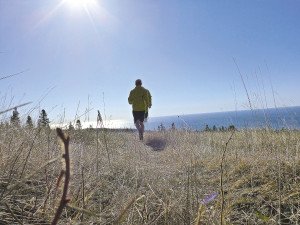 Arrowsmith DeCoux came to live in Grand Marais via an internship he did at North House Folk School in 2005. That's also where he met his wife, Rose. A few years later, the couple had an opportunity to manage Wilderness Canoe Base off of the Gunflint Trail (Jay guided there in 2003), and they seized the chance. This was in 2008, just a year after much of the camp burned in the Ham Lake Fire. They stayed through the reconstruction process and then spent a year living in India before moving back to Grand Marais, where they found themselves living in a yurt.
"We're never taking the easy route," Arrowsmith DeCoux said.
Then they had the opportunity to buy what is now the Art House Bed & Breakfast.
"We scraped together everything we had to buy this place," he said.
Some of the infrastructure was already in place and the couple brought the house to its present state as a four-room bed and breakfast, as well as a home for themselves and their five-year-old son, Ennis. Their vision with Art House is to support local art in any they way, which includes hosting backyard concerts where they invite a musical group of some notoriety—Singleton Street and Communist Daughter have both played at Art House—and anyone is invited to bring their own chair, sit outside and enjoy the music, usually for $10 a ticket, which all goes to the musicians.
Then, last year, Arrowsmith DeCoux decided to run for mayor, partly because there was a lack of young energy on the city council, he said.
"People were saying I should get involved and I took them seriously," Arrowsmith DeCoux said. "I thought I could do a pretty decent job."
He gets asked to participate in events all the time, which is an important role for the mayor, he said. In August, he was in the dunk tank during Fisherman's Picnic, raising money for the Cooperation Station Daycare in town. He has many chances to have conversations with anyone who has thoughts, ideas or concerns about Grand Marais and the local area. He wants folks to know that they are being heard and that someone will follow-through on the issues and questions they raise.
"Ninety-nine percent of the conversations I've had have been respectful," he said.
And when he's not cleaning at the bed and breakfast, or attending meetings as mayor, or being a father to Ennis and spending time with his family, Arrowsmith DeCoux is running, biking, and sometimes even wetting a line in a nearby lake.
Trail running started for Arrowsmith DeCoux when he was at Wilderness Canoe Base, which is located on an island on Seagull Lake. The camp had five miles of trails where he could expend his extra energy. Later in India, he bumped his running up to the next level with longer runs. They were living at 7,000 feet in elevation. When he came back from India, he won the Ham Run Half Marathon.
"I love going fast and I love being outside—these things fit," he said. "One of the things I love about trail running is you don't have to go fast. It's about the foot placement and appreciating the terrain that you're in."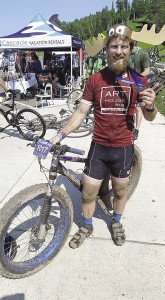 This spring, when Arrowsmith DeCoux did the Superior 50k, he finished in 19th overall, out of several hundred runners, which he felt good about.
"But I cramped up like you wouldn't believe," he added.
The 50-mile Superior run on September 11 will be his longest to date. He hopes to finish in eight to nine hours, which means running 10-minute miles for 50 miles straight.
Then, later in the fall, he hopes to run the entire length of the Superior Hiking Trail in five to seven days.
As a trail running cheerleader and as mayor, Arrowsmith DeCoux hopes to draw attention to the Grand Marais area as a trail running mecca. He would also like to promote fat-tire biking in the area—a sport that has grown in popularity in recent years. Next year, he'd like to do a trail run on the entire Kekekabic Trail through the Boundary Waters Canoe Area Wilderness in hopes of bringing more attention to that resource as well—one that Arrowsmith DeCoux feels is underutilized, in part because it needs to be better maintained and needs more attention and publicity.
This may all seem like a long bucket list to many of us, but given how much he has already accomplished, it seems big goals are just another stride on the trail for the mayor of America's Coolest Small Town.