It is somewhat ironic—a strange twist of fate—that a country that forced my parents to flee their homeland of Estonia and that put the Iron Curtain around it for 47 years, gets credit (albeit begrudgingly) for my existence.
Some background. During the Second World War, Estonia was first occupied by the Russians (Soviet Union) from 1940-41, then by the Germans 1941-44, and beginning in September 1944, Russians retook Estonia. My parents (Regina Andreus and Jüri Jürivee) had never met before each fled, separately, before the Russians marched back into the country in 1944. My father, an officer in the merchant marine, escaped on his freighter Äksi with his crew; he never talked about the details.
My mom accepted the offer, along with a girlfriend, to join the last German armed convoy to leave Tallinn, Estonia's capital where she lived. Along the way, people in the countryside were invited to flee with the convoy, but no one did; they expected after the war ended, the Allies would not let the Russian occupation continue. (They were wrong.) Her escape journey had its terrible moments, but she made it to safety (her friend did not as the jeep she was travelling in, just ahead of my mom's, was hit with a bomb).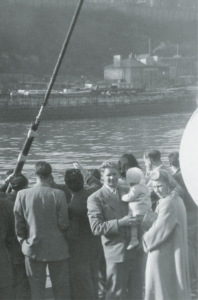 Both my parents ended up in Danzig, Germany where they met, sort-of-dated and were waiting for the war to end. A few months later, when Danzig was about to be attacked and fall, my father's ship carried them to safety, but there was one glitch: my mom could only board if she was family, so the captain quickly married my parents before the Äksi left Danzig. (They remained married for over 30 years, until my dad's death in 1975.)
Once the war was over, they ended up in a United Nations Displaced Persons (DP) Camp for Estonians in Eckernforde, West Germany, in the post-war British Zone. It was here that I was born in the town's castle during the three years the castle had a maternity wing. The camp was located in army barracks and we lived in a small 'family' unit. My mom told me the families would receive CARE packages from the U.S. in exchange for making ethnic dolls.
When the camp closed a few years later, we moved to Great Britain, staying for six months in Cardiff, Wales then to Lowestoft, England for about three years. During that time, my dad worked as a chief engineer on his former ship Äksi, now part of the British Merchant Marine fleet. We would meet him at the different ports, sometimes sailing with him to the next port (he had his own cabin on the ship).
Somehow, my mother convinced the school authorities in Lowestoft to let me start English school at age four, a year earlier than others, so that I could learn English (I only spoke Estonian at the time). I remember in particular, skipping out of school at recess with another Estonian youngster and going home to read the bundle of comics that someone had brought to our house. Our reasoning was simple—we couldn't understand a word the teacher was saying, so why stay when there were comics waiting for us to look at? After some panic from the school about us missing, my mom found us hiding in the closest with the comics. She wasn't pleased, but years later thought it was funny.
In October 1951, we left Lowestoft, went to London and waited for 'something'. Being five-and-a-half years old I didn't understand all that was happening, except that we would be travelling on a ship to a new home far away. Was I sad leaving the home in England? No, as the concept of home was being with my parents, not a geographical location.
As the story goes, my parents had received immigrant papers for both Canada and Argentina, and according to family lore, whichever ship came first is where we'd go. The ship to Canada won. We boarded the ocean liner SS Columbia, crossed the Atlantic Ocean, arrived in Quebec City in early November, took the train first to Toronto, then Port Arthur (now part of Thunder Bay), where we spent the first night at Prince Arthur Hotel (like many immigrants did). We lived the next couple of years in a small tourist cabin on Cumberland Street before moving to a house.
My human migration journey of getting from 'over there' to 'here' was done. Thunder Bay has been home, except for a few years in Northwest Territories and northern Alberta.
In late 1991, I visited Estonia for the first time, just after the country regained its independence from Russia. During that visit, it occurred to me: if Russia had never invaded Estonia in 1944, my parents would not have fled and would probably never have met, thus I would not exist.