Food is a tangible expression of culture and traditions, whether it stems from a specific geography or even an individual family. It is often one of the ways we can easily share our own history and traditions and learn about others, without hopping on an airplane. We build community and connections through food. In a globalizing society, food traditions from the other side of the world may not seem as foreign as they used to, with more availability of items, recipes and restaurants. As humans continue to migrate, our food traditions and palates will continue to change; I think for the better. Being able to buy kimchi at my local grocer? I call that a food and culture win.
With the explosion of online recipes and international cookbooks, it is not hard to find recipes to make food from another country or culture. Yet, we each need that impetus to try another dish or know it even exists. One individual is working to bring his family's traditions to Ontario at Nel's Pub and Grill. Owner Zeca Ribeiro emigrated with his family from Portugal to Canada as a teenager, to be closer to family. Today, he's serving up Portuguese, Greek and Canadian dishes to residents and visitors alike in Terrace Bay.
"I try to cook everything to the old roots, how it was made originally," said Ribeiro.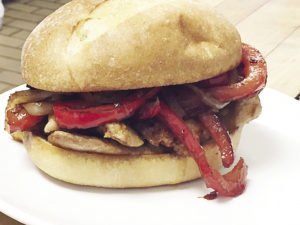 This fuels the restaurant's menu, pulling from a variety of traditions. In addition to his lineage being from Portugal, Ribeiro also travels back to Portugal annually to visit family. While traditional dishes inspire his menu, he develops his own recipes, trying to pull a bit from all over the world. The Bifana sandwich is seasoned pork on a Portuguese bun with sautéed onions and peppers, a popular Portuguese dish. At Nel's, the gyro is a customer favorite.
"I don't believe in seasoning meat too much, because you lose the meat flavor," said Ribeiro.
Other international dishes on the menu include chicken souvlaki and shawarma.
A challenge for home cooks and restaurants is sourcing of traditional ingredients. There are a number of items Ribeiro sources via Toronto from Portugal. He is also able to get other items from right in Terrace Bay, supporting the local grocer. A reminder that global can meet local even in the Northern Wilds.
For current hours and additional information on Nel's Pub and Grill (1240 Hwy.17, at corner of Mill Road, Terrace Bay), visit: facebook.com/nelspubandgrill.
A shopping mall may not be the place that comes to mind when you think of international fare, but the Mariner Mall in Superior, WI has a hidden treasure: Guadalajara Mexican Restaurant. For over 15 years, a family from Guadalajara, Mexico has been the backbone of this local favorite, featuring family recipes and fresh, homemade Mexican food.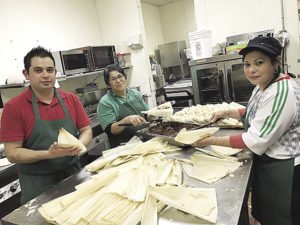 The Northern Wilds bridge the other border, but Guadalajara brings the south of the border flavor to our area. The menu boasts many favorites, from fajitas to burritos. Guadalajara also offers homemade pork tamales, which are not easy to find in the northwoods.
"Our salsa and chips are homemade," said part owner and manager, Rebeca Mata. Fresh and homemade are at the center of the menu and operation.
The family focus extends to the dining room, with Mata welcoming kids and families to dine with them. "We love kids." Some of the local Spanish classes have made a visit to Guadalajara Mexican Restaurant part of their curriculum, sharing the culture and traditions of Mexico and the State of Jalisco through cooking and food.
Guadalajara Mexican Restaurant is open Sunday through Thursday, 11 a.m.-10 p.m. and Friday and Saturday, 11 a.m.-11 p.m. (69 N 28th St E, Ste 7 at the Mariner Mall, Superior).
In Thunder Bay, ethnic restaurants are quite a bit easier to find compared to other parts of the Northern Wilds. One family-owned restaurant has been sharing its heritage through food for a decade. Naxos Grill and Bar is named after the Greek island where owner Penny Kahramanos' father was born. The restaurant now brings together family and friends over Greek and Canadian inspired food, seven days a week.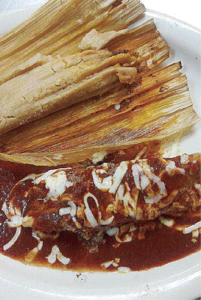 On a recent visit, my little family enjoyed the welcoming staff and laidback dining setting. A lover and maker of Greek dishes, I was excited to try a few of Naxos authentic dishes using traditional family recipes from Greece. The spanakopita was a hit, both with me and my one-year-old daughter. The Greek salad had a light but flavorful dressing, which they also sell for taking home. The avgolemono, a traditional Greek soup, is made with chicken, rice and egg in a rich lemon broth. It was a fresh, delicious meal. Many customers have remarked that they appreciate the balance between traditional Greek and more familiar Canadian menu items.
Naxos Grill and Bar is open every day, starting at 8 a.m. This is great on Sundays when many other spots are closed in Thunder Bay (610 West Arthur Street).
Human migration has allowed us opportunities to learn about other cultures and traditions through food. It also allows us to maintain connections to our own heritage. I look forward to teaching my daughter how to make recipes from Scandinavia but also those from across the world. A taste of bibimbap may lead to a future trip to South Korea, or salad nicoise to studying in France. Food can be a gateway to cultural exchange and international understanding. We connect to others over and through food; we all have to eat, why not enjoy it? Stop in one of these family-run restaurants to experience a taste of another culture and take a moment to learn more about their traditions and your own.