With the internet these days, it's easy to look up Isle Royale and within minutes you can be an expert and rattle off all sorts of facts and figures. You can wow your friends by telling them Isle Royale is 45 miles long and 9 miles wide, but the national park actually includes more than 400 surrounding islands. And it's well known that the island harbors a burgeoning moose population and that the waters surrounding it harbor some incredible, largely untapped fishing.
But there's something inside of me that wants to slam shut my laptop and forget the facts and figures it can tell me—like so many others, the island calls to me and beckons me to launch my boat. Only then can you truly appreciate the island and all its wonders.
Visiting the island isn't nearly as perilous these days as it was via canoe long ago, but you're still taking your life into your own hands any time you try to make that 19-mile run from Grand Portage. Your boat must be in tip-top shape, with plenty of fuel. A backup motor and a tool kit are good insurance. Also consider bringing a marine radio. I don't have cell service at the island. And I find it hard to relax on my Isle Royale adventures because my eyes are constantly on the sky. Any uptick in wind; any dark clouds and I'm on the throttle, heading for the mainland. In my boat, it's a 45-minute run one way. I always say the best time to leave the island was 20 minutes ago.
For most people, taking the ferry out of Grand Portage is the best option. Via the ferry, you can still experience the island in relative comfort and safety.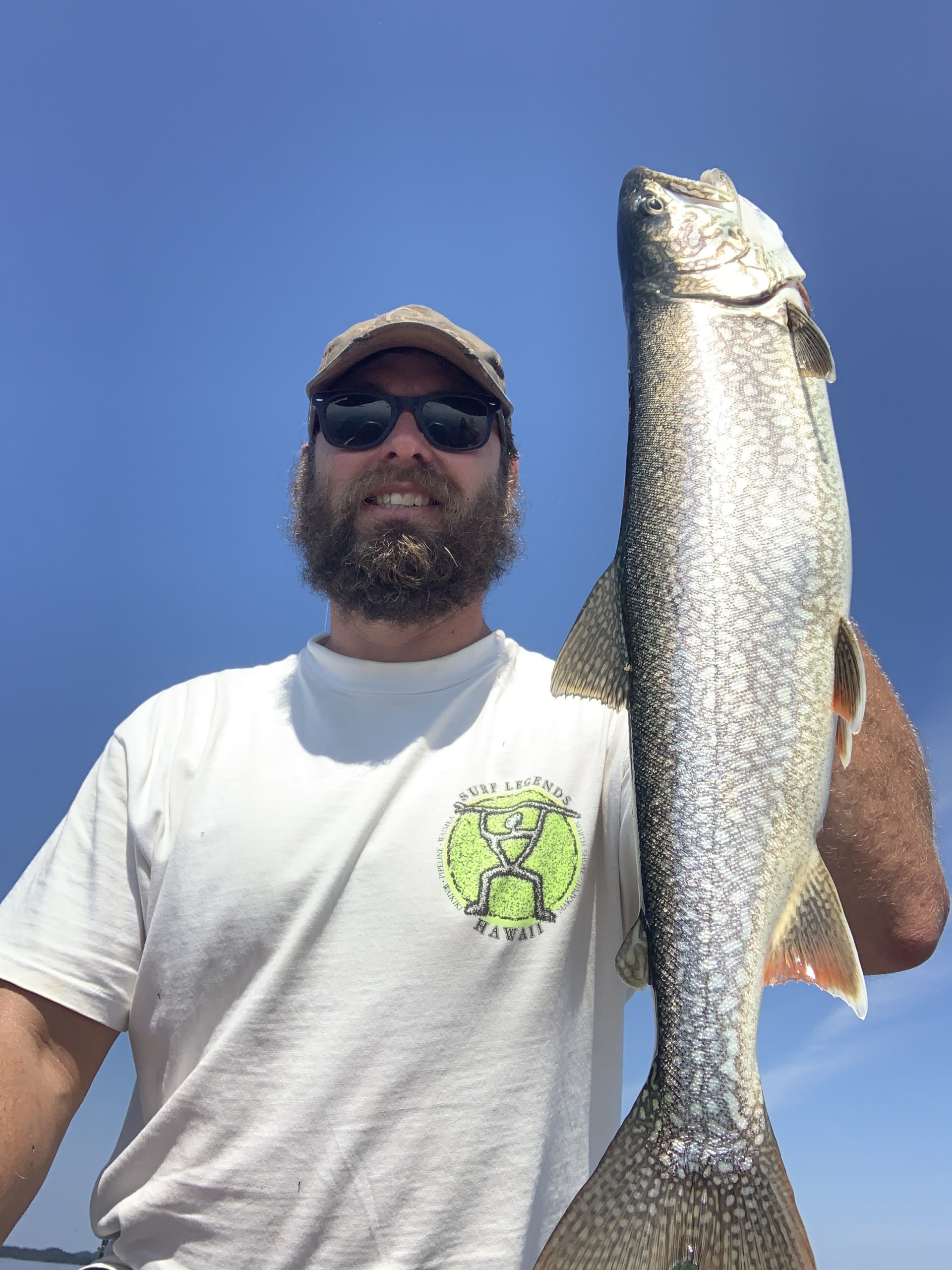 But why take the risk of exploring the island in your own boat? For one thing, it's the sense of adventure I feel. For 45 long minutes, the boat flies across the surface of Lake Superior, pointed just to the left of Rock of Ages Lighthouse as I anxiously wait for that moment when I can slow down and finally drop a lure in fishy waters. Reaching the area of the island feels like meeting up with an old friend. It always warms my heart to see it up close.
The sight of emerald-green reefs below the clear-blue waters gives me pause. These are the places where ships have met their ends. They are also the places where lake trout lurk; especially in the places where emerald-green suddenly gives way to an adjacent black abyss.
Every trip to Isle Royale is memorable. I'll never forget the time a friend and I had put out five fishing lines and before we could get our sixth rod in the water (in Michigan you can fish three lines apiece), we hooked a triple. We never bothered to put in more than four lines after that because it was too much work. We had our limit of lake trout in 42 minutes.
I'll also never forget the time when I decided to anchor in shallow water and wade to shore just to say that I set foot on the island. My anchor got stuck under a rock in 6 feet of water and I had to jump into the 45-degree lake to free it. Needless to say, the experience took my breath away. And I never did set foot on the island that day.
Last summer I brought a fly rod along on the chance that I might encounter schools of herring in shallow water. In the sheltered waters near Cumberland Point, dimples on the calm surface caught my eye. Millions upon millions of herring swarmed in shimmering schools. Try as I might, I was unable to tempt one to eat a fly, but I sure enjoyed the show. I'll never forget watching the immense school suddenly part as I watched a lake trout slowly cruise through. It was like something you'd see on National Geographic. Only it was right there in front of my own eyes.
If you've never visited Isle Royale, you need to. My words can ill describe this wild, beautiful place. You can only fully appreciate it when you've seen it for yourself.