Duluth's Spirit Mountain has built its reputation as a prime Midwest winter destination since opening alpine ski operations in 1974. Cross-country and alpine skiers, snowboarders, and fat bikers all flock to Spirit in the wintertime for its 678 feet of vertical drop, oak forests, and beautiful perch overlooking the St. Louis River.
But today, Spirit Mountain Recreation Area is a four-season destination, with just as much to offer gravity thrill-seekers, and other user groups, in the summer, too. The resort has transformed itself into a well-rounded destination with lift-served mountain biking, an adventure park, and a plethora of low-cost options like hiking and disc golf. There's even a 73-site campground starting at $35 a night for walk-in tenting. Here's a look at more summer adventures in Duluth's west end.
Start by getting your full body armor on—it's time for some serious mountain biking. If trail names like "Calculated Risk," "Wrecking Ball" and "Blaster" don't get your blood pumping, you have a heart made of stone. This is the stuff of adrenaline dreams. These three trails are for experienced mountain bike riders only, but there are easier trails mixed in to the 19-trail system at Spirit as well.
Caleb Schnell, who drove eight hours with his friends from the Quad Cities area of Illinois to check out Spirit in early June, explained his initial impressions: "The mountain was a little bit bigger than I expected, and a whole lot rockier. I'm not used to the rocks." Schnell described the mountain biking as "challenging," and added that he really enjoyed it. He insisted that the mountain biking in Illinois was "tame" compared to Duluth and said another huge draw for him and his friends was the "clean, fresh air" blowing in off Lake Superior.
Mountain bikers can buy a day pass for $46 at Spirit, which gives unlimited rides up the chairlift with your bike. Plan on getting in about two runs per hour down the long trails. The chairlift operates four days per week; Thursdays and Fridays from 11 a.m. to 7 p.m. and Saturdays and Sundays from 10 a.m. to 6 p.m. It is also open on the Mondays of July 4 and September 5.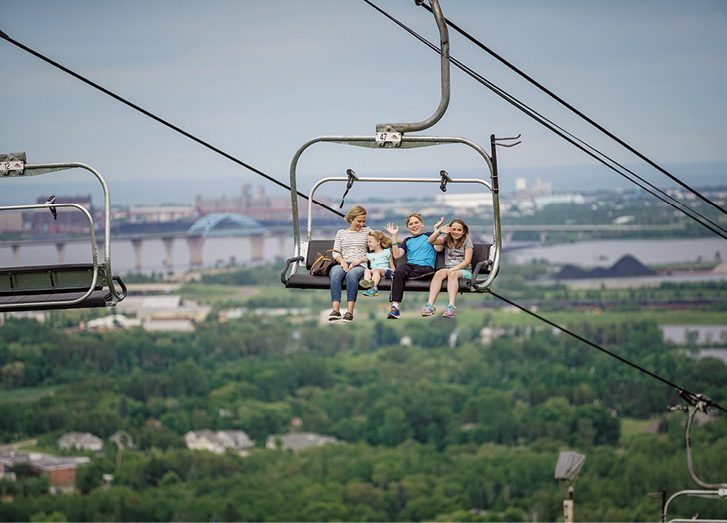 Jon Regenold, director of resort services at Spirit Mountain, lists a bunch more opportunities for summer family fun besides mountain biking. He starts with the Timber Twister, which is an alpine coaster that riders can take down the mountain alone or in pairs, with complete control over their speed. Regenold describes the Twister as "unique for the region and fun for folks of all ages." It's open to ages 3 and up (passengers must be at least 38 inches tall and accompanied by a supervising companion at least 16 years old).
Next is the Timber Flyer, which is a seated zip ride where people sit on a bench-style seat and wear a seat belt. They get zipped down the mountain and then brought back up to the start. Regenold describes it as "a little less intense than a conventional zip line."
People can buy single-ride tickets to the Twister and Flyer, or they can do an all-day wristband, with as many rides as they want on the attractions, including the scenic chairlift.
Regenold suggests trying the chairlift "just to relax" if you've never ridden one in the winter before.
"Riding the chairlift in the summer is really cool because you're not just using it as a mode of transportation," he says.
Chairlift riders start at the top and ride the lift down to the Grand Avenue Chalet, with amazing views of the valley the whole way down. Check out the St. Louis River basin, the iconic Lift Bridge and Lake Superior, all from a bird's eye view. The Riverside Bar and Grill in the Grand Avenue Chalet has a full menu for guests to enjoy, as well.
"In the winter you find yourself turning around in the chair and cranking your neck to see the lake. In the summer you have the full vista in front of you at all times. It's spectacular. It's a different perspective on a chairlift," adds Regenold.
Scenic chairlift tickets are available for a single ride or an all-day ticket. Regenold adds that the chairlift is slowed down in the summer to help the mountain bikers load their bikes, and that this adds time to admire the view for those taking the lift for scenic purposes.
The Adventure Park is rounded out with nine holes of putt-putt golf and a jumping pillow. Regenold promises the jumping pillow will work muscles you didn't know you had.
Another attraction is the 18-hole disc golf course, which takes advantage of both the open ski hill terrain and the surrounding forested areas. The course is in its fourth year and Spirit Mountain worked with the local disc golf community to establish it. Regenold explains that the course "climbs the hill in such a way that it doesn't feel like you're just throwing directly uphill the whole time." Most of the holes go cross-wise across the hill.
"When you take in the difficult terrain, the beauty of nature, and you add in the view, it makes a great course. There's a couple of spectacular downhill throws," says Regenold.
Disc rental is available at the Grand Avenue Chalet on weekends.
Last but not least, take a walk on the Superior Hiking Trail, which winds through Spirit Mountain for a 3-mile loop, and is absolutely free to all users.
For Schnell, who made the long drive from Illinois for a weekend at Spirit Mountain, the "super-friendly staff" was a bonus at Spirit that coincided with his overall impression of Duluth.
"The mountain bike community in Duluth has been super fun to talk to. Everybody's really inviting," he says.
To top it all off, there's a pump track for beginning mountain bikers and a free bike wash station, both alongside the Grand Avenue Chalet.
Regenold harks back to the name of Spirit Mountain Recreation Area.
"That's still our name, and recreation for all is still our mission. We serve a broad spectrum of people, including mountain bikers, runners, birders, hikers and campers, and the list just goes on. The summer really embraces that wide range of people we serve," says Regenold.
If you've only been to Spirit Mountain in the winter and associate it with freezing cold skiing, you owe yourself a favor to see the summer sun shining down on this hillside full of adventure.