You'll see them standing out there, steadfast against the wind and braving sub-zero temperatures: a die-hard cadre of winter anglers, bent on bringing home fresh fish for dinner.
Winter is when coho salmon often hug the shore along Two Harbors, putting them within reach of these hardy anglers.
You'll quickly recognize the regulars. They're the ones carrying the 9- or 10-foot-long rods, which catapult spoons and bobbers far out into Lake Superior. They're also usually smart enough to wear ice cleats on their boots to provide traction on the treacherous, icy breakwall.
This game isn't for everyone. Some of the best fishing occurs when the temperature dips below zero. Keeping rod tips free of ice is a problem, but it's not too hard to pop them clear. The biggest consideration is the danger in fishing on the wall. If waves are crashing over the wall, it's an obvious no go. But every time a wave breaks and recedes when the temperature is below freezing, it coats the concrete in a slick, icy coating. Some anglers bring sand to sprinkle on their spot for traction.
Landing a fish is another consideration. From the main walkway, there is a concrete ledge extending out several feet below. Most anglers get their fish to the ledge and then give it a swing, hoping the hooks don't catch on the icy rim. This works for small fish like cohos and herring, but if you latch into something larger, you're in trouble. The bottom ledge, being closer to the water, is more frequently inundated with water and is downright treacherous, as are the stairs down to it, which are often glazed with inches of ice. Venturing down to the lower area is extremely dangerous, but those who do wear cleats and tie a rope to the cable railing above to help them belay down. From the lower area, larger fish can be netted.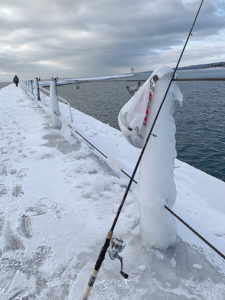 Cohos are the main draw in winter, but part of the fun is you never know what you'll catch from the breakwall. Herring, lake trout, steelhead and even king salmon are caught by breakwall casters. "Loopers," Kamloops-strain rainbow trout, were formerly caught with some regularity as well, but no longer, since the stocking program was discontinued.
Most anglers keep it simple with minimal equipment. A 9- or 10-foot rod and a spinning reel with 6- or 8-pound-test line is the go-to setup, but shorter rods will suffice. Anglers use slender, heavy spoons such as Luhr-Jenson Krocodiles or Acme Kastmasters. They wing them out there, let them sink a few seconds, then pump them back in to produce erratic action.
Sometimes bobber fishing is effective, especially if there's a light chop to give the bait some action. A "looper" bobber works well. It's heavily weighted, so you can really wing it out there. Rig it as a slip-bobber, with a bobber stop set at 6 feet. A small jig baited with a waxworm is usually the ticket for cohos and steelhead.
Fishing is fishing, and on any given day the action can be fast and furious or nonexistent. Cohos travel in schools, so when one angler hooks up, often, a nearby angler will too. After a few minutes of excitement, it often returns to unproductive casting. But that's OK too. The lulls are a good time to catch up with other anglers. The regulars all know each other. They'll catch each other up on what's been biting, who has caught what and rib each other about the big ones that got away.
Fishing is best early in the morning and winter is usually a good time to fish, but you could hook something any time of day, any time of year. If you're brave enough, give it a whirl.