On the evening of Wednesday, Dec. 22, 2021, residents of Thunder Bay were shocked to hear the news that the city's 111-year-old historic landmark—the Finnish Labour Temple on Bay Street, which housed the world-famous Hoito Restaurant on the bottom floor—was on fire.
In 2015, the building had been designated a National Historic Site in Canada.
The first call to the fire department came in about 7 p.m. Early-response firefighters entered the building to fight the fire from inside, but the scene became too dangerous, forcing them outside.
Throughout the night, the fire crews, using aerial platform trucks, pumped large amounts of water into the upper levels where the fire appeared to have started. As a result, the lower levels, including the Hoito, were flooded. A drone with thermal imaging cameras was used to help locate the hot spots and assess the damage.
Built in 1909/1910, the Finnish Labour Temple became a centre for Finnish culture, heritage and political life. In the basement was the internationally-known Hoito Restaurant, first opened in 1918 and operated continuously until 2020. Its menu included items like Finn pancakes, viili, salted fish and its special beef stew named "majokka."
The building had been purchased in fall 2020 by real-estate developer Brad McKinnon from Barrie, Ontario in a bankruptcy sale. Its previous owners, the Finlandia Association of Thunder Bay, had dissolved the organization and put the building up for sale in July 2020.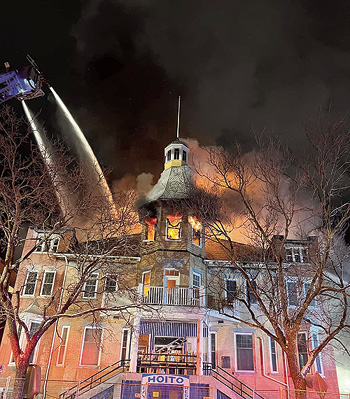 At the time of the December fire, renovations had begun to make it a mixed-use building with condos and re-opening of the Hoito Restaurant. Fire gutted the building but McKinnon has said he plans to clear the rubble and rebuild the Finnish Labour Temple.
There is a small bit of silver lining amidst the terrible news; after being in four feet of water, the iconic vintage Toledo Weight Scale that had stood for decades at the Hoito entrance was salvaged. It is being temporarily housed in the Bay/Algoma area at the Finnish Book Store/Kitchen Nook until the Hoito is reconstructed.
In an article by Leith Dunick in TBSource (January 23, 2022), McKinnon is quoted, "I think it's really important that it stays in Bay and Algoma and I think it's important that it stands here at the Finnish Bookstore as a symbol of resilience and the fact that we're not giving up and are going to push forward. We want to give everybody an opportunity to get a picture, look at it and just as a reminder for the community to not give up hope. We will rebuild."
A planned project in the works is a virtual wall where the public is invited to submit photos, testimonials and stories about the Hoito and Finnish Labour Temple. Later the postings will be compiled into a book by author Charles Wilkins, a former Thunder Bay resident who wrote the book, Breakfast at the Hoito.
The cause of the fire is currently listed as "undetermined."