TERRACE BAY—This August, the North Shore town of Terrace Bay is temporarily traveling back in time to the 1940s.
"We're hosting a 'retro night' at the Michael King Hall, "says Gary Adduono, "given that our community was founded in 1947."
In other words, the town is celebrating 75 years of existence and all are welcome to the party. The town's celebrations take place from August 18-21. Adduono, who chairs the 75th anniversary committee, estimates that some 750-1,200 people will attend the weekend festival.
Terrace Bay is named for the unique terrace-like rock formations left over from the glacial creation of Lake Minong, whose water levels shrank until what we now call Lake Superior was formed some 10,000 years ago. The town itself, however, owes its existence to a familiar and more recent human activity: Longlac Pulp and Paper (later Kimberley Clark Forest Products) built a mill and townsite on the present township area in 1947, when Ontario Hydro diverted the nearby Long Lake flow southward, to provide electricity for the new project. At its peak, Terrace Bay's population was nearly 3,000 people, but like many resource-extraction based communities, it has experienced periods of economic growth and shrinkage.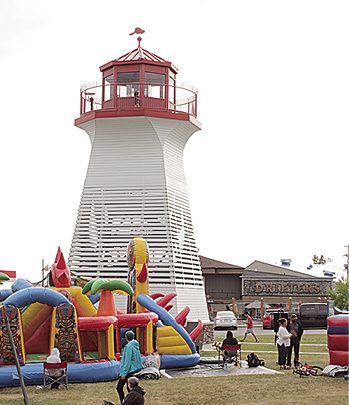 Now, the town will look back and look forward, beginning with a full day on Thursday, August 18.
"There'll be an outdoor market, three bands, inflatables for the kids, and a movie night in the park behind Simcoe Plaza (inland north of the highway)," says Adduono. "The Thunder Bay band The Sensational Hot Rods will be playing at our street dance and beer gardens Friday night. Then Saturday night, the country band Back 40, also from Thunder Bay, will be down at the waterfront, followed by fireworks at dark."
Saturday, August 20, is slated as Beach Day at the town's new waterfront pavilion at Terrace Bay Beach. Sunday, after an ecumenical worship service at the Pavilion at 10:30 a.m., the event's closing ceremonies will take place at noon. At around the same time, Parks Canada may be hosting a grand opening of their new stores and office facility.
The pandemic-driven barriers to travel that persist for many kept the anniversary committee on its toes in the early stages of planning. With a number of restrictions lifted, however, the committee expects a healthy turnout, especially given the rise in local tourism that the community has experienced in recent years. With that in mind, a temporary museum space will help guide visitors through the town's past.
"One of the most labor-intensive elements of our celebration will be our pop-up museum hosted at the Terrace Bay Community Centre," Adduono says. "Volunteers have been sorting through hundreds of photos, particularly from the last 25 years to help complement the displays created 25 years ago for the 50th anniversary. We look forward to our visitors and residents taking some time to commemorate and reminisce about the past at this attraction."
"The mission statement for the anniversary is 'Commemorating our Past, Celebrating our Future,'" Adduono says. "Each event and activity is aimed at doing just that. We believe there will be something for everyone from all generations to enjoy."