Hike your way to the top of a Northwoods summit for an adventure this summer or fall. There are many hikes to choose from for all levels of difficulty, from a quick and easy afternoon hike to a demanding day trek. Regardless of your preference, each hike is sure to impress, providing a spectacular view of the surrounding area, so don't forget your camera. No matter the distance, be prepared; wear comfortable hiking shoes and a few layers of clothing, depending on the weather. If necessary, take along a backpack full of supplies. Items to keep in mind include a first aid kit, sunscreen, bug repellent, food, water, toilet paper, a map, a compass or GPS, and zip-lock bags.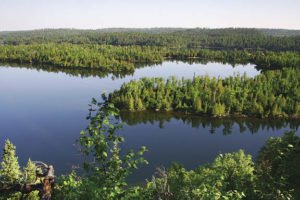 Honeymoon Bluff Overlook
This short, half-mile hike is perfect for watching the sunset and is fairly easy to complete. The Honeymoon Bluff Overlook can be found by heading about 22 miles up the Gunflint Trail and then turning east on Clearwater Road past Flour Lake Campground.
Top of the Giant
Test your endurance with a grueling 13-mile hike to the top of the "giant" located in Sleeping Giant Provincial Park in Thunder Bay. To find this awe-inspiring hike, head to the Kabeyun Trail parking area just before Silver Islet. Start out along the Kabeyun Trail to Tee Harbor. Then head toward Lehtinen's Bay and turn onto the Talus Lake Trail to find the beginning of the Top of the Giant Trail. While difficult, the end result gives a spectacular view of Lake Superior. You can also see the entire length of Isle Royale.
Mount Josephine
Located in Grand Portage, this easy hike provides a spectacular view of Lake Superior and the Susie Islands with Isle Royale visible in the distance. This short 1.5 mile hike provides a picnic table area and restroom facilities, making it the perfect spot to bring a lunch and relax.
Eagle Mountain
Eagle Mountain is the highest peak in Minnesota at 2,301 feet above sea level and is located within the Boundary Waters Canoe Area Wilderness (BWCAW). The lengthy hike of about seven miles round-trip is well worth the trek. On a nice day, you can see Shrike, Eagle, Zoo, and Crow lakes to the west, Lake Superior to the south, Misquah Hills to the north, and the Brule lookout tower on Brule Lake to the northwest. However, a BWCAW permit is required for this hike. Free, self-issuing day permits can be found in the parking lot and overnight permits can be found at a Forest Service Ranger Station. This hike provides lots of rocks and rough terrain, so make sure to wear thick-soled shoes or boots.
Carlton Peak
This unique hike consists of volcanic rock and rises about 924 feet above Lake Superior; It's 1,526 feet above sea level. Carlton Peak is part of the Superior Hiking Trail and is located about two miles up the Sawbill Trail in Tofte. To find the trail, walk across the Sawbill Trail and follow the snowmobile trail. This is a moderate hike of 3.4 miles round-trip to the peak or 5.2 miles round-trip to the overlook. The final, sweeping view includes Lake Superior, Tofte, the Temperance River valley, and west past Taconite Harbor.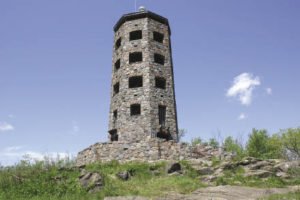 Enger Tower
A short walk from the parking lot at Duluth's Enger Park leads to this five-story tower made from Minnesota blue stone. Enger Tower, atop Enger Hill, is at an elevation of 451 feet above Lake Superior, offering a spectacular view of Duluth Harbor, St. Louis Bay and the Twin Ports. The tower has numerous lookouts as you climb the staircase, giving a variety of vantage points. Crown Prince Olav of Norway dedicated the tower in 1939. It memorializes Bert Enger, a Norwegian immigrant, who sold furniture and donated the land for the park.
This story was originally published in the August-September 2012 issue of Northern Wilds Magazine.