By Lee Boyt
If you want mobility and creature comforts in the great outdoors you can't beat an RV, especially if you have kids. Bunks, a bathroom, kitchen and security can all be part of the RV experience.
RVs or "recreational vehicles" can go from as simple as a pop-up tent trailer to as pimped-out as a rock star's tour bus; it all depends on your needs and your budget.
Travel trailers, slide-in truck campers, motorhomes, sport utility RVs (the front is the living area, the back is a mini-garage for sleds, ATVs, motorcycles, and toys), ice fishing house RVs, as well as RVs designed to accommodate the special needs of the disabled, are available to suit your particular situation.
Many places rent RVs, so you can try before you buy and enjoy RV camping without a substantial financial investment.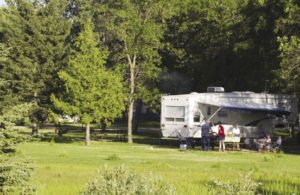 Campsites
Minnesota has thousands of places to camp, but not all of them cater to RVs, so call ahead or check online before you head out. When you do find an RV-friendly campground, do your best to arrive around noon, because some campsites are available on a first-come, first-served basis. You want the best site you can get.
Speaking of choosing a campsite, be aware of your RV's dimensions (height, length, width) and turning radius. We know from firsthand experience that backing an RV into a small campsite can be challenging to say the least. Trying to maneuver a big vehicle backwards in the deep, dark woods at night can leave battle scars from low-hanging branches, and at least a couple of do-overs before ending up in the right place on the campsite.
That's the other reason to arrive around noon: it's a lot easier to spot your RV in the daylight than in the dark (when it's also often raining).
What to Expect
Some commercial campgrounds cater to entertaining the kids, with amenities like swimming pools, organized activities, bike trails, and the like. Individual sites are often "pull-through," so no embarrassing backing in is required. They also typically offer water, sewer, and electrical hook-ups.
Campgrounds run by federal, state, and local governments tend to be more spartan (but cheaper) than their commercial counterparts. Amenities may include a boat launch, a swimming area, fresh water (from a spigot or hand pump), nice pit toilets (fancy outhouses), walking/biking trails, and a relatively quiet environment depending on the campground and time of year.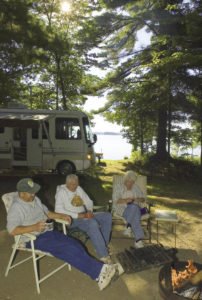 Basic Campground Etiquette
When you arrive at a campground and see another camper way off in the far corner, don't park your RV in the site next to them. There's a reason those folks chose a spot away from everyone else – let them enjoy their solitude.
Have fun, but keep the noise down; you're enjoying nature, not a frat party. Avoid crossing another campsite on your way to the lake or to other destinations, take the trail or road instead.
Keep your pets on a leash, and pick up the excrement as you're walking. You don't want to step in dog doo, do you? Neither does anyone else.
Don't be afraid to be pleasant to your fellow campers, otherwise you could miss out on the opportunity to make new friends.
The Bottom Line
RV camping is great for families, or groups of friends to travel and camp together without the hassles of airlines, hotels, and rental cars.
Try it – it's a lot of fun.
This story was originally published in the June-July 2012 issue of Northern Wilds Magazine.