With so much time spent at home these days, people are attempting do-it-yourself projects more than ever. People are also spending more time in the kitchen. One culinary skill that few have mastered is the art of smoking meat. Sure, we all can flip burgers and brats over a hot grill, but smoking meats, it seems, takes some specialized knowledge and a whole lot of patience.
We spoke with some pros who feature smoked meats at their restaurants: Chris Callender at the Wunderbar Eatery and Glampground and Kate and Jeremey Keeble at Hungry Hippie Tacos. Their main message: go slow and get a good thermometer. Of course, one can just skip the learning curve and order take-out.
Chris Callender is a professionally trained chef who has been working in Cook County for around 20 years, including a stint as chef at Lutsen Resort. His passion for fly fishing has also led him to work as a fly-fishing pro at Stone Harbor Wilderness supply in Grand Marais. Lately he has served as chef at the Wunderbar, where he has put his 50-year-old LyfeTyme smoker to heavy use. He has a rotating selection of meats for his sliders, offering pulled pork, brisket, or chicken. He will smoke corn and chicken for soup and even prepares a smoked mushroom chowder. During these difficult times, the Wunderbar has been offering free meals daily for anyone who cares to stop by their porch. On the day I visited, he had chicken noodle soup, grilled chicken breast with blended rice pilaf, and roasted potatoes.
A person can smoke meats with their trusty old backyard Weber, but Callender does recommend that if someone is serious about smoking meats, they should get their hands on a smoker with an offset fire box. It is much easier to control the heat, which is crucial to the process. He also said those interested in smoking their own meats should invest in a high-quality meat thermometer that allows them to carefully monitor the temperature. He likes a digital thermometer that can be calibrated. Another difference from grilling is that smoking meats usually utilizes a combination of charcoal and wood. Often, people will smaller cookers will use wood chips. This offers a lot of opportunity for diversity and experimentation. Callender is fond of maple, apple and crabapple. Many also use birch and poplar. You must also decide between seasoned or green wood. This might depend on what you are cooking. Callender likes to start out his brisket with green wood. It is smokier and burns cooler. He says people can pre-soak wood chips, which allows them to experiment with flavor profiles. You could, for example, soak wood in wine or bourbon.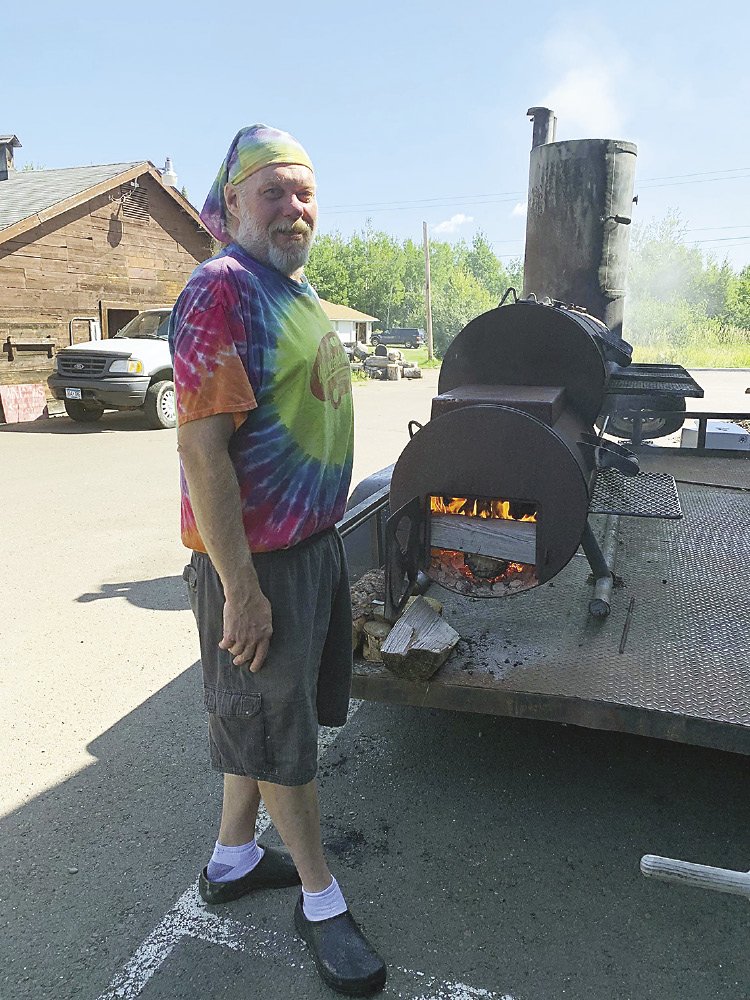 A primary secret to smoking meats is to use a small fire. According to Callender, "Low and slow is the secret to smoking most things." Another piece of advice he has for novices is to keep it simple at first and work up to more complicated projects after they get the hang of it. Perhaps at first just think of the smoker as an outdoor oven. That way people can use the basic times and temperatures as they would in their homes. However, the higher the temperature, the more you have to watch over the meat. This would work well, for example, with a whole chicken or a pork loin. Callender advises pulling such items from the smoker before they reach their desired temperature. Cover them in foil and they will continue cooking.
However, the longer you roast the meat, the more tender it will become. Those big pork shoulders or briskets? Plan on up to 15 hours of cooking time. They are cooked at a low temperature, especially in the beginning, up to around 225 degrees, for a long time. The key to when they are done, however, is still the temperature. If the goal is pulled pork, it won't begin to shred unless it is at least 160 degrees. Brisket should be tender enough that it can be shredded with two forks.
When Kate and Jeremey Keeble bought Hughie's Tacos (now Hungry Hippie Tacos), they offered the ever-popular fry bread tacos, or a hefty burrito, with their house roasted pork or brisket. Kate and Jeremy come at the business of smoking meats from two different perspectives. Kate is a professionally trained chef with a long history at restaurants in the Twin Cities, such as Muffaletta, Café Biaggio and Patisserie Margo, and as executive chef at the Gunflint Lodge. Jeremy learned to smoke meats while growing up in southern Illinois. He became especially inspired to smoke meats after a trip to Austin, Texas, where he ate at the James Beard Award winning Franklin Barbecue. Jeremey handles the smoker and Kate perfects the recipes and the brines.
They also advise purchasing a good meat thermometer and the need to go slow. Jeremey talked about the stall. The stall occurs at around 160 to 180 degrees and lasts from two to six hours. Up until that point, the meat temperature rises steadily, but then the temperature plateaus, or stalls, for an extended period of time. If taken out at the wrong time during the stall, the meat can be tough, but if one waits for several hours, the temperature rises again. When the temperature reaches around 205 degrees, it will be tenderized, because the tough collagens in the connective tissue will have broken down by some strange magic of chemistry. They start out their pork shoulder and brisket at 180 degrees—the pork shoulders for six hours and the brisket for four. For the pork, they turn the temp up to 250 and to 225 for the brisket. Both cook for around 14 hours total. With a smaller home cooker and less meat, the cook times will be less. They also do a lot of whole chickens. They like to brine them. They suggested a person could start with a simple salt and sugar brine and smoke the chicken, breast side down, for two to three hours. The chickens they roast for the restaurant are in the smoker for four to five hours.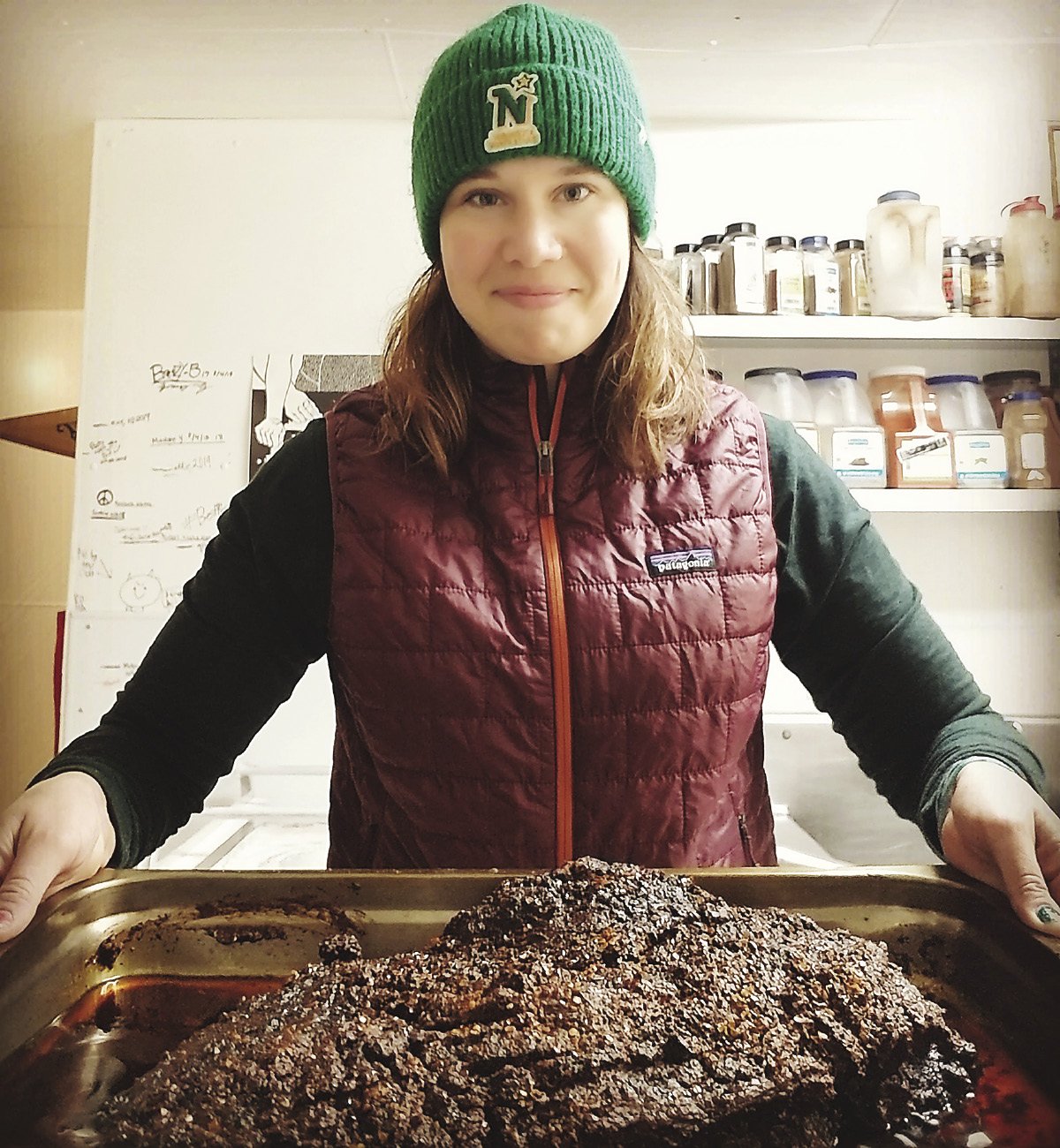 At Hungry Hippie Tacos, they have been adding more smoked meat options. They have offered mole-spiced chicken and sides of smoked chicken legs and ribs. During stay-at-home they have been doing meal kits for take-out, including whole chickens and racks of ribs.
They will also be partnering with Abby Tofte and Sam Hedstrom, proprietors of The Big Lake in Grand Marais, to operate The Fisherman's Daughter in the former location of the Dockside Fish Market. Their plans to open this business this spring have been put on hold, but they hope to be open by mid-June. Details for the menu are still in process, but they will definitely add smoking fish to their repertoire.
As for Callender? He is scheming menu options that include his smoked meats. Rumor has it that a series of poutines made with pulled pork, brisket, or chicken is in the works. I may just have to throw caution to the wind and go all-in on poutine once more.