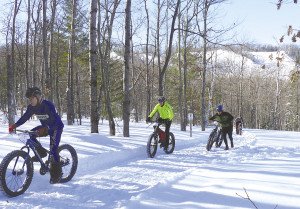 Duluth—Spirit Mountain in Duluth is now offering lift-served, winter downhill fat tire biking. Spirit Mountain is the only destination in the region to offer lift assisted winter biking on a regular basis.
Bike tires must be at least 3.5 inches. Brakes on the front and rear tire are mandatory, as well as helmets. Limited daily tickets are available via pre-sale purchase in order to accommodate season pass holders.
Spirit Mountain worked in partnership with COGGS, The Ski Hut, Continental Ski & Bike and Visit Duluth to create this unique opportunity.
For more info, visit www.spiritmt.com.