Canadian singer-songwriter Rodney Brown has had a long and lively career that includes an international tour, sessions teaching youth and appearances on national media.
Brown picked up his first guitar at age seven and has been performing professionally since grade eight. Though his whole family sang and harmonized together, he was most influenced by the talent of his father, country and western singer Mel Brown. Listening to his dad play around the house, at family gatherings and at church, ignited a spark in the younger Brown that formed the foundation for his career.
"He had a huge influence on my songwriting and I will always have my country roots," he said. "I loved the songs he sang; country and western songs by the Singing Brakeman and Hank Snow."
His musical journey has since taken him to the bars, pubs and coffee houses of Northwestern Ontario and across the festival circuit in the late 1970s to promote his first album, "Freedom in Me." The album was distributed across Canada and eventually to England and Japan. In the span of just a couple years, Brown toured to Newfoundland with the Kam Theater's production of HARVEST, and released another album, "When the Bay Turns Blue."
In the mid-1980s, Brown took a brief break from his busy touring schedule to offer his skills in a new place: the classroom. Since completing a project with First Nations students in Mine Centre, he has been a regular figure in schools throughout Canada and Minnesota.
"Children have a terrific sense of joy and wonder and they generally love to sing and make music together," he says. "The focus is always to compose an original song with the class and they perform and record their work. I leave classes with a CD of their song."
After releasing 11 albums, Brown has certainly arrived at a sound he can call his own. Country roots blended with a hint of the boomer music of the 1960s and 70s manifest in songs that reflect a sense of place in the North Woods.
"I have quite a few songs about our lake and have always been interested in Canadian history, especially local stories," explains Brown. "It seemed like a perfect fit combining my love of music and song writing to tell the stories of where I live."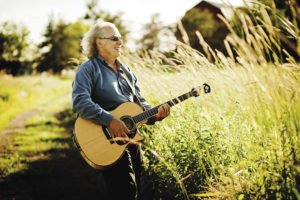 Those songs about local Canadian history have gained the musician international recognition and went over well as he toured across Canada, the upper American Midwest and the U.K. Brown was part of The Journey of a Blanket program, which followed the path of a blanket's creation in Witney, England to Fort William.
Though he has strummed in-house concerts and soft seat theaters far and wide, recently Brown has been staying closer to home to perform and teach in elementary school classrooms. His steady Friday After Work Party gig at the Port Arthur Legion keeps him entertaining a regular crowd.
To learn more about Brown, visit rodneybrown.ca.