There are many reasons to love life on the North Shore, but for Cook County artist Rachel Rae Klesser, the magic of life by the Big Lake lies in its persistent beauty; in the simple joy that it brings day-to-day.
"What I appreciate most about life on the North Shore," says Klesser, "is the ride down the hill from my place [to Grand Marais], seeing the lake and the sunrise. It's always breathtaking and inspiring."
Klesser moved to Grand Marais from Ely with her husband Matt in the summer of 2019 for "family, jobs, and art." She has since become an active member of Cook County's artist community, working as the general manager at Joy & Company in Grand Marais, helping organize the biannual Hovland Art Fair, and continuing to pursue her career as an artist.
Klesser describes herself as the "chief operations officer" at Joy & Co., which—according to Klesser—is the largest independent art supply company between Winnipeg, ON and the Twin Cities. COO is an apt title given her many roles with the business.
According to the Joy & Co. "meet our team" page on their website, Klesser is "the face" and "general manager of all we survey," as well the "interwebs mechanic, digital overlord and chief soap maker, graphic designer, floor mechanic, and [does] community outreach."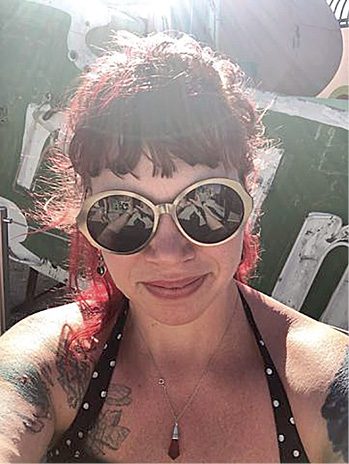 In addition to her roles with Joy & Co. and the Hovland Art fair, Klesser is active in crafting her own works of art, creating some 16 paintings a year that she sells through 47 Degrees in Knife River, Joy & Co., and, of course, at the Hovland Art Fair.
"I like to think of my work as impressionistic," says Klesser. "I have a loose, mark-based style and work in large formats of over 20-by-20 inches."
"Most of my subject matter is that of the animals of the Northwoods," continues Klesser, "and typically my works feature ravens. That being said, I also look up into the night sky for inspiration, and am currently working on an Arrowhead Regional Arts Grant depicting myths and legends of the Aurora Borealis."
Klesser's journey as an artist began at the age of 5, when she started drawing as a way to entertain herself.
"Practice is the most important element of becoming good at anything," says Klesser, "art is no different."
"I have degrees in jewelry design, business, and fine art," continues Klesser, "but I continue to learn a lot from peers, both online and in person through clubs and various art groups."
Klesser describes her art as "2D mixed-media painting" and she uses watercolors, oil paints, and pencil drawings to bring her canvases to life.
"My favorite media is acrylic," says Klesser, "because of all of the different mediums you can use for textures."
"That being said, most of my images are pulled right out of the canvas," continues Klesser, "as I study its marks and try to see shapes and figures appear. I usually let the canvas lead the way until I get a firm idea of what I see."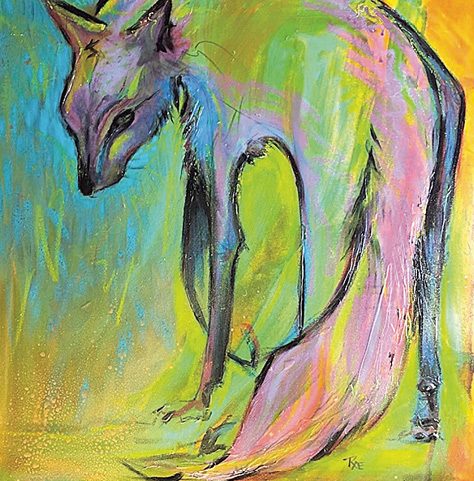 Currently, Klesser is working on putting together Joy & Co.'s annual Earth Day show, of which she is the featured artist this year.
"At this year's show," says Klesser, "I will be showing my paintings of the northern lights and legends."
"This show will run for a week starting April 22," continues Klesser, "and my plan is to have people of—specifically but not limited to—Northern European descent come share their myths and stories, especially as it pertains to the night, aurora or constellations."
Moving forward, Klesser also has plans to teach herself "hand-lettering and illuminated text," something she hopes to pursue with the help of a grant similar to the one that energized her work on Northern Lights Legends.
"Grants are important," says Klesser, "because they allow me to take time off from my full-time job and concentrate on art, something made possible thanks to the support of the underwriters, my spouse, and my employer at Joy & Co., Jill Terrill."
Klesser's artwork can be found at Joy & Company, 47 Degrees in Knife River, and in July and November at the Hovland Arts Fair. Examples of her work can also be found online on the Joy & Co. website and Facebook page, as well as her own Facebook: @rachelraesart.