Quilts are one of those "hiding in plain sight" kind of things. We are all familiar with them, many of us grow up with them in our homes, but do we really see them? In the last 10 years or so, a movement has emerged in the fields of art and history to finally see quilts: to study them, preserve them, learn about their makers, and acknowledge the creativity and resourcefulness used by countless (mostly) women throughout history.
One of the main sources of information and inspiration through my residency at North House Folk School in Grand Marais has been a book called Old Swedish Quilts by Åsa Wettre. It is the result of her visits to various museums and homes in Sweden, photographing quilts and collecting stories, and was an early response to this issue of quilts going unnoticed and unrecorded because they were mostly made by women, at home, to be useful.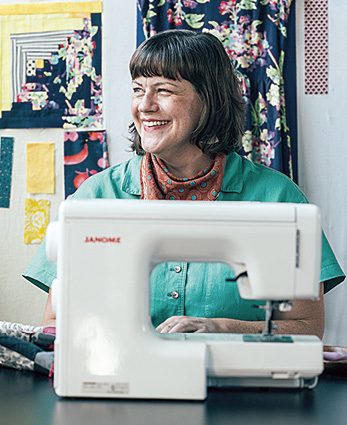 One thing I have noticed through many hours spent browsing this book is the use of light and dark fabrics in many of the quilts. A lot of the quilts, made by various people, are composed of a central patchwork framed by a wide dark border. These centers feature lighter fabrics in the very center and darker fabrics framing them, creating overall shapes like crosses or diamonds.
When I start a new project or series of work, I set up parameters for myself—rules that are made to be used, pushed against, and modified as I go. The parameters for the quilts I am currently working on are inspired by these light/dark Swedish quilts—each one has a strong light and dark component, with the light fabrics being more or less at the center of the quilt. Each quilt contains some kind of log cabin square or variation of it, as well as a wide dark border around the lighter center. I am also only using fabrics I already own—no buying new fabrics.
Within these parameters, I can play with other aspects of making; some quilts come together very slowly over time and some I challenge myself to make more quickly, piecing a top in one day. These contrasts in speed, color, size and technique keep me interested as I move between each project.
As I write this in January, several quilts are in various stages of progress in my studio. By the time you read this, most of them will be finished—if all goes as planned. I will likely have more in progress by that time, because starting to make a new quilt is a way of keeping an idea in front of me. Making things is like having a conversation between me and the quilt I am working on, and between the quilts themselves. With all the color, prints and ideas, the studio is like a little party.
By Laura Brown
Laura Brown is a fiber artist in the Artisan Development program at North House Folk School, where traditional craft is taught on the shore of Lake Superior.