By Rob Drieslein
My young family's first trip to the Boundary Waters Canoe Area Wilderness occurred in 2007. To avoid using a work vacation day, we loaded our van during a muggy July evening before sleeping at our Twin Cities home. At 2 a.m., we climbed into our vehicle, and my wife and three kids slept while I drove (and enjoyed light traffic) up highways 35 and 169. Rolling into Ely at 6:30 a.m., a 30-degree drop in temperature greeted us at our canoe outfitter. My bride stepped out of the vehicle and—still half asleep and shivering—cried, "Where have you taken me!?"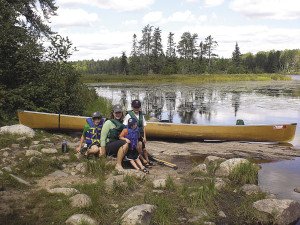 On the doorstep to the Minnesota crown jewel we call the B-Dub, Ely indeed can feel like the gateway to another world. I've taken wilderness trips across North America, and those last outposts of civilization often are as memorable as the landscape itself. From the pent-up anticipation of hitting the trail, to the relief of a hot shower and meal at vacation's end, you can't beat a community that embraces wilderness travelers. When I tell my kids (now there's four of them) that we're going to Ely, they expect an adventure.
I've camped off the Gunflint twice and visited Quetico, but the western portion of the BWCAW accessible via the Echo Trail and Fernberg Road from Ely keeps calling me back. The fun of visiting sites like the International Wolf Center, the shops on Sheridan Street, and the Soudan Mine tour off Hwy. 169 en route, certainly influences our annual decision to visit the Ely-area Boundary Waters. But the surrounding woods and lakes seal the deal.
You can find a route in this region for every trip. Want big water with classic Minnesota northwoods views across windswept lakes? Basswood and Snowbank offer both plus good fishing and access to the entire wilderness and border waters beyond.
Want incredible scenery? Head through the Mudro entry point (No. 22) and the Horse River to Lower Basswood Falls while paddling toward great fishing in Crooked Lake. Marvel at native pictographs as you fish the fertile waters for bass and pike.
Want rugged, week-long treks that will test your mettle? Consider the Little Trout Lake Loop via entry point No. 4 (Crab Lake) or the Giant Portages Loop via No. 6 (Slim Lake). Have a young family and want to avoid portages uphill both ways? The Lake One (entry point 30) has served my clan well for two trips—the first east through the so-called number lakes to Insula and another down the scenic (though buggy in 2013) Kawishiwi River. We're planning a 2016 trip east through the entry point to view the regrowth from the 92,682-acre Pagami Creek Fire of 2011.
The western BWCAW surrounding Ely generally has a reputation for easier, flatter portages, and the Lake One entry point perhaps best exemplifies that terrain. Just be prepared to see more people here than at other entry points.
My friend and outdoors writer Tim Lesmeister has camped in the BWCAW dozens of times and traversed most of its lakes and portages. In recent years, he's focused on the Ely side for one simple reason: better fishing. Though you'll find fewer lake trout, the generally shallower, more fertile lakes in the western BWCAW provide the smallmouth bass-pike-walleye fishery Lesmeister loves.
He ranks the Fall Lake to Basswood route high on his fishing priorities list, though he believes too many anglers ignore the fine angling in between on Newton Lake. Anywhere lakes narrow into riverine environments demand angling attention, Lesmeister says, especially in September when he believes fall turnover seriously disrupts lake fishing in the B-Dub.
"Where most people go wrong in those lakes around Ely is they fish too deep," Lesmeister said. "Look atop rock piles or below falls, and vertical jig or cast a jig-and-twister-tail combo. I'm usually working 12 feet or less all open water season."
Final Lesmeister fishing tip: Wherever you camp in the BWCAW, bring a couple mesh bags to fill with rocks so you can anchor over your jiggin' honey holes.
Just a 4 1/2-hour drive from my Twin Cities home, Ely is an easy drive. And if I need last-minute gear or trip advice, the community contains 22 canoe trip outfitters. Before meeting my maker, I intend to spend many more trips exploring the entire BWCAW, but here's betting the western side through Ely will host the majority of those epic expeditions.
The Kawishiwi and LaCroix ranger districts manage most entry points for the Superior National Forests in the Ely area. For more information, call: Kawishiwi at (218) 365-7600; or LaCroix at (218) 666-0020.