At 2.3 million acres, Wabakimi Provincial Park is as large as Quetico Provincial Park and the Boundary Waters Canoe Area Wilderness (BWCAW) combined. The large expanse of wilderness is located a few hours drive north and northwest of Thunder Bay. While the area is incredibly remote, wilderness enthusiasts familiar with the BWCAW ought to prepare themselves for a somewhat different interpretation of wilderness in Canada.
What makes the area remote is the lack of road access. Most canoeists will either take the train into the park or charter a float plane. The train is cheaper of course, and the schedule can be found at www.viarail.com. The train picks up in Armstrong or Savant Lake on opposite days and with an advance notice, will stop anywhere along the track to drop your group, gear and canoes.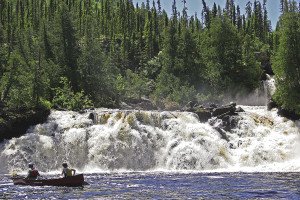 The prevalence of fishing camps within the park can make the wilderness experience feel less remote. After seeing no one at all for a few days, you may suddenly come upon a group of fishermen in motorboats—they might offer a cold "tinnie,"—the Canadian term for beer. The park is multi-use in this way. Float planes and motorboats are a common sight.
There are very few paddlers compared to the BWCAW—campsites are first-come, first-serve, and pretty much wherever you can tell someone camped before. There are huge granite outcroppings where the lichens and moss are untouched—and most of these sites are used a scant few times each summer—much different than the most popular designated sites in the Boundary Waters that are full every night of the week from June to September.
Also seen is evidence of the historic and continued land used by the First Nation people. Pictographs denote stories from long ago, and there are also camps set up where local First Nation people continue to come each year to hunt and fish.
Whitewater paddling skills are recommended. Most of the canoe routes travel river systems, and portages around the easy rapids are not always maintained—everybody runs them. Inexperience and mishap is common enough that you might see an abandoned canoe hung up mid-river, or in a tangled lump in the woods.
Common canoe routes follow the Allanwater River, the Flindt River, the Brightsand Loop and the Kopka River. The Kopka is mostly outside the boundaries of Wabakimi, but the scenery is extraordinary as the river plunges over several large falls as it makes its way to Lake Nipigon. Notably, one of the portages is called Cliff Portage, and a permanent rope and pulley system exists there for the ease of lowering canoes and gear to the bottom.
Moose and woodland caribou abound and the fishing is like visiting your local trout pond. Toss in a wormy lure on a jig below any falls, and voila! Walleye dinner.
Wabakimi Canoe Outfitters will help you plan and execute a trip. Located outside of Armstrong, they can provide shuttle service to the train and pick you up after the trip. They have B&B rooms and rental gear available. Check out their website at www.wabakimi.com.
Permits are issued per person, per night within Wabakimi. If you are camping outside of the park on Crown Lands (similar to US National Forest), there is also a per person, per night fee that can be waived if you use the services of a local outfitter. See www.ontarioparks.com/park/wabakimi for more info.