North Shore—It can be a difficult time when a loved one loses the ability to properly care for themselves, but taking the time to find the proper elder care option can benefit everyone.
"The most important factor in choosing a facility is to keep the elder close to family and the community that they are connected to," said Belinda Hudler, the activities director at the Care Center in Grand Marais. "It is also important for the family member to be able to participate in events in the community. This gives them a sense of purpose and connection to the things that they are familiar with."
When looking into elder care options, finding a home that fits the specific needs of the individual is a necessity. For example, the Care Center offers full nursing services for those who aren't able to care for themselves or need more consistent medical care.
Other places, such as Hillhaven in Grand Marais, provide assisted living services for those who need less aid; though they still offer physical therapy and hospital recovery stays. Licensed as Family Adult Foster Care for ages 55 or older, Hillhaven is a great fit for semi-independent individuals and prides itself on helping its residents "feel like (they) are living in a four bedroom house with some friends and caregivers," said Becky Stoner, one of the owners.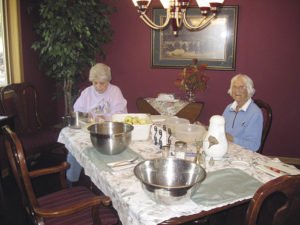 Along with running Hillhaven, Becky and Loren Stoner both act as a physical therapist and chiropractor, respectively. Hillhaven also has great amenities for its residents to enjoy, such as a view of Lake Superior, a garden and a pond.
Ecumen Scenic Shores is a non-profit organization in Two Harbors that has Medicare five-star quality rated skilled nursing care and rehabilitation services, as well as a unique program called "Ecumen Awakenings" that focusses on replacing sedating drugs with sensory stimulation, aromatherapy, cooking and more. They also have an array of social and recreational opportunities, such as therapy dog visits, drum circles, bingo, paddle ball and evening cocktails. All of these activities help foster a strong community, something Ecumen Scenic Shores finds very important.
Anna, one of the nurses, says that the thing residents enjoy the most is "the comradery here between people who are in a similar situation to themselves."
Community Partners, also located in Two Harbors, helps residents over 60 live in their own homes, while still receiving the care they need. Community Partners is a great fit for those who need a little extra help from volunteers and support services, but are still capable of living at home. They offer rides and companionship to medical appointments and help with grocery shopping and household chores. Volunteers at Community Partners, which includes high school students, allow family caregivers a chance to focus on personal needs while their elder relative is cared for.
The Minnesota Veterans Home in Silver Bay provides a place for residents to live independently, while receiving 24-hour nursing care. The building overlooks Lake Superior and their programs focus on enjoying the beautiful outdoors. To help their residents experience the North Woods, they have a garden, a four-season porch and a pontoon boat.
Also located in Silver Bay is Carefree Living (part of Spectrum Health Companies). They offer assisted living, along with memory care services. Their memory care unit is a Music and Memory Certified Care organization, run by specially trained staff.
When looking into elder care options, take into consideration things like activities offered, closeness to family, medical care, and transportation to provide the highest quality of life for the resident. Taking the time to find the right place will allow your loved one to continue living a purposeful life, while receiving the medical care and assistance needed.