Thunder Bay—The Northwestern Fur Trappers Association (NWFTA) will be celebrating 40 years with their 2017 convention from Feb. 24-26 at the CLE Heritage Building in Thunder Bay. The convention is a free event open to the public. Representatives from every part of the industry will provide information from harvesting wild furs to producing fur products.
The fur industry, both wild and farmed, generates millions of dollars globally. For example, the 2014/15 fur auction in Helsinki, Finland auctioned 13 million ranched mink from American Legend Cooperative in the U.S.; 2 million ranched fox from Saga Furs in Finland; and 1 million wild fur (beaver, mink, marten, lynx, squirrel and otter) from Fur Harvesters Auction Inc. in Canada. The business of wild fur brings in tens of thousands of dollars in Northern Ontario alone. However, even though the trappers themselves don't always see the big buck benefits in the industry, it has cultivated a way of life for many people. In Ontario, trappers harvest wild furbearing animals on registered trap lines or with private land trapping permits. After the animal is skinned, stretched and dried, the furs are shipped to the auction houses in Canada, the U.S., or Finland to be purchased on the world market.
Interestingly, beaver pelts are not only tanned and used for fashion, they are also still used to make felt for high-end felt hats such as top hats, fashion hats and cowboy hats. Rabbit fur is also combined with beaver fur and felted for moderate quality hats.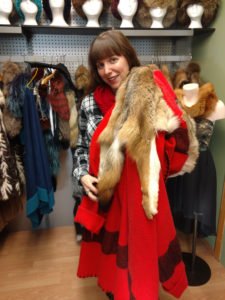 One local trapper, though, has built a business by keeping the furs that she has harvested. Katie Ball is a trapper and furrier who crafts fashions with the furs. From her workshop, Silver Cedar Studios, Katie works with an electrically updated 1905 Bonis Fur Sewing Machine to create fur and fur accented fashions. A fashion show highlights her work every year at the convention. Another local business in attendance will be Black and Tan Taxidermy, which creates amazingly artistic presentations of mammals, fish and birds. The convention also offers demonstrations on trapping and skinning techniques, booths for retailers and organizations, and presentations by guest speakers from Canada and the U.S.
For more information on times, scheduling and events during the convention, go to nwfta.ca or Northwestern Fur Trappers Association Inc. on Facebook.