During this time when the U.S./Canadian border is closed, many of us on the southern side of the border miss the opportunity to explore, shop and dine in Ontario. While many international cuisines are available, some are distinctly Canadian. One such dish is poutine. It produces a fairly decadent and somewhat addicting taste sensation combining much of what we already love—fries, cheese and gravy.
The origins of poutine are somewhat in dispute but have been traced back to Quebec in the 1950s. Poutine seems to have been the result of customers asking for cheese curds to go along with their fries and gravy. The restaurant owners took note and added the dish to their menus. Now, poutine is an iconic Canadian dish that has spread south of the border as well.
Chef Brigitte Tremblay envisioned opening a poutine restaurant at age 19 while in her native Quebec. It took many years and a marriage that brought her to Ontario before that dream was realized. Homesick for her beloved Montreal, Brigitte opened La Poutine in 2016, and has not looked back since. She brings an authentic Montreal style poutine to the area, and Thunder Bay residents have taken notice.
Brigitte is as passionate about poutine as she is creative. Each week she introduces a new poutine, and at the end of the week, that version in gone forever. Her favorite was the Caesar poutine. It was served in a mason jar. The rim of the jar was salted, and it contained a vodka sauce, onion rings and bacon. Brigitte is not one to let a holiday go by without a special poutine either. She feels there is no limit to what can be created. The restaurant boasts 32 different poutines on the menu. Among them are the Big S'mac, with ground beef, mac sauce, lettuce, red onion, pickles and toasted sesame seeds; the Taco, with taco beef, cheddar, lettuce, tomatoes, sour cream and crushed nacho sauce; and the Montreal smoked meat poutine. There are vegan and vegetarian options as well. Brigitte dedicates a separate fryer for her gluten free products.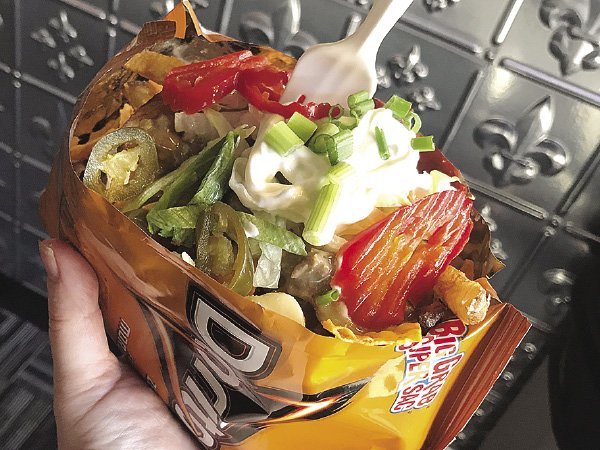 However, all that creativity was not manifest before she had mastered the basics of traditional Montreal poutine. One important distinction is that she uses a poutine sauce, not gravy. She has refined her own blend of sauce over 25 years. Her sauce is thinner and lighter than gravy so that it coats the fries but is not soaked by them. The sauce enhances the flavor of the fries. Her sauce is also not made from meat products, though its composition remains a trade secret. In her restaurant she now uses eight different varieties of sauces. She is careful to use cheese curds from Quebec, which she says melt better. Her specialized ingredients create a distinction similar to the "difference between dry pasta and pasta made by an Italian."
The Classic (fries, cheese curds, and her special sauce), is her best seller. When she is on the floor, though, Brigitte uses her people skills and her extensive knowledge of poutine to recommend various varieties. "I love it," she says. "This is not work. This is the dream come true. I sell happiness. It's not just a dish." La Poutine is located at 16 St. Paul Street in Thunder Bay.
South of the border, poutine appears more frequently as a side dish. However, at Fitger's Brewhouse in Duluth, their version is a big seller. According the Marcy Wojick, they sell around a hundred plates per week. It is loaded with flavor. They use a beer gravy made from their Lighthouse Golden Ale. Their cheese curds are from Ellsworth Cooperative Creamery in Wisconsin. To this they add bacon and fresh jalapeños. The gravy is light and complements the fries. The cheese curds are pleasantly melted and add a tinge of saltiness. The bacon, of course is a welcome addition, and the peppers add lot of pop. It is clear why this dish is so popular and would pair well with your favorite Brewhouse draft.
A look at area restaurants reveals a number of places that offer poutines. My Sister's Place in Grand Marais sells a poutine with mozzarella and gravy. In addition to Fitger's Brewhouse, other Duluth restaurants have poutine on their menus. The Crooked Pint Alehouse combines their pub fries with cheese curds, ranch dressing, bacon crumbles, green onions and beef gravy. The Boat Club Restaurant offers a seafood poutine with lobster, crab, beer batter fries, lobster bechamel, smoked gouda, lemon zest and fresh herbs. At Shorty's Pizza in Superior, one can purchase a poutine with the standard cheese curds and gravy or add their Montreal smoked meat for an additional fee.
Those customers in the 1950s really hit on something when they added cheese curds to their fries and gravy. Poutine is an addicting comfort food that will definitely satisfy any appetite. This tasty dish has traveled throughout Canada and found its way across the border. That's a good thing for us, as for now the border remains closed.