There comes a time in many angler's life when the run of the mill factory gear just isn't doing it any more. It may be a fly angler who wants a rod that has a better grip, or a reel with smoother drag. The spinning rod enthusiast may want a personalized logo, or a more expensive type of rod guides. For Wes Bender of Thunder Bay, his entry in the custom float business was simply one of necessity. Bender is an avid steelhead angler and his primary tool was not cutting the mustard.
"Basically, when I went steelhead fishing, I got tired of wrecking floats," he said. "Most floats on the market get beat up and look like they have been chewed up by a herd of angry beavers. I decided to make something a little more robust."
In 2012, Bender decided to make his own floats and went about designing some he thought would be the most useful for the North Shore of Superior. The key things he wanted were more profiles for varying water conditions. In big, fast water, he wanted a big, fat float. Something that will stay on top with the current pushing it around. He noted most streams on the North Shore are medium depth waters, so he designed a float that would ride higher and sink faster. This type of slender float he calls a "loafer" and it is his favourite. It has also proven to be the most popular style of his ever-expanding custom float business "Superior Floats."
While Bender wanted better profiles, he also really wanted nice looking floats. And anyone who has seen some of his products knows there is nothing ordinary about the skin his floats are wrapped in. They vary from brook trout, to flames, to decidedly oriental-looking designs. Many of the floats are customized with the angler's name, favourite sports team or favourite saying.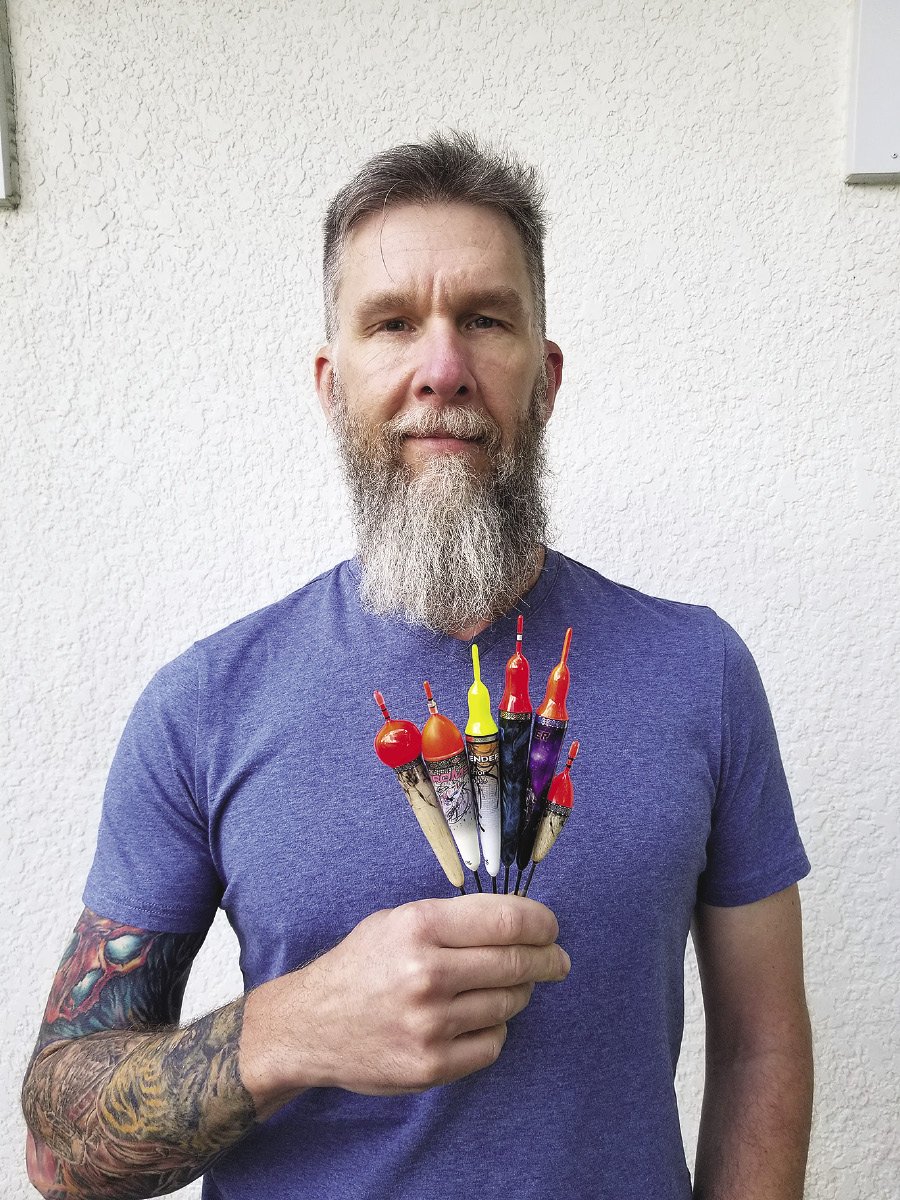 "The very first float I made had a wrap on it that featured a steelhead and a pattern," says Bender. "I made those for the McIntyre crew." For the record, the crew he speaks of are four anglers who take part in a co-operative steelhead tagging program in Thunder Bay. All are keen float fisherman. "I made them as a memento of the time we put in each spring," he said.
In 2014, Bender began selling his float designs under the name "Superior Floats." What started as a small side line quickly expanded as local steelhead anglers saw the sexy looking floats in use. They looked good and fished well. But best of all, they lasted. His float designs are utterly distinctive and all come from his hand.
"The designs and graphics are all done on the PC," he says. "Then they are printed out on a decal, which I have to seal, then I cut them out and apply them to the float body. Once applied I do touch ups with paint before the clear coat goes on."
One of the most distinctive things about Bender's floats is the beautiful fish art that is often displayed on them. The intricate steelhead, brook trout, brown trout and salmon are both colorful and life like. All these fish are originals, painted by Bender.
"If a design has a fish on it, or some kind of artwork on it, it is 99 percent of the time mine," he says. "I do dabble in acrylic paintings and my favorite subject is fish. So, if I get one that is pretty decent, I scan it into a digital format and work with it."
Bender turns his floats on a lathe and primarily makes them out of balsa. He says he also occasionally uses cork and rigid foam, depending on the style of float. Recently, he has added a duplicator attachment to his lathe so that he can reproduce all sizes of float more quickly. He says he can typically turn a float in under three minutes
Bender has done just about every custom design float you can think of, but he is especially proud of a set he made that's based on a game of chess. Each float is an individual chess piece and the game is played on a custom board.
"That was made for my son Nathan and I," he said. "Nathan loves to play chess."
Thanks primarily to social media, Bender's unique and artistic float work has become popular outside of northwestern Ontario. He says he's sold his product from coast to coast, in Canada and the United States. He has also sold floats to anglers in Ireland and Scotland. With word of mouth about "Superior Floats" spreading internationally, there is no sign that interest in his product will slow down any time soon.
"The busy time for me is usually from September to March," says Bender. "But what used to be my slow time is now also busy. I'm often backed up by 8 weeks due to the demand."
Despite the growth of his business, Bender has no plans to out-source. He wants to make every float by hand, and says he still enjoys making them, even though the company has grown beyond his wildest dreams.
"It's still fun," he says.